Reviews
The Haunting of Bly Manor Review (Spoiler-Free)
The sequel series to Netflix's The Haunting of Hill House, The Haunting of Bly Manor succeeds at telling an emotional rich story while failing to conjure up fear. Read our spoiler-free review...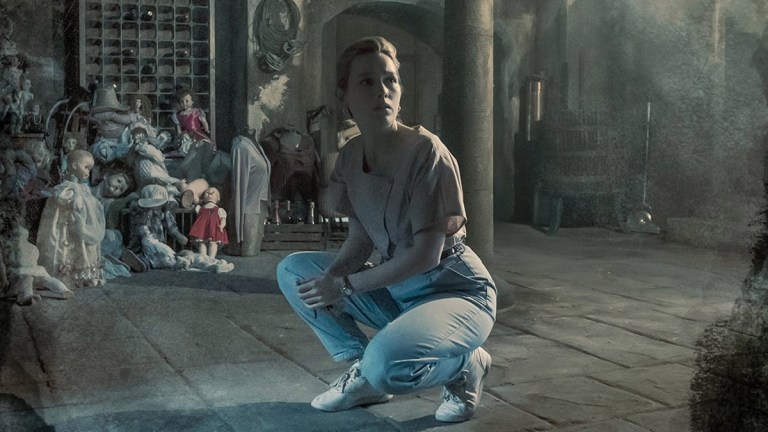 This HAUNTING OF BLY MANOR review contains no spoilers.
Mike Flanagan has slowly become one of the surest hands in horror. Not only has he excelled which original material like Oculus and Hush, he's also expertly adapted tricky properties like Stephen King's Gerald's Game and Doctor Sleep, the daunting sequel to The Shining. Perhaps Flanagan's most widely seen work, Netflix's The Haunting of Hill House, was a 10-episode series that updated Shirley Jackson's famous novel of the same name. Flanagan's revisionist take was a hit with critics and horror aficionados alike, garnering praise from King and director Quentin Tarantino for being both spooky and emotionally rich, with a careful, compassionate focus on its characters and their inner lives.
For his follow-up, The Haunting of Bly Manor, Flanagan looked to an even more sacred, notoriously difficult classic for inspiration, Henry James' The Turn of the Screw. As 2020's The Turning proved, James' novel can be challenging to bring to the screen, with only 1961's The Innocents achieving widespread critical success. Luckily for Flanagan, the liberties that he takes with the source material and inspiration from other James novels like The Jolly Corner and The Romance of Certain Old Clothes makes The Haunting of Bly Manor more than just an effective retelling. Like its predecessor, The Haunting of Bly Manor does the work to make you invest in each member of its ensemble cast. If The Haunting of Hill House succeeded as a deep meditation on trauma, grief, addiction, and family, Bly Manor excels as a story about toxic relationships, the burden of love, and gothic romance. The only issue? It's light on chills and thrills.
Set in 1980s England, the story centers on a young American nanny Dani (Victoria Pedretti) hired to replace an au pair after her tragic death. Dani is hired by uppity, yet detached Henry Wingrave (Henry Thomas) to look after his orphaned niece and nephew (Amelie Bea Smith, Benjamin Evan Ainsworth) who reside at Bly Manor with the estate's chef Owen (Rahul Kohli), groundskeeper Jamie (Amelia Eve) and housekeeper, Mrs. Grose (T'Nia Miller). While dealing with her own personal demons, Dani notices odd behavior from the children and uncovers even stranger secrets from the manor's recent past.
While Hill House melded thoughtful, sensitive storytelling with blood curdling jump scares, Bly Manor doesn't quite nail the balance. Hill House set a spooky tone and hit the ground running right from its opening minutes, while Bly Manor takes a far more laborious pace, even withholding information to its detriment. The new season takes at least three episodes to find its stride and never manages to offer the same level of scares that Hill House conjured. A wonky framing device doesn't quite justify itself and this year's standout installment, the fifth episode centered on housekeeper Mrs. Grosse, feels like a direct riff on the best episode by rival streaming service Hulu's horror anthology series, Castle Rock.
That all said, Bly Manor really sticks the landing and gives each of its central characters a satisfying, yet poignant arc. T'Nia Miller and Rahul Kohli bring warmth and humanity to characters that could have been merely forgettable supporting parts and Pedretti is given a chance to showcase her chops after stealing scenes in a brief but memorable part in season one. The production design is fabulous once again and some clever editing keeps the mystery alive in the later episodes.
Mike Flanagan has pitched this new season as a love story, and it largely nails its gothic romance narrative, it just feels like horror fans will be anxiously awaiting some terror that never quite comes. Still, Bly Manor is a well-made adaptation of James novel and something that's mild enough to fire up this Spooky Season with even your most horror-adverse friends or family members. Flannigan has proved once again that there's no writer and director in horror today that's quite as adept at tethering real-world horrors and anxieties to the abnormal and dreaming up richly drawn characters, if only there were enough scares to add balance to the sweet spots.