Features
The Flash: What Bart and Nora's Return Means for Season 8
The Flash showrunner Eric Wallace and star Jessica Parker Kennedy weigh in on the series' mid-season return and what the rest of Season 8 holds.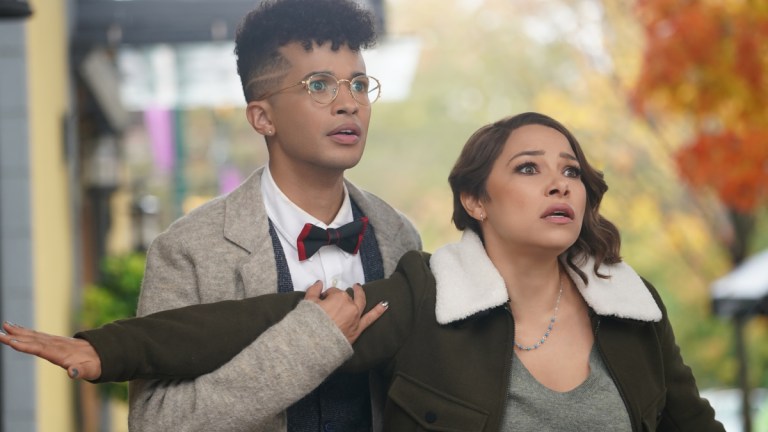 The following contains spoilers for The Flash.
The Flash Season 8 Episode 6
Given that The Flash has been on hiatus for the better part of the past three months, one might expect the series' return—which also kicks off Season 8 proper in the wake of the show's five-part Armageddon event—to be a bit, well, bigger. After all, Armageddon included the returns of fan-favorite Arrowverse characters like Black Lightning'sJefferson Pierce or Arrow's Mia Queen alongside the reappearance of Tom Cavanagh's Reverse Flash. Yet, Barry Allen only appears in the final scene of The Flash's midseason premiere.
The first of what showrunner Eric Wallace says will be "a couple of interlude episodes this season," "Impulsive Excessive Disorder" marks an unexpected return for The Flash simply because it is an hour in which the series' titular hero appears so little. Instead, it's a story that almost exclusively features West-Allen kids Bart and Nora, and feels like nothing so much as a stealth backdoor pilot for an XS and Impulse spin-off.
"I recognize that it's funny," Wallace laughs (without commenting further on the backdoor pilot idea, for the record, because trust me, I asked). "But there's a couple of reasons to do an episode like this one. One, Armageddon was so intense. The practical side of things—it allows people to recover, to get refreshed. But I had been dying to tell another Bart and Nora story since the end of last season and was just looking for the right time to do it."
While fans may have been initially surprised to find out that the episode is almost entirely focused on Bart and Nora, the resulting product is actually quite excellent, a simple, joyful return to the light-hearted adventures that made the early seasons of The Flash so much fun to watch.
"I deliberately said: 'After Armageddon is done, we've got to give folks a break," Wallace explains. "We have to have fun. We have to have some comedy and some laughs.' So as you'll see in the next two episodes actually, [there is] some just flat-out comedy that I'm really happy about, that is a palate cleanser."
Nora and Bart's Relationship Takes Center Stage
All things considered, if we're going to have an episode that doesn't focus on Team Flash in any way, the decision to put the spotlight on the younger generation of speedsters makes a lot of sense. Plus, the pair
"It's delightful," Jessica Parker Kennedy, who plays Nora, tells Den of Geek. "I loved this episode as soon as I read it. It's just really fun. It's a lovely [story]. And it feels so separate from the show."
Kennedy credits her bond with co-star Jordan Fisher, who plays Bart Allen, with helping to create the compelling onscreen connection between the West-Allen siblings.
"Our dynamic that we created between the two of us as those characters came extremely naturally to us," she says. "I think a lot of that is Jordan is a high energy, fast-paced person. And I'm really different from that! So we complement each other as those characters in real life and on the show too."
According to Kennedy, "Impulsive Excessive Disorder" shows us a Bart and Nora who are growing up and coming into their own together.
"I think there are definitely moments when Nora wants to strangle Bart or at the very least keep a leash on him. I think that he causes her a tremendous amount of anxiety," Kennedy laughs. "But they believe in each other and they respect each other. And I think, compared to the first episode where we appeared together, Bart is earning his stripes, and Nora's starting to see him as more and more of an adult."
Though much of the episode involves both Bart and Nora's feelings about trying to fix the mistakes they've made in the timeline, "Impulsive Excessive Disorder" does a wonderful job of highlighting how intrinsically different their heroes' journeys are than their father's was, simply because they have each other to lean on.
"They're really lucky to have each other," Kennedy, says. "They definitely have this support of each other, which I think is huge. So different than what Barry would have gone through. I mean, they have a family of superheroes. I think that's pretty tremendous."
Because despite the fact that Barry now has a deep bench of family members and Team Flash friends, when he first started running, he was largely on his own.
"Barry didn't have any brothers or sisters. So we wanted to explore a completely different dynamic with the next generation of speedsters," Wallace says. "But also, it's personal: A lot of the stories in The Flash come from my own stories of my life and my family. [And] I remember when I first pitched it in the room, I said, 'This is going to be like me and my sister and the way we bicker, even though we love each other, even though sometimes we can't stand each other, but we really do love each other.' And I felt that was a dynamic I hadn't seen explored in superhero territory. So that's really what's feeding into the inner journey of their story."
Because despite the fact that Bart and Nora have the support of an extended family of heroes, those connections also come with their own unique pressures, like living up to the legend that is their famous father.
"How interesting is it to see the next generation of Flash members really dealing with The Flash's legacy? That's really what Bart's going through," Wallace says. "He comes from 2049, [his dad is] perhaps the biggest, most famous superhero in the world at that point. What's that like, being the kid of that person? How do you even handle that? Are you always disappointed in yourself?"
At various points in "Impuslve Excessive Disorder," we see both Bart and Nora doubt themselves and compare themselves unfavorably to Barry. (An understandable emotional reaction, but possibly an unfair one—given everything we know about how many similar mistakes Barry has made over the years. Ask him about Flashpoint, kids!).
"This version of Nora is certainly more grounded [than the original] Season 5 version of the character," Kennedy says. "She's a lot more stable. There's a lot less that she feels she needs to prove. There was so much more baggage with that other Nora. [Now], I think it's less about proving [herself]to her parents, and it's very much more about proving herself to herself."
What's Next for The Flash Season 8
For Wallace, however, everything "always comes back to family." This is why he is quick to confirm that we'll see the West-Allen siblings again in Season 8 and that the events of this episode will indeed somehow factor into the rest of the season.
"Yes, Bart and Nora will be back later on in the season," Wallace says. "And what you're seeing in 806, especially at the end….I'd keep an eye on that comb if I were you."
The object, which mysteriously disappears at the very end of the hour, vanishes in the sort of sparkly green energy that indicates time shenanigans are surely at work. And according to Wallace, Bart and Nora's return will be directly related to this subplot, which ties into Iris's story and the lingering time sickness she's been experiencing.
"That comb, that's going to come back," Wallace says. "Because we've got to deal with Iris's time sickness. And in this case that involves not just Barry and Iris, but Barry and Iris and Bart and Nora. It's related to the whole family and how everybody gets drawn into making sure Iris doesn't disappear herself like a comb."
As for the larger themes of the rest of Season 8, Wallace insists that its larger story "really does come right out of Armageddon."
"This whole idea of leveling up—what does [it] really mean for our heroes?" Wallace asks. "We've seen what it looks like on Barry, but what does it look like when some of these other people start leveling up? And I don't just mean leveling up [in terms of] powers. I mean leveling up emotionally. We'll see all our characters leveling up either emotionally or in terms of their power bases, but there's going to be consequences to getting those greater responsibilities or getting those greater powers. And that's what they've got to deal with in the back half."