Features
Meet Naomi, The New Superhero on The CW Block
We talk to Naomi star Kaci Walfall on bringing the cool, confident, comic book–loving superhero to life.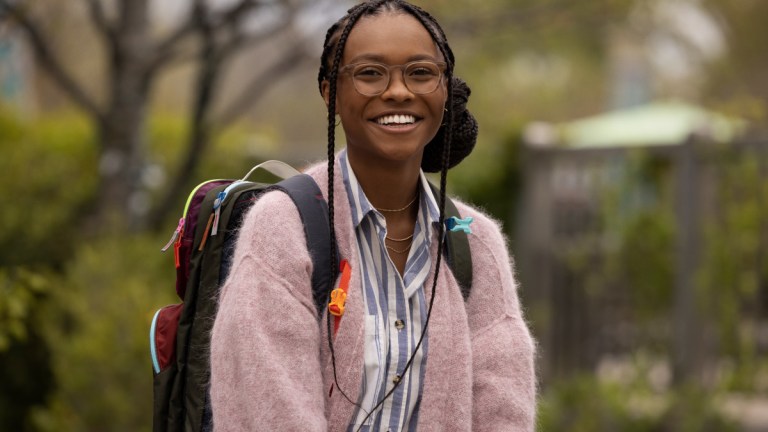 Naomi is the latest entry in The CW's slate of shows based on DC Comics' characters. Written and executive produced by Ava DuVernay and Jill Blankenship, and adapted from the comic book of the same name by Brian Michael Bendis, David F. Walker and Jamal Campbell for the Wonder Comics imprint, the show follows the journey of a cool, confident, comic book–loving teenager as she pursues her hidden destiny.
Naomi looks at superheroes from the perspective of the small town folks who read about it in the news. Naomi runs a Superman fan site. He is fiction in her world… until he's not. When she misses a Superman sighting—or what everyone assumes is a "stunt"—in her small town of Port Oswego, she jumps at the opportunity to investigate the appearance. The more she looks into the stunt, the closer she gets to learning the truth about herself. We talked to Naomi star Kaci Walfall about stepping into the role.
"I didn't know about the character before the audition. She's a fairly new character. I remember when I looked at the description, and I looked at the DC and the CW. I was like, I'm not sure who Naomi is." Naomi is an ongoing comic book series. Naomi Season One, a graphic novel collection of the first six issues, was released in 2019, with Issue #1 of Season Two coming in March. "So I looked it up and I was sort of a little dumbfounded that I didn't know who she was. Because she is this Black girl and she is a superhero, which is limited, sometimes."
Though Walfall wasn't familiar with the character before she went out for the role, she wanted to make an impression when she auditioned.
"I dressed the way that I thought that she would dress. The outfit that I chose to wear made me feel confident and made me feel like her. It was an outfit that I had saw that she had worn in the comics. So of course I took that in. I also took in the fact that you know, I wanted to make it unique and make it my own."
After landing the role, Walfall dove into the comics. "I actually go back to the source material a lot," she says, noting that she references the comics for "every single episode."
Naomi follows the footsteps of other POC-led shows in the Berlantiverse, like Black Lightning—which ended last fall after five seasons—and Batwoman, which now has Ryan Wilder (Javicia Leslie), a Black, lesbian woman at its center. "I watched those shows before. I loved Black Lightning and I really love Jennifer so much. I could totally see myself so much in Jennifer."
While Naomi is not currently connected to the wider Arrowverse, Walfall looked to her predecessors for inspiration, keeping in mind to do her own thing. "I can watch it on my own for pleasure, of course, but I think that I've taken a step back with that, because the story is different." Naomi is a Black girl, she's adopted, possibly queer, and she is smart, involved, and well-liked… She is a character we haven't seen before. "It's a different character," says Walfall. "Every character is different. So just making it my own will feel really special and will feel authentic, because it fully came from me."
A lot of coming-of-age dramas feature protagonists who are lonely or isolated, especially when they have a secret—like newfound abilities. Naomi flips that on its head entirely by surrounding its titular character with a group of friends who are right alongside her as her journey begins. "The pilot director, Amanda Marsalis, called us the Scooby gang. And that's just always stayed with us," Walfall says of the cast dynamic.
In the pilot, we meet Naomi's best friend Annabelle (Mary-Charles Jones), ex-boyfriend Nathan (Daniel Puig), and friends Anthony (Will Meyers), Jacob (Aidan Gemme) and Lourdes (Camila Moreno), who join her in her investigation. "I have favorite relationships within every single one of those characters. And in the pilot, you just see a peek of that. But as we go into the series, you see Naomi with these different characters and the different dynamics that they have."
Naomi is an adoptee, and that shared connection is one of the reasons she is enamored with Superman. And while she has a wonderful relationship with her parents, Greg (Barry Watson) and Jennifer (Mouzam Makker), recent events cause her to question who she is. While investigating the stunt, Naomi meets Dee (Alexander Wraith), the mysterious owner of the tattoo shop who seems to know more than he is letting on. After Naomi is confronted by Zumbado (Cranston Johnson), a seemingly shady used-car dealer, she returns to Dee for answers.
Naomi's parents may not know who she is, or want to keep it from her, but Dee steps up to help her figure it out. "In the comics, Naomi's relationship with Dee is like the scene that we see in the pilot." At the end of the episode, Dee reveals his large, metal wings, and tells Naomi they're both different. "I think that, in their relationship, he doesn't have all the answers, but he has some and he cares for her and she cares for him. I also think that the relationship is very special and he's sort of her teacher to her."
Naomi McDuffie runs a Superman fan site, and—like many of our readers—is a huge comic book fan. But unlike the character she plays, Walfall is new to the medium. "I'm not super into comic books. I read a lot, but I had never read a comic book seriously before Naomi." Instead, she geeks out about books and music. "Like I said, I'm a reader. So I have a couple books that, if somebody has read the same book as me, I could talk to you for like an hour. And also music. I'm a huge music listener. So there's certain artists like Frank Ocean that I always geek out about. Or Lauryn Hill. There's just a huge array of people."
Naomi is a fresh take on superheroes, and a story Walfall is excited to tell. "I really care about what I do. And I really care about this project. There's special people behind this project and this is a narrative that hasn't always been told. And I'm excited for people and for families to watch the show." She hopes people who haven't read the comic will be inspired to do so after watching the show. "I think that people who have read Naomi will be really excited about the show. I really hope they think I align with the character."
It's that character that feels so special to Walfall, and no doubt will to many viewers, whether they know the comic books or not.
"I love Naomi," says Walfall. "I have to love her of course, to stick by her side, you know, be empathetic, that's my job. But what I love about her is her confidence. And I love that if someone tells her 'no, you can't do this,' that doesn't mean she's going to stop. I think that what people will also love about Naomi, she's grounded and she's real. Although she's 16, she makes reasonable choices."
As with other teen superhero characters, Naomi is still very much learning about herself. For Walfall, this process is at the heart of the superhero narrative: "I hope that audiences take away as she's going through her journey, as she's uncovering it, we're uncovering it, to just not believe everything you think [you know]. Don't believe everything you hear. Really find [the truth] within your own self."
Naomi premieres tonight, at 9pm ET, on The CW.