News
Legends of Tomorrow Doubles Down on Positive Messages
Legends of Tomorrow executive producer Keto Shimizu tells us how the show amplifies messages of "love" and "hope" all the way through its season finale.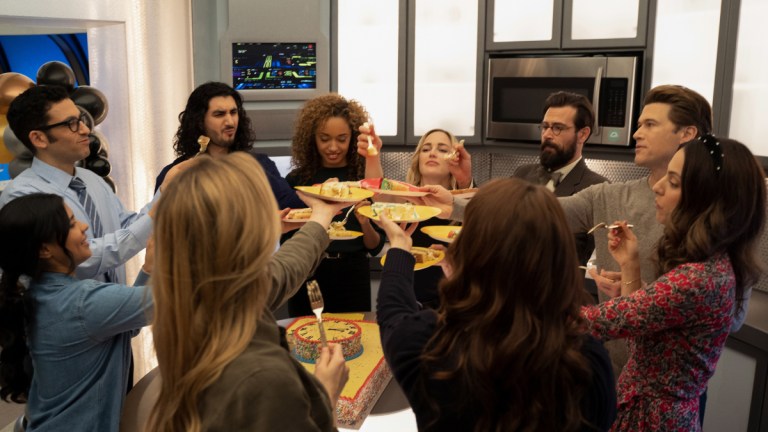 DC's Legends of Tomorrow wraps up its seventh season this week with "Knocked Down Knocked Up." After last week's episode, you've probably got a guess as to what the episode title is a reference to, but in addition to possibly paying off some of the future hints given to the Legends by Evil Gideon in order to convince them to retire, this episode wraps up what many would consider the strongest season of the show. We had a chance to speak with Legends Executive Producer and Arrowverse veteran Keto Shimizu about the episode, and the show's growth over its seven seasons. 
"I think there have been some big mileposts along the way to where we are now," she tells us. "But the team of writers that we work with, we just know these characters so well, and we're always trying to find a way to push them in new and surprising ways that feel emotionally grounded and real. Or at least resonant."
Like the rest of the world, Legends of Tomorrow had to make some serious changes because of the COVID-19 pandemic. But in a way, that helped push the show into the place it is now. 
"Certainly in the last couple years, with the pandemic and us all having to work remotely and be on Zoom meetings for hours and hours every day, I think we've just really wanted to see our characters…reflect a better version of the world back to us than the one we're currently living in," she says. "In that way, we've really tried to double down on messages of hope, the power of love, of accepting who you are, accepting people who are different than you, and listening to people who don't think the same way you do."
One of the shifts you might have noticed this season is towards introspection – Legends episodes, especially the 100th episode (the best of the series) and last week's (a "series finale without ending the series") have tended to look a little more inward, to be a bit more reflective than they have in the past. This has been to the benefit of the show, but it's also been a little bit of a happy accident.
"It was natural that the Legends having no home and being forced on the road in this very difficult way would cause them all to think a little bit more deeply about their purpose," she tells us. "It makes sense at this point that we would be a little bit more contemplative, considering that all of the usual utilities and comforts have been taken away from our Legends."
Here's the official synopsis of the Legends of Tomorrow season finale, "Knocked Down, Knocked Up," courtesy of the CW:
The Legends are all disappointed and hurt by Gideon's (Amy Pemberton) actions, but Gideon is horrified when AI Gideon tells her about Gary (Adam Tsekhman.)  Itching to get back to doing what they love best, they realize that Gwyn (Matt Ryan) has broken the treaty and must find him.  Meanwhile, Sara (Caity Lotz) keeps an important secret from Ava (Jes Mccallan) because she doesn't know how she will react. 
Check out the trailer here: