News
The Flash Season 8 Set Photos Tease Surprise Villain Joining Despero for Armageddon
Reverse-Flash, Damien Darhk, and Despero might not be the only villains who will trouble The Flash in "Armageddon."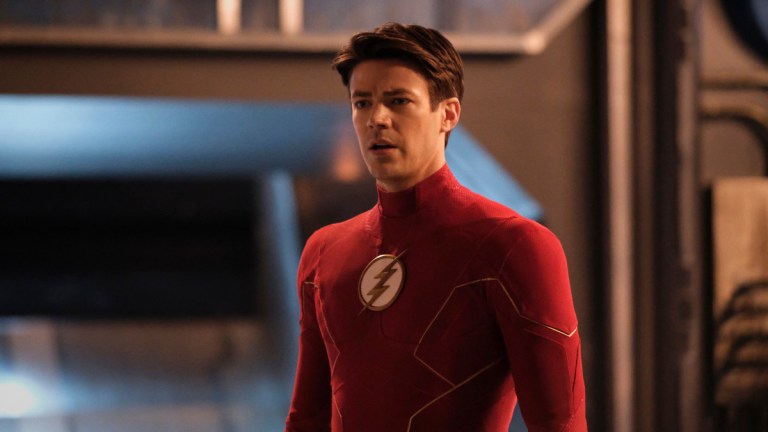 This Flash article contains spoilers for season 8 and "Armageddon."
The Flash season 8 premiere will be unlike any you've watched before. This year, the show is opening with a five-part crossover event called "Armageddon," the type of CW superhero extravaganza that is usually reserved for the holidays.
This massive superhero team-up will bring several Arrowverse favorites back to Central City to fight a mysterious alien threat. The cast of heroes includes Javicia Leslie as Batwoman, Brandon Routh as The Atom, Cress Williams as Black Lightning, Chyler Leigh as Sentinel, Kat McNamara as Mia Queen, and Osric Chau as Ryan Choi. "Armageddon" will also see the return of Tom Cavanagh as Eobard Thawne/Reverse Flash and Neal McDonough as Damien Darhk, a supervillain team-up we last saw in Legends of Tomorrow.
But Reverse-Flash and Damien Darhk aren't the only bad guys Team Flash and their friends will have to contend with during the five-parter. A series of photos taken from the set of The Flash reveal just how wild things could get when the show returns in November…
Tony Curran as Despero
A Justice League-level team-up like this deserves a JLA-level baddie. For "Armageddon," that's Despero, a supervillain who made his debut in the very first issue of Justice League of America in 1960. An alien conqueror from the faraway planet of Kalanor, Despero was created by Gardner Fox and Mike Sekowsky as a villain who not only possessed the physical might to challenge DC's greatest heroes but also mind powers to go with it. On top of mind control, the ability to manipulate reality, telekinesis, and telepathy, Despero has superhuman strength and speed, and can even alter his own size to become a massive kaiju-like monster. He's exactly the type of well-rounded villain necessary for a Justice League story, a big bad no one hero can take on alone.
We already knew Despero would lead "Armageddon" but until now we hadn't seen what Tony Curran (Doctor Who) would look like in the role. As you can see from the stills below, The CW has envisioned a Despero who's much less alien than the one in the comics, even ditching the villain's third eye in the process. At least he's kind of keeping the mohawk.
"That's actually the scene where we really learn about Despero's alien origins, which is what makes that scene so fascinating to me," The Flash showrunner Eric Wallace told EW of the photos above. "[Curran] has a big speech in that scene. No spoilers, [but] it's a very intense moment in his relationship with the Flash. You'll see throughout the episodes how Despero tests Flash in various ways. This is one of those moments. That's what makes it so pivotal. I think the audience is going to learn something new about Despero that they never knew, because we do have our own take on the [DC] mythology for the character."
Wallace warned fans that they shouldn't jump to conclusions regarding Despero's appearance, teasing that "Your eyes can sometimes deceive you." Is this Despero's ability to create illusions coming into play? Is he hiding what he actually looks like to blend in with humanity?
Judging from other spoiler-y set photos that have leaked online, Despero's ultimate alien form might not be the only big twist of "Armageddon."
Barry Allen as Reverse-Flash?!
It looks like Cavanagh's Eobard Thawne won't be the only Reverse-Flash running around in the crossover event. The Scarlet Speedster's arch-nemesis will be joined by…Barry Allen?!
Indeed, set photos reveal that at some point in the crossover Grant Gustin will don a yellow speedster suit for reasons that are as of yet unclear. Barry's Reverse-Flash look could mean he's joining Despero as a surprise villain in the crossover, if only temporarily. Is Barry being mind controlled by Despero? Or has the weight of seven seasons of superheroics finally turned Barry evil?
It could all turn out as Harvey Dent once said in Christopher Nolan's The Dark Knight, "You either die a hero, or you live long enough to see yourself become the villain." But seriously, there's very likely much more to this than meets the eye.
In fact, there's some sort of harness involved, as you can see below:
Barry can be seen wearing the device while talking to Darhk. It does look a lot like one of the tachyon gadgets that have shown up on the series from time to time, whether it's to try and trap Eobard Thawne or travel to other dimensions. Considering the title of this crossover event could have something to do with the time-travel-heavy DC comic book storyline "Armageddon 2001," it's possible Barry is using the device to travel into the future to trigger whatever end-of-the-world event makes up the central conflict.
Ryan Choi as The Atom
Fortunately, Team Flash will have a lot of help. As mentioned before, Osric Chau is returning as Ryan Choi, and not just as the scientist we first met in the Arrowverse version of Crisis on Infinite Earths. He's finally going to become the new Atom!
With Brandon Routh also reprising his role as the Atom just for the crossover, it's probably safe to assume that "Armageddon" will end with Ray Palmer passing the torch to Ryan and retiring for good. (This doesn't totally eliminate the chance of seeing Routh in the Arrowverse again since he also plays a version of Superman that could probably be brought back from the dead at some point.) For now, what we do know is that Ryan is getting a much more comic book-accurate suit than the heavy armor Ray wore.
New Flash Suit!!
The Atom isn't the only hero getting a new, more comics faithful look, either. Fans have been asking for it for a long time and it's finally happening: Barry Allen will wear the gold boots in season 8!
We'll find out exactly what's going on with all of Barry's wardrobe changes when The Flash returns for "Armageddon" on Nov. 16 on The CW.