News
The Flash Season 8: Armageddon is a Justice League Worthy Team-Up
The Flash Season 8 will unite heroes from Arrow, Supergirl, Black Lightning, and Legends of Tomorrow for a crossover-sized Arrowverse event called Armageddon!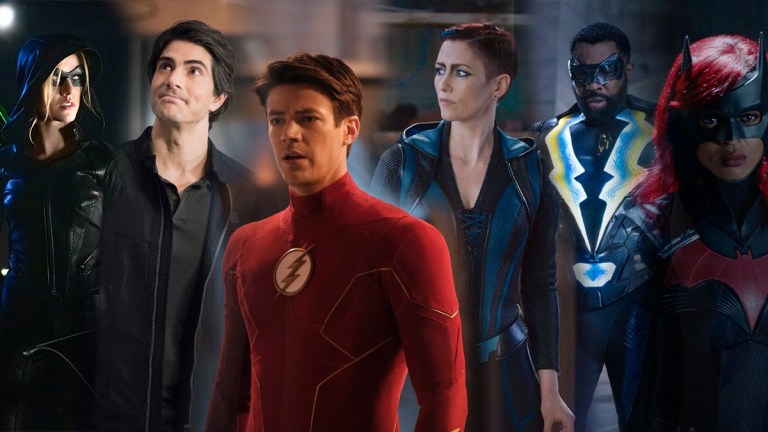 We miss Arrowverse crossovers and big team-ups. Of course, we understand why that wasn't in the cards for the most recent seasons of our favorite DC TV shows. The pandemic made the logistics of filming TV shows at all a challenge, let alone ones with the kind of scale we've come to expect from the CW's lineup of DC Arrowverse shows.
Not only that, their most recent crossover, Crisis on Infinite Earths was literally SO big that topping it in any capacity was going to be almost impossible. It's one of the most recognizable and beloved stories in all of DC Comics history, and the TV version managed to encompass much of the scope of DC TV and movies. It was a massive storytelling accomplishment, and the various Arrowverse showrunners had already said that their next crossovers would be smaller in scale, even before COVID hit.
But that's all about to change this fall. The Flash Season 8 will premiere not with a crossover, but with a crossover-sized five episode event, assembling a Justice League sized assortment of heroes from DC shows of the present and past. It's got the ominous title of "Armageddon," which may be familiar to DC Comics fans.
"Simply put, these are going to be some of the most emotional Flash episodes ever," The Flash showrunner Eric Wallace said in a statement. "Plus, there are some truly epic moments and huge surprises that await our fans. And we're doing them on a scale that's bigger and bolder than our traditional Flash episodes. So yes, Armageddon is a lot more than just another graphic novel storyline. It's going to be a true event for Flash and Arrowverse fans, old and new. Honestly, I can't wait for audiences to see what we've got planned."
Here's everything we know so far about what they've got planned…
The Flash Season 8: The Heroes of Armageddon
In addition to Team Flash, who will of course be central to the story, "Armageddon" will feature Javicia Leslie as Batwoman, making her first appearance in Central City. We're also going to get the long-awaited return of Brandon Routh as the Atom, his first appearance since his emotional departure from Legends of Tomorrow last year. We're also going to get our first look at Osric Chau as Ryan Choi for the first time since his appearance in Crisis on Infinite Earths. Is it possible that Routh's Ray Palmer will officially pass the mantle of Atom on to Ryan in these episodes?
Cress Williams will return as Black Lightning now that his show has completed its run. With Supergirl about to finish its final season, Chyler Leigh will drop in from National City as Sentinel. And making her first appearance since Arrow, Kat McNamara will return as the Green Arrow, Mia Queen!
The Flash Season 8: Who Are the Villains of Armageddon?
Tom Cavanagh will be here as Eobard Thawne/Reverse Flash, and Neal McDonough makes his return as Damien Darhk. Hmmm…if you count Mia Queen, that's two time-travelers here. What is this about?
UPDATE: Tony Curran has been cast as Despero for The Flash season 8. Does this mean he's the villain of Armageddon? It's possible!
Via Deadline, TV's Despero is "a powerful and intelligent alien possessing incredible telepathic powers who left his homeworld—Kalanor—under mysterious circumstances. Now he's facing a deadly mission on Earth, one whose outcome will decide the fate of humankind and put him on a collision course with Team Flash."
That could certainly fit with Armageddon's scale and scope.
The Flash Season 8: Armageddon Story
Here's the official synopsis, courtesy of the CW:
"A powerful alien threat arrives on Earth under mysterious circumstances and Barry (Grant Gustin), Iris (Candice Patton) and the rest of Team Flash are pushed to their limits in a desperate battle to save the world. But with time running out, and the fate of humanity at stake, Flash and his companions will also need to enlist the help of some old friends if the forces of good are to prevail."
While that doesn't tell us a whole heckuva lot, we sure can speculate on this. Armageddon shares a name with a famed DC Comics crossover of the 1990s: Armageddon 2001. The hilarious "futuristic" dating aside, Armageddon told the tale of a mysterious threat named "Monarch." While Monarch wasn't technically an alien (he was from the future), the mystery of his identity meant that he COULD be, so perhaps this synopsis is just playing with expectations.
Whenever DC shows borrow names from comic storylines, they often just take general inspiration from them rather than try to do straight-up adaptations. To speculate further on whether TV's Armageddon is similar to the comics Armageddon 2001 would lead to potential spoilers, and anyway, there's little to indicate that's what is really happening. Well, except for the fact that TV Armageddon includes two time travelers plus another hero who has plenty of experience with time travel. You can't blame us for going there, folks!
However, with the knowledge of Tony Curran's Despero now in the mix, it's increasingly likely that the above speculation is going right out the window.
The Flash Season 8 Release Date
The Flash Season 8 will premiere on Nov. 16 at 8pm with the first part of Armageddon. Remember, even though Armageddon features characters from across the Arrowverse, it doesn't appear to be a true crossover with other shows, and it will all take place in the course of the first five episodes of The Flash Season 8.