Features
The First 10 Minutes of Invincible Season 2 Are Incredible
Invincible is finally back for season 2 and episode 1's multiversal opening act is truly something to behold.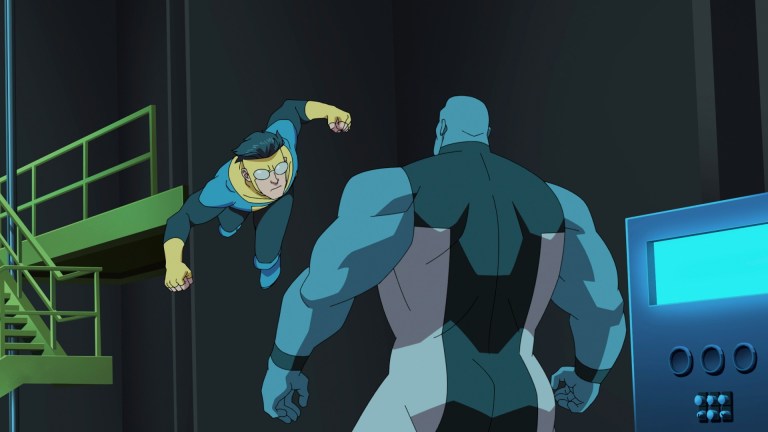 This article contains spoilers for Invincible season 2 episode 1.
The conclusion of Invincible season 1 was a tough act to follow.
In case you forgot (and you may have since it aired more than a year and a half ago), the first season of Prime Video's animated superhero series ended with an epic, bloody battle between Mark Grayson a.k.a. Invincible (Steven Yeun) and his father Nolan Grayson a.k.a. Omni-Man (J.K. Simmons). And by bloody … we mean like really bloody.
Viewers had known that Nolan, from the warrior planet Viltrum, was a baddie since he killed the Guardians of the Globe at the end of the show's pilot. Poor Mark didn't get that news until later when his father revealed that Viltrum wasn't a planet of philanthropists like he claimed but rather a culture of conquerors. Now it would be up to Mark and Nolan to conquer the planet together. Mark, who had been raised on Earth, balked at this idea and received one of the most brutal beatdowns you could possibly imagine in return. Seriously, look at this shit.
By the very end of the season, Omni-Man had flown off to parts unknown, leaving Mark behind to recover from his wounds and begin to establish himself as Earth's best chance against the incoming Viltrumite invasion. This left many questions going into the show's long-awaited second season. Chief among them, of course, was "how can the first act of season 2 possibly live up to the final act of season 1?" The answer, it turns out, was with more exquisite violence.
The first 10 minutes of Invincible season 2 is absolutely thrilling stuff and is immediately on par with any sequence from the show's superb first season. With no explanation whatsoever, the opening of "A Lesson for Your Next Life" throws viewers into an Earth under attack from Viltrumites. Shockingly, those Viltrumites happen to be none other than Nolan and Mark themselves.
The Immortal is dead (again), the rest of our known heroes (Atom Eve, Robot, Rex Splode et. al.) are in hiding. A broadcast from Invincible plays on every screen urging the planet to stop resisting lest they have to kill more people. This is urgent, bracing stuff and it only gets worse. We get to see what the meager on-the-ground resistance looks like through the eyes of for the former Teen Team and new character Angstrom Levy (Sterling K. Brown). The specter of Mark and Nolan are like the boogeymen in a horror movie as Levy, Eve, Robot, and company prepare for a fight they know they can't win.
Sure enough, when Mark and Nolan arrive at Angstrom's underground resistance, the experimental null energy weapon does little to stop them. Mark dispatches his "friend" Atom Eve by snapping her spine (so she can't self-heal). Nolan congratulates his son for learning that new technique by practicing on the protestors they were killing last week. The battle is over and the war is lost. Earth belongs to evil Mark and evil Nolan. The only thing that spares us from witnessing more carnage is Angstrom Levy opening up a portal and escaping through it to another timeline.
Yes, as the savvy superhero consumer (or anyone who watched the season 2 trailers) might have surmised: this is all a separate universe within Invincible's sprawling multiverse that only Angstrom Levy has the ability to access.
Invincible faced a unique challenge in introducing its concept of a multiverse for season 2. As comic creator and show producer Robert Kirkman has frequently explained in interviews, the Invincible comic was meddling in the multiverse long before properties like Marvel, Rick and Morty, and Everything Everywhere All At Once made it a current pop culture mainstay.
"I know a lot of people are like 'ugh too much multiverse,'" Kirkman told Den of Geek before season 2 premiered. "We're doing things in a much different way."
"Doing things a much different way" for Invincible means using the multiverse as something of a jumpscare for its viewers. Following the events of Invincible season 1, quite literally the last thing fans would expect is a Mark/Nolan world-conquering team up. But that's exactly what the opening scene of Invincible season 2 provides, just as the comic did before it (the scene in question is adapted from Angstrom Levy's similar introduction in Issue 16, which arrived just three issues after the big Mark and Nolan fight).
Additionally, Invincible isn't using the multiverse to show us only the worst possible timeline but apparently the average timeline. According to Angstrom Levy, Mark and Nolan end up joining forces in most of the worlds he's visited. That little multiversal tidbit makes Mark's decision to defy his father all the more painful and his current fear of becoming his father even more tragic.
The best comic book storytellers understand that superheroes are action figures and the multiverse they occupy is a big sandbox in which to play with them. Based on the thrilling opening act of season 2, Invincible understands what to do with its toys quite well.
Episodes of Invincible season 2 premiere Fridays on Prime Video, culminating with a midseason finale on Nov. 24.