Features
Invincible Episode 7 Improves Upon Its Already Great Source Material
Invincible episode 7 features an astonishing amount of action and revelations. Here is what it all means and how it differs from the comic.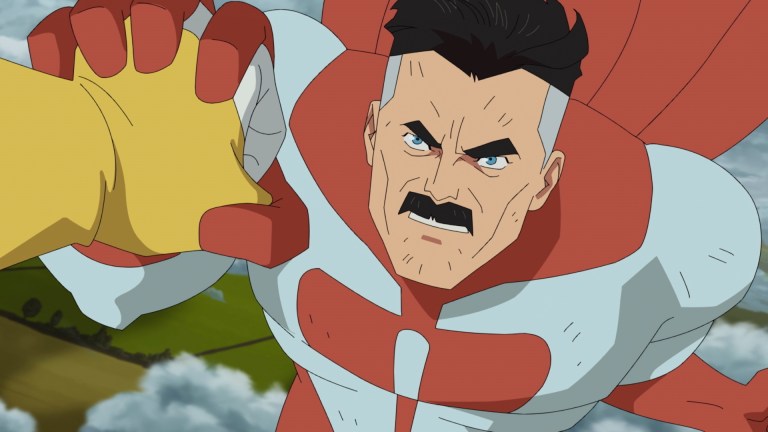 This article contains spoilers for Invincible episode 7.
Amazon's animated adaptation of Robert Kirkman and Cory Walker's comic Invincible was always a great idea. The property has just about everything that streaming services and their audiences are looking for currently: superheroes, ultraviolence, and jaw-dropping twists.
One big question facing the series, however, was how could one show possibly fit in all the story of the comic's lengthy 144-issue run? Invincible episode 7, "We Need to Talk," is the first season's penultimate installment and it reveals how the show is set to approach this logistical challenge. With so many comic book issues of plot to get through, Invincible seems perfectly happy to accelerate through that plot as efficiently as possible. To that end, "We Need to Talk" features a truly staggering number of climactic moments.
This might actually be the most charmingly chaotic and jam-packed episode of TV this year (at least before next week's finale). So much happens in "We Need to Talk" that it runs the risk of overwhelming the viewer. With that in mind, let's break down the important plot points of this hour and examine the major ways in which they differ from (and even improve upon) the comic.
Robot's True Identity
The reveal that the entity known as "Robot" isn't who he claims to be might be the most shocking Invincible twist thus far. And that's saying a lot for a show whose first episode concludes with the story's Superman equivalent straight up murdering the rest of his Justice League.
That Robot (Zachary Quinto) is really a malformed genius named Rudolph Conners isn't a surprise to comic book readers, but its positioning this early in Invincible's story is a surprise. Robot's work with the Mauler Twins to create a new body for himself doesn't happen until after the events of Omni-Man's confrontation with Mark in the comics (more on that later). The show, however, shrewdly decides to present this moment in the same episode as Omni-Man's fall – just so there's never really a moment for viewers to catch their breath.
But now the truth has finally arrived. Robot, the orange hunk of metal with a fixedly bemused expression, is actually a machine being operated remotely by Rudolph Conners. Rudolph, or Rudy, is a small, damaged man whose body isn't capable of surviving Earth's environment. For many years Rudy was content to exist in his own life-giving tank of fluids while operating his superheroic "Robot" remotely. Everything changed, however, when he met the hero known as Monster Girl.
Rudy couldn't help but identify with Monster Girl (Grey Griffin), a fellow soul who has made the best of a flawed body. Everytime Monster Girl transforms into a monster, her human form de-ages several more weeks. Theoretically at some point Monster Girl will become an infant and then waste away into nothingness. Before any of that happens, Rudy wants to fix her…and he wants to fix his own broken body so that the pair can be together.
To that end, Rudy sprung the mad genius villain team The Mauler Twins from prison to create a cloned body for him to transfer his consciousness into. What makes this whole thing even stranger is that the genetic material Rudy chose for his new body belongs to his Teen Team and Guardians of the Globe colleague Rex Splode. The new Rudy appears to be played by Rex Splode actor Jason Mantzoukas with his voice altered to sound younger.
Does that mean Zachary Quinto is no longer a part of the series? Let's certainly hope not as he may have been the best performer of the entire cast. And why did Rudy choose Rex's DNA (and without Rex's consent, it must be said)? Because Rex is hot, basically. Rudy chose a human form that Monster Girl was already comfortable flirting with.
This is…a lot. And the fact that Rudy has to introduce himself to his teammates while they've all gathered for an "apocalyptic event" just adds to the madness. But what of The Mauler Twins? The disappointment of Rudy's double-crossing doesn't last long. For, after Rudy is forced to abandon his efforts to reincarcerate the Mauler Twins to return to the Guardians home base, the twins get back to their important task at hand. And that leads to the return of another important Invincible character…
The Immortal is Immortal After All
Back in Invincible episode 1, Mark Grayson's dad Nolan a.k.a. Omni-Man (J.K. Simmons) made short work of the Guardians of the Globe. Darkwing? Dead. War Woman? Dead. The Immortal? De….wait a minute. How can someone called "The Immortal" die?
Well, it turns out that death for The Immortal (still voiced by Ross Marquand) is only temporary. Omni-Man removed The Immortal's head, which is pretty much universally lethal across all genre stories. But The Mauler Twins theorized that if The Immortal's head were returned to his body, he would spring back to life.
Sure enough, that's exactly what happened once The Immortal's noggin was reattached. Unfortunately for The Mauler Twins, their dreams of forming any sort of alliance with the resurrected hero are quickly dashed as he immediately flies off to confront the man who killed him.
Omni-Man v. Cecil Stedman
And that takes us to Omni-Man. In the comic, Omni-Man's confrontation with The Immortal is what leads Mark Grayson (Steven Yeun) to discover that he's got a Darth Vader situation on his hands. The show borrows that moment from the comic because any time you have the opportunity to make a character watch his father tear a Wolverine-looking dude in half, you've got to take it. That comic book moment is surprisingly abrupt though. In one panel Omni-Man is doing his usual Omni-Man thing and saving a group of citizens from a faulty roller coaster and in the next panel, The Immortal is all over his ass.
The Amazon Prime series dramatically improves on what is already a pretty great moment simply by drawing it out and building serious tension. Nolan's wife Debbie (Sandra Oh) and the entire Global Defense Agency led by Cecil Stedman (Walton Goggins) are already well aware of Nolan's treachery and have decided to finally take action. In speaking to Den of Geek and other outlets prior to Invincible's premiere, Kirkman (who's onboard as a writer and producer for this adaptation) revealed that Cecil Stedman would be getting an expanded role earlier on in Invincible's story.
"Cecil Stedman is a character that we get to know a little earlier in the show and definitely we get to do more with him," he said. "I think that's a lot of fun. There's definitely some differences to his character and working with Walton Goggins on him has been great."
Cecil really is a fascinating tool for Invincible. Many superhero stories have a Jim Gordon-style government liaison for its heroes to interact with. This person usually represents the interests of the planet's "normal" citizen and is particularly impressive for being able to cut it in the world of the super-powered. By having Debbie and the GDA uncover Nolan's guilt first, Invincible creates a wonderful opportunity to display both Cecil's competence and depict the absolute horror of we puny humans trying to keep a super-powered god in check.
Many times throughout Invincible episode 7, Cecil admits that there is nothing they can do to stop Nolan. The best they can do is slow him down for a bit until Mark is able to intervene. The first roadblock that Cecil presents is the explosion of an entire suburban city block with Nolan at its epicenter (R.I.P. Donald). 
"Best it will do is maybe knock him on his ass for an hour or two," Cecil says. Then when the smoke clears to reveal an unharmed Omni-Man, Cecil grimly adds "Or maybe not hurt him at all."
Cecil then throws the "hammer" at Nolan, which is a powerful blast from a weaponized satellite.
"$400 billion for the world's most expensive nosebleed," Cecil quips when Nolan takes the weapon out with ease.
Then we get a sense of how many moral shortcuts Cecil is willing to take to keep the Earth safe. Mad scientist D.A. Sinclair's (Ezra Miller) wounds from his confrontation with Invincible haven't even healed yet but Cecil already has him using his evil technology for noble purposes. Sinclair's "Reanimen" technology is now being used to reanimate recently dead U.S. soldiers, who are sent in to slow down Omni-Man. Unfortunately, that is also unsuccessful.
Finally, Cecil is forced to head out into the field armed with nothing but a teleporter to confront Omni-Man himself. When that inevitably fails to slow Nolan down, the GDA sends a monster that Nolan already conquered, only this time it's been robbed of its weaknesses and fear. And that's where Mark finds his father, just in time for The Immortal to arrive and deliver one hell of a surprise.
There's something to be said for the suddenness of the comic's Omni-Man moment with Mark. Mark witnessing his dad's evil act truly comes out of nowhere even though we know it's inevitable as Nolan has been practicing this conversation all issue.
What the show does with the moment is a masterstroke, however. By centering the focus on the human characters of Invincible's world, we get a chilling sense of just how terrifying this all is. Omni-Man's heel turn doesn't just have personal implications for Mark, it means that Earth's unbeatable protector now seems to hate Earth. More terrifying than that is that the only person we think can defeat him is Mark Grayson…who, it must be said, has done nothing but had his ass absolutely handed to him by lesser enemies over and over again for the past three episodes.
Amber and Mark
It probably feels anticlimactic to address Mark and Amber's lover's spat after breaking down Omni-Man's reign of terror. But it's necessary to see how far-reaching the changes (and in this case improvements) are in episode 7 in comparison to its original text.
Mark and Amber's relationship thus far has been all about frustration. Mark is facing an annoying problem with a seemingly easy solution. Amber (Zazie Beetz) is upset with him because he is absent in their burgeoning relationship. He's absent in their burgeoning relationship because he's a superhero. Therefore, the quickest, easiest solution to this dilemma is to tell her that he's a superhero.
So in this episode, that's exactly what Mark does. He gets suited up and flies right through Amber's window to deliver the exciting news. The problem is – she's not that excited.
"Ugh, I know you're a superhero," Amber says. "I'm not an idiot, I figured it out weeks ago."
This is not how things go down in the comic. That version of Amber is a bit more…let's say "bubbly" and when confronted with the fact that Mark has lied to her for weeks she responds with an excited "My boyfriend is a superhero?!?!?"
The show, however, is smart to not let Mark off the hook so easily. Of course Amber knew that Mark is Invincible. Because, like she says, she's not an idiot. Anyone who spends an inordinate amount of time with him is bound to figure it out sooner than later. So what Mark thought was a problem with an easy solution becomes yet another difficult lesson on his path to maturation.
"I think that Amber is important in terms of holding Mark accountable," Beetz told reporters prior to the show's premiere. "Mark is still struggling with what his identity as a super person is. And she shows him that (powers) are not what make you good or special ultimately, it's what's in your character."
It turns out that the people close to you don't appreciate being lied to. Though human beings all look like particularly vulnerable ants from Mark's perspective high up in the sky, we certainly don't appreciate being treated like insects to be protected and manipulated by the powerful among us.
Mark and Amber's relationship is an excellent indication that nothing will come easy for Mark Grayson on this show. Every decision has an equal and opposite reaction. It's important that he learns that lesson before he enters into what is sure to be the most stressful and morally confusing moment of his life next week.
Invincible's season finale will be available to stream Friday, April 30 on Amazon Prime.