News
Invincible Season 2 Has a Plan for Omni-Man
Robert Kirkman reveals what to expect from Invincible season 2 including a fresh villain, branching universes, and yes: more J.K. Simmons.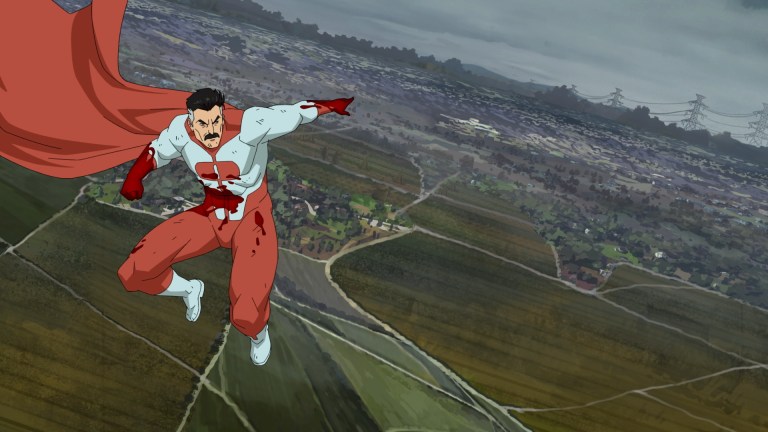 Now that season 2 of his Prime Video superhero series has a Nov. 3 release date, Invincible creator Robert Kirkman admits that he's going to miss all the poking and prodding.
"I'm ready for people to stop yelling at me about (the wait for season 2). But I'm also so appreciative of people 'yelling' at me for the last seven years. It's great to see that people are invested," he tells Den of Geek during his appearance at our San Diego Comic-Con studio.
Kirkman is mostly joking – it hasn't actually been seven years since Invincible season 1's finale premiered in April 2021. But given the explosive conclusion to the first season of the series based on Kirkman, Cory Walker, and Ryan Ottley's beloved 144-issue comic of the same name, fans could be forgiven for feeling like it's been nearly a decade all the same.
Premiering in January 2003, nearly a year before Kirkman's "other" long-running comic that you may have heard of, Invincible has long been an adaptation pipe dream for its many readers. Whispers of a live-action TV show or movie have come and gone throughout the years (and Kirkman addressed them again at this year's Comic-Con with a firm "no update") but it wasn't until TV writer Simon Racioppa and Amazon's Prime Video entered the fold that fans finally got their wish.
Invincible season 1 covered roughly the first 13 issues of the massive comic, and concluded with one of the most awe-inspiringly violent superhero fights you'll ever see between lead character Mark Grayson a.k.a. Invincible (Steven Yeun) and his evil alien father Nolan Grayson a.k.a. Omni-Man (J.K. Simmons). Once all the dust and guts settled, Invincible watchers immediately readied themselves season 2. Unfortunately, due to the rigors of animation and beginning production amid a pandemic, the wait for that second season would be a long one.
During his San Diego Comic-Con appearance, however, Kirkman announced both an unexpected Invincible one-off special starring the character Atom Eve and the final release date for season 2: Nov. 3. He also announced that production on season 3 was well underway and that season 2's eight episodes would be released weekly and split into two halves, with the latter four episodes set to arrive in early 2024. He expounded upon that decision with Den of Geek.
"I think there's a really strong narrative reason (for splitting the season)," he says. "After the fourth episode of season 2, you're definitely gonna need a break … a breather. You're gonna need time to digest. It's also a time of year where there's so much going on with Christmas, New Year's, Thanksgiving, all that sort of stuff. It's great to take a pause."
As part of its release date trailer, Prime Video revealed an enormous influx of impressive voice actors for the new season, including Tatiana Maslany, Daveed Diggs, Transformers' Optimus Prime voice Peter Cullen, and …. you know what? It's probably easier just to glance at the whole list in screenshot form.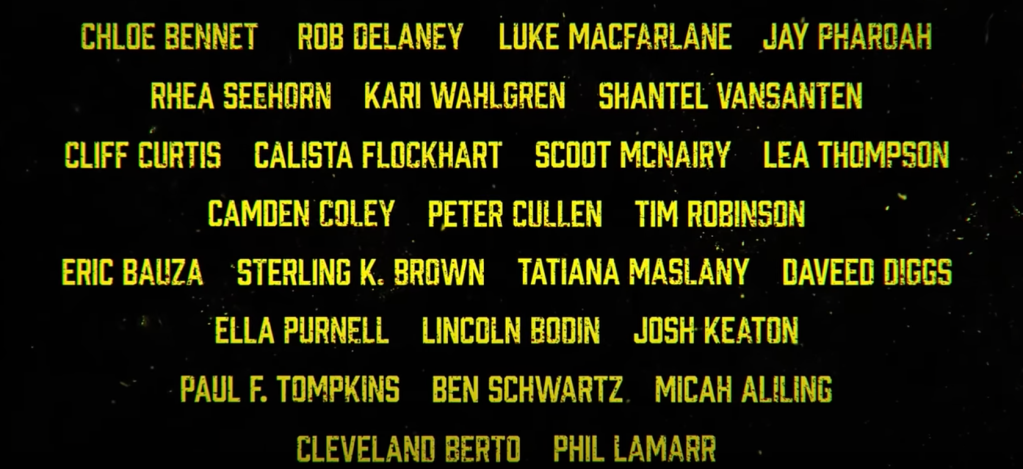 Aside from the aforementioned Cullen, who the trailer implies will be playing the Viltrumite Thadeus, Kirkman revealed the identity of only one other actor's character. Sterling K. Brown (This is Us) will be lending his voice to A-Tier Invincible arch villain Angstrom Levy.
"Angstrom is a really cool character," Kirkman says. "He's going to be the throughline through season 2 the same way that the conflict with Omni-Man was the throughline in season 1," Kirkman says.
The introduction of Angstrom Levy also means the inevitable introduction of something that has become a recurring feature in superhero pop culture: the multiverse. According to Kirkman though, the comic and show's version of alternate universes, conceived of nearly two decades ago, are quite different from the Marvel and Rick and Morty depictions we've become familiar with.
"It's a more character-based take on it," Kirkman says. "It's not necessarily about bringing the aspects of other dimensions to our world. It's about how the knowledge of other dimensions changes our world. I know a lot of people are like 'ugh too much multiverse.' We're doing things in a much different way."
One element of superhero storytelling that people definitely haven't had too much of yet, however, is J.K. Simmons. The Academy Award-winning actor has been a mainstay in the comic world for over two decades thanks to his iconic work as cranky media figure J. Jonah Jameson across virtually all the Spider-Man films. On Invincible, he became a fan favorite as the terrifyingly evil paterfamilias Nolan Grayson.
Simmons' unnerving work as Omni-Man provides answers to hypotheticals we didn't know we needed like "what if Superman hated us?" and "what if we watched Darth Vader beat Luke Skywalker into a pile of pulsating organs and viscera for 30 minutes?" Following the brutal beatdown of his son, Omni-Man took off to space for parts unknown. Readers of the comic know that it takes a hot minute before Nolan Grayson makes his return. Will that be the case in Invincible season 2?
"There wasn't any massive directive to try to mimic season 1 or alter things," Kirkman says of potentially juggling around the plot to capitalize on Omni-Man's popularity. "But I don't think you're going to be missing Omni-Man in season 2. The conflict with Omni-Man is possibly going to rear its head when you least expect it. You'll just have to see."
Invincible season 2 premieres its first episode Friday, Nov. 10 on Prime Video.