News
The Expanse's Cas Anvar Won't Be in Season 6
Following a third party investigation of sexual harassment and assault allegations, Cas Anvar will not be in The Expanse's final season.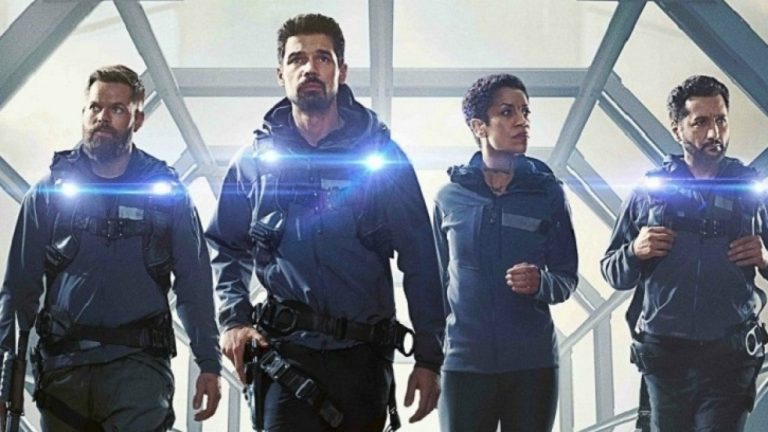 This The Expanse article contains MAJOR spoilers for the Season 5 finale. Proceed with caution.
Buried in Deadline's November 2020 announcement that The Expanse has been renewed for a sixth (yay!) and final (oh) season, was another very important news item: Cas Anvar, who has played Martian pilot Alex Kamal in the first five seasons of the show, will not be returning for the final season. This announcement comes after an official investigation by a third party on behalf of Alcon Studios due to the many allegations of abuse and harassment made against Anvar by both coworkers and fans, some of whom were under the age of 18. (You can read more about this on The Expanse subreddit, where statements from the accusers, the cast and crew, and Anvar have been compiled.)
Anvar appeared in Season 5, but his character, Alex Kamal, was killed in the finale, representing a major departure from the books. Filming on the fifth season finished before the allegations against Anvar came to light. While some have theorized that the character death was added to the finale via reshoots, showrunner Naren Shankar did not confirm the theory when we talked to him ahead of the episode's airing.
For many The Expanse fans, Anvar's presence in the fifth season complicated the viewing experience. I, like many other Expanse fans, was anticipating that the behind-the-scenes allegations against Anvar, many of which allegedly occurred at conventions, might affect how I watch any plot involving Alex—and it did, especially in an early-Season 5 plot that saw Alex going out on a date with a Martian woman named Lieutenant Babbage under false pretenses. That being said, it has been heartening to know that Alcon Studios, the production company behind The Expanse, has taken these allegations seriously and has seemingly acted on the results of their investigation.
This Expanse news came a few weeks after the announcement that Johnny Depp will not be returning for the third movie in the Fantastic Beasts franchise, which came only days after a U.K. court's ruling that British tabloid The Sun was not committing libel when they described Depp as "a wife-beater" in 2018. In both cases, the reason for the actors' departures have been left for fans to interpret rather than made explicit by The Powers That Be. Presumably, the decision to stay mum on the details of someone being asked to resign or not being rehired (or whatever other euphemism we're using these days) is at least partially informed by a studio not wanting to invite legal trouble. It's also just one more way our institutions are constructed to protect abusers and/or a company's bottom line.
That being said, Anvar's Season 6 departure does appear to be some level of accountability, and is seemingly a rare example of a TV or film production addressing allegations of abuse.