Features
The Expanse Author Shares Hopeful Vision for Avatars Inc Anthology
The Expanse co-author Daniel Abraham talks about the use of avatars in the XPRIZE story collection and James S.A. Corey's contribution.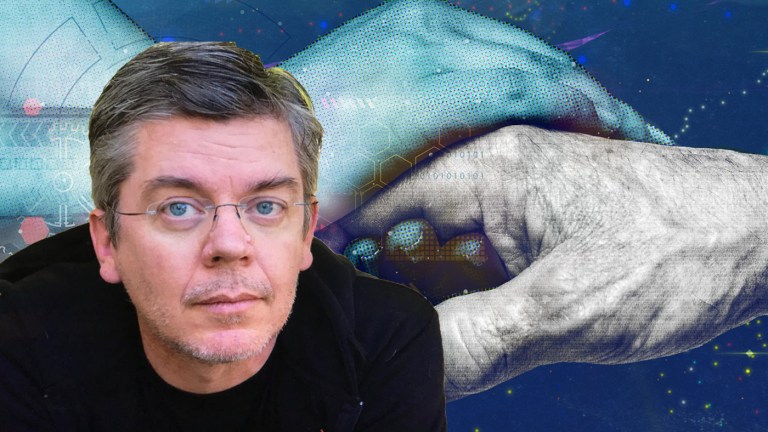 At Avatars Inc, the ANA XPRIZE folks have taken their real-life contest of innovation in which scientists are asked to develop mechanical bodies that can be operated at a distance and placed the concept in the hands of science fiction's best writers. To encourage aspiring authors to enter their own short stories involving avatar usage, these professionals imagined a near future where remote proxies could give humans experiences they could not otherwise have, and we spoke to Daniel Abraham, who writes The Expanse novels with Ty Franck under the pen name James S.A. Corey, about how he developed his contribution to the anthology.
Even if teams around the world weren't already developing avatars to win the XPRIZE challenge issued in 2018, Abraham doesn't find the idea of inhabiting a remote body all that implausible. "It's a technology that I think we've all been moving toward, especially in the last 15-20 years," he says. "The idea of a telepresence has been something we've gotten more and more comfortable with. I remember having conversations with people I was not physically with as early as the 80s in text, and we've all been doing telephones and even telegraph was a tremendous change in that relationship with space. Having it be something where we can actually manipulate things at a distance is an obvious next step."
The parameters given to Avatars Inc authors were fairly open-ended, but there was one requirement that challenged Abraham's typical writing style. "The hard one for me was we were encouraged to look at the positive aspects of these, and "positive aspects" is not really what I do. My job is to create friction and conflict and trouble," he says with a grin. "We were wanting to look at a more optimistic and more hopeful view of what these sorts of things could do, what the applications could be, and within that it was pretty wide open. We had eras that they were looking at: how far in the future we were projecting this particular application or this particular story to be, and after that they really took off the leash and let us do what we were going to do."
The James S.A. Corey tale in the Avatars Inc collection is appropriately titled "Elsewhere," and Abraham wanted the out-of-body experience of using an avatar to have multiple connotations. "Part of the action is a woman who has gone to see her dying father — gone to hospice to be with him — in those last minutes, but there's also her story, which is beyond that. [Jeannie] is a profoundly disabled woman who interacts with the world at large through this device, and a lot of what we were wanting to talk about with that was the importance of presence in the world and the importance of allowing people to present who might not otherwise be able to be… and playing that against the moment of somebody not being in their own body anymore."
The story proposes that because of the avatar Jeannie's brain actually maintains vitality in areas that govern physical movement even though her body is paralyzed. "I work with plausibility, not truth, but I do believe it's plausible," says Abraham. "I think that when you see areas of brain growth and atrophy, what those are indicating is use of those senses and the creation of those experiences, and if you are creating those experiences, I'm not sure it matters what the inputs are. So yeah, I think there's a real opportunity for that kind of technology to replace parts of experience that we wouldn't be able to access otherwise."
As for fans of The Expanse hoping to see Bobbie Draper operating her Martian Marine power suit at a distance like an avatar, don't count on it happening anytime soon. "The problem with that technology in The Expanse is light speed," argues Abraham. "It sucks playing just on your Xbox if the ping's bad enough… There's a bad lag between here and Mars! That's kind of the limiting factor." Nevertheless, this story and others available for free at avatars.inc might inspire others to write their own avatar story, but they'd better hurry! The deadline to submit is May 8, 2020.