Features
The Boys Season 3: Who is The Legend?
The Legend (Paul Reiser) stops by The Boys season 3 to remind viewers that superheroes didn't always have to be so corporate.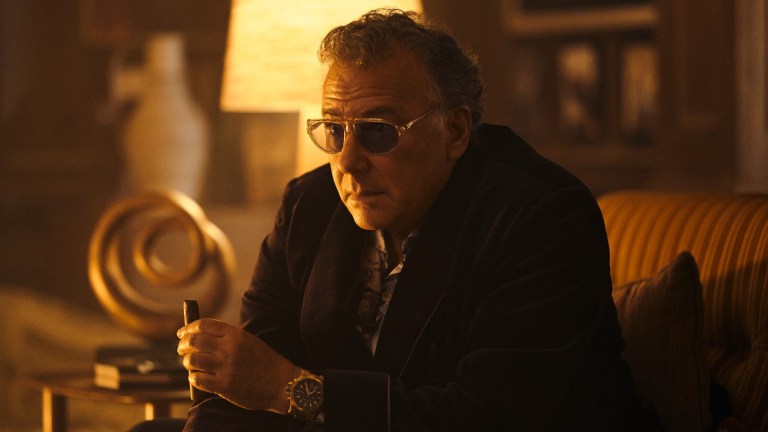 This article contains spoilers for The Boys season 3 episode 5.
It's no secret that things are quite bad in the world of The Boys season 3. Uber-corporation Vought International has a stranglehold on pop culture, churning out trite superhero content based on their actual superheroes that exacerbate America's already problematic appreciation for authoritarian figures.
But did it always have to be this way? What about the halcyon days of Old Hollywood in The Boys? The days where coked-out film execs knew what the public wanted better than any of these newfangled computers and their algorithms. What about those? Well in season 3 episode 5 "The Last Time to Look on This World of Lies", The Boys introduces a relic of those old days just to remind us that they kind of sucked too.
Ladies and gentleman, prepare to meet The Legend. Played by Paul Reiser, The Legend is not given a proper name yet on the series, preferring to go by the designation Mother's Milk (Laz Alonso) gives him.
"It's not a name. It's a level," The Legend explains Hughie (Jack Quaid).
Though The Boys' Twitter account teased out the arrival of a similarly-named character from the comic, this Legend is a little different from the lecherous comic book store owner from Garth Ennis and Darick Robertson's work. Back in the glory days of Vought International's film production, the show's Legend was Vice President of Hero Management. He now lives a life of quiet decadence, snorting cocaine in his penthouse and telling anyone who will listen about the time Marlon Brano was balls deep in him ("What? That's gay now. Fuck you.")
In addition to being an absolute reference machine (catch up with just a few of the celebs he name drops over here), The Legend represents the old way of thinking about superheroes. Before the computers arrived and Vought learned about the benefits of tracking demo points and audience testing, The Legend and his kind were tasked with using their own humanity (gross as they may be) to understand what consumers really wanted.
"When I was in charge, you went with your gut," The Legend says. "That's when heroes were heroes. Not these stage managed silicon dolls. I've never even seen Homelander sweat."
The introduction of The Legend is another prime example of The Boys filling in the edges of its expansive world…that just happens to uncomfortably resemble our own. While few would argue that our own entertainment landscape has become far too machine-like and corporate, it's also a bit disquieting that someone like The Legend could have been the Don Draper-esque figure engineering an entire generation's imagination.
It also helps that The Boys found the exact right actor to portray its powerful former Hollywood exec. Like The Legend himself, Paul Reiser is…well, a legend. Reiser first broke into the entertainment industry as a stand-up comic in the early '80s before receiving his first breakout role in Barry Levinson's 1982 classic film Diner. From there Reiser popped up in many other movies of note (Beverly Hills Cop, Aliens) before co-creating and starring in his own successful sitcom, Mad About You.
Recent TV-watchers may know Reiser best for his role as Dr. Sam Owens on Stranger Things. In fact, the concurring runs of Stranger Things season 4 and The Boys season 3 have made for a very merry Reiser summer.
Reiser has had a successful enough career that many of the photos of The Legend with celebrities that adorn the character's wall may actually just be from Reiser's personal collection (though we weren't able to confirm this).
"I couldn't believe we got that experience to work with him," Jack Quaid tells Den of Geek. "I only shot one or two days with him but I was so impressed with how quickly he was able to immediately understand what the show is about and nail it so incredibly fast. I love working with that guy."
"Jack and I are both fans of his from way back," Karl Urban adds. "To have the opportunity to get on set and not only work with him but to watch how he crafts a scene. And he's just the loveliest guy. And hilarious."
Sometimes it takes a legend to play The Legend.