News
The Boys Season 3 Exclusive Cover Reveal: Meet Jensen Ackles as Soldier Boy
Meet Jensen Ackles as Soldier Boy! The next issue of Den of Geek goes behind the scenes of The Boys season 3 and much more! Here's your first look...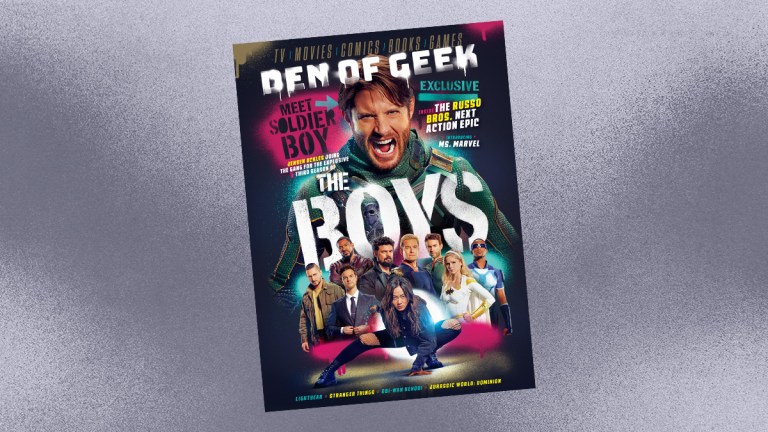 "Power tends to corrupt, and absolute power corrupts absolutely." – John Dalberg-Acton. April 5, 1887.
The idea of the superbeing not as an aspirational figure but a cautionary tale is one that predates even the concept of the superhero. Philip Wylie's 1930 novel about a superhumanly strong and tough man, Gladiator—a key influence on Superman—isn't one of high adventure and happy endings. Long before they brought the Man of Steel we all know and love to life, Jerry Siegel and Joe Shuster's 1933 "Reign of the Superman" wasn't about a heroic character at all, but rather a mad scientist whose experiments grant a man telepathic powers who is soon corrupted by his gifts. Hell, we could rewind this thousands of years and see how mythological gods and heroes were far from paragons of virtue themselves.
It's why even in the most shiningly optimistic superhero tales, there's always a darkness lurking just beneath the surface. In the right hands, you get something like Alan Moore and Dave Gibbons' Watchmen (and, for that matter, its similarly superlative TV sequel). In the wrong hands, you get muddled messaging and the uncomfortable sense that some members of the audience are celebrating characters and events that are meant to be a reminder of human nature's darker tendencies.
Fortunately for everyone, Prime Video's The Boys falls firmly in the former camp. Based on Garth Ennis and Darick Robertson's comic series, the TV series arrived at just the right point of superhero media cultural saturation to feel like more than just another cautionary tale about power. Instead, The Boys expertly unpacks the cultural ramifications of a world where superhumans are plentiful, the cult of celebrity that would spring up around them, and the myriad ways that megacorporations always manage to ruin everything. We spent a little time with the folks who bring the profane magic of The Boys to life to bring you an exclusive peek behind the (extremely bloody) curtain of the upcoming third season.
Some folks might see a certain irony in a publication like Den of Geek, where our bread-and-butter is heroic fiction and genre storytelling, celebrating a series that has already provided two seasons of commentary about where cultural superhero obsession could end up leading. Or maybe we're thinking too hard about this. Because most importantly, The Boys is, quite simply, spectacular television. Sharp, darkly funny, boasting top-notch special effects and some of the finest superhero costumes ever realized in live-action, it's as wildly entertaining, thought-provoking, and as perfectly cast as anything the "peak TV" era has offered.
In this issue, we're thrilled to bring you an in-depth preview of The Boys' third season in all its wild, transgressive glory alongside our usual expert coverage of the best in sci-fi, horror, action, and (yes) superheroes.
This issue hits on May 17, so subscribe now to guarantee your copy!
Also in the next issue of Den of Geek magazine!
An in-depth first look at The Gray Man, the next big action project from The Russo Bros.!
An exclusive interview with Iman Velani, the star of Ms. Marvel!
Shawn Levy Talks Stranger Things season 4!
Behind the Scenes of Jurassic World: Dominion!
The inspirations behind Lightyear!
…and much more!