News
The Boys Season 3 Episode 7 Release Time and Trailer
How do you follow up Herogasm? A trailer for episode 7 of The Boys season 3 gives us some idea.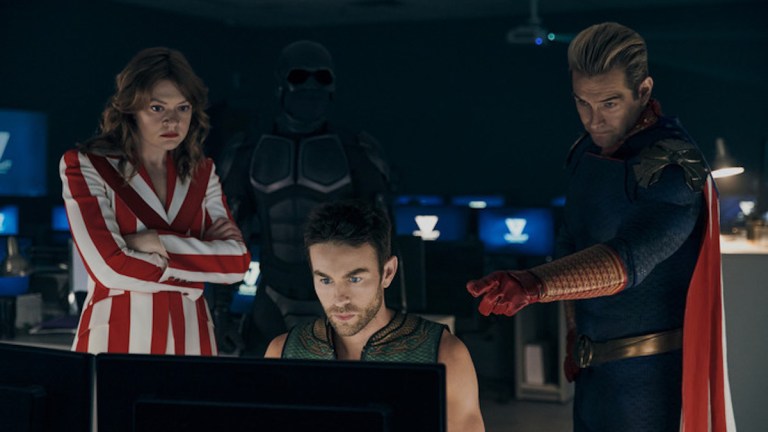 This post contains spoilers for The Boys Season Three, Episode Six.
All season long, we've been hearing about Herogasm, the notorious superhero orgy that would finally appear in the sixth episode of The Boys' third season. And if episode eight follows the lead of the previous two season finales, it will be filled with shocking moments that leave us hungry for more. With that in mind, one might assume that the upcoming episode seven will be something of a breather, a bit of downtime to recover from Herogasm before going toward the final showdown.
Within one second of the trailer for episode seven, it's clear that The Boys will not be slowing things down. The trailer opens with Captain America analogue Soldier Boy pounding his shield onto some poor soul, complete with very squishy sound effects. In the following scene, Homelander asks the question we've all been asking: "Do you have any idea what you've set loose?"
The central theme of season three has been escalation and the cost of defeating your enemy. Over the previous six episodes, we've seen Butcher and Hughie become increasingly dependent on Temporary V, a substance that makes them into the very Supes they hate. Furthermore, their search for a weapon to kill Homelander has led them to release Soldier Boy from the Russian prison that has held him for decades.
The climactic battle of "Herogasm" showed us why the team would indulge themselves, as Soldier Boy, along with a Suped up Hughie and Butcher, nearly take down Homelander. The trailer underscores the moment with a shot of Queen Maeve in her prison cell, giving a delicious smile as she tells Homelander, "Today is the day I saw you scared." For the first time, the nigh-invulnerable Homelander, who has only grown more deranged as his right-wing fanbase supports his open fascism, looks like he may be defeated.
But the trailer also suggests that The Boys might win the battle at the cost of their souls. We've already seen how Butcher and Hughie's actions have eroded the trust of M.M., whose family was destroyed by Soldier Boy. In the trailer clips, we get the sense that things may be even worse. We see Hughie and Butcher making good on their deal with Soldier Boy, helping the WWII Supe as he hunts down and kills his former teammates, indicating that he's just as bad as Homelander. The trailer ends with an image of Butcher's eyes glowing as he prepares to use his heat vision, cutting to the words "#BoysStrikeBack."
Is this truly a triumphant moment for the Boys? Or will their battle against Homelander turn them into the very monsters they've tried to slay? We'll know more when episode seven, "Here Comes a Candle to Light You to Bed," drops at 3 AM on Amazon Prime Video, streaming on Friday, July 1.