News
The Boys Season 2 Episode 6 Trailer and Release Date
It looks like The Boys will answer some questions about Stormfront and Sage Grove hospital in episode 6 of Season 2.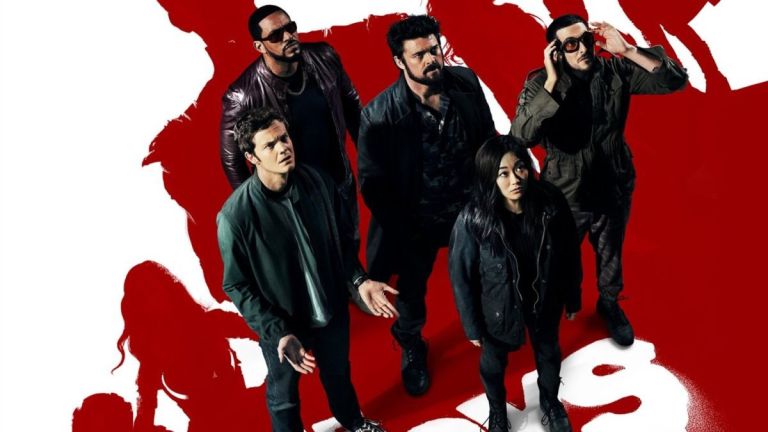 We're taking a look ahead at what's next for The Boys in Season 2, as a trailer for their upcoming mission teases a less-than-gentle swipe at Marvel's The New Mutants. Showrunner Eric Kripke and his writing team have already poked fun at both the MCU and the DCEU this season, so it's no surprise to see The New Mutants being thrown on the reference pile.
The Boys are set to go undercover again in episode 6, which is called 'The Bloody Doors Off', and if the title of this Season 2 instalment doesn't tell you things won't go entirely to plan for Butcher and co. during their incognito manoeuvre – "You were only supposed to blow the bloody doors off!" is an iconic line by Michael Caine's character Charlie Croker in The Italian Job delivered after an explosion planned in his grand robbery scheme goes awry – the preview trailer certainly does.
The trailer starts with the lads getting a visit from Annie/Starlight (Erin Moriarty), who has a tip for them about a possible target at the Sage Grove Center psychiatric hospital. Back in episode 5, we caught a glimpse of the supe that Annie originally replaced in The Seven, Lamplighter, on guard duty at that very same hospital. The 'retired' Lamplighter (Shawn Ashmore) was carrying out a low-key mission for Stormfront (Aya Cash) there, but also appeared conflicted about his task – dealing with 'a 17-year old kid' at the facility. As some fans have been guessing online, Lamplighter seems to be referring to the boy who can explode heads, glimpsed in several Season 2 trailers thus far.
Elsewhere, it's confession time for Stormfront, as her new hook-up Homelander (Antony Starr) confronts her about what's really going on behind the scenes, and we may get more details about the insidious plan being cooked up between the supe formerly known as Liberty and Vought International boss Stan Edgar (Giancarlo Esposito). You can see the trailer for it below…
Episode 6 of The Boys' second season will be streaming on Amazon Prime Video from September 25.
The biggest lingering question is whether Mother's Milk (Laz Alonso) will get to finish the episode of Outlander he was watching in episode 5 after being gently outed as one of the show's many loyal viewers. We're with you, MM, we can't get enough of STARZ's time travel romance series either.
The Boys Season 2 stars Jack Quaid as Hughie, Laz Alonso as Mother's Milk, Tomer Capon as Frenchie, Karen Fukuhara as Kimiko, Karl Urban as Butcher, Erin Moriarty as Starlight, Antony Starr as Homelander, Aya Cash as Stormfront, Dominique McElligott as Queen Maeve, Jessie T. Usher as A-Train, Chace Crawford as The Deep, Nathan Mitchell as Black Noir and Giancarlo Esposito as Stan Edgar.
Amazon has already renewed the popular series for a third season.