News
The Book of Boba Fett: What to Know About the New Star Wars Series
Excited for The Book of Boba Fett but wondering what you need to know ahead of the release date? Here are all the details on the new Star Wars Disney+ series.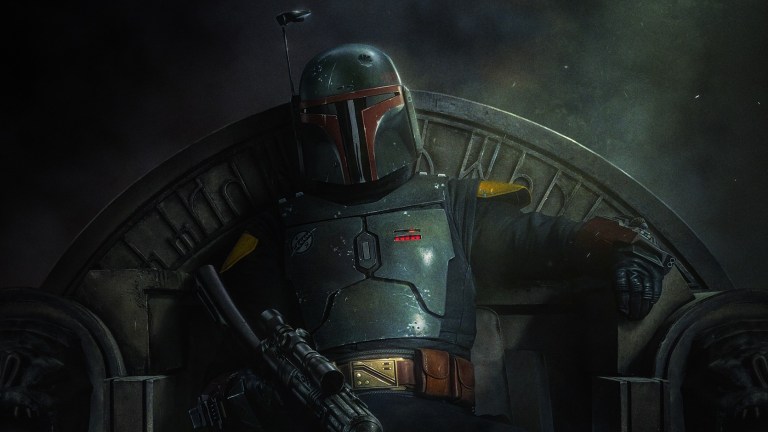 Lucasfilm had good news and bad news for Star Wars fans looking forward to new Disney+ shows this year. The bad news is that you'll have to wait a bit longer for The Mandalorian season 3 than expected, with the new season set to film some time this fall. But like I said, there's also very good news: The Book of Boba Fett is out this December, which means we'll finally have a chance to catch up with our two favorite bounty hunters after that shocking cliffhanger at the end of Mando season 2.
Yes, the new live-action series will pick up right where Boba and assassin Fennec Shand's story left off. Boba and Fennec have already killed off what remained of Jabba the Hutt's goons at his palace, which means the gangster's old territory is now theirs for the taking.
"The Book of Boba Fett, a thrilling Star Wars adventure, finds legendary bounty hunter Boba Fett and mercenary Fennec Shand navigating the Galaxy's underworld when they return to the sands of Tatooine to stake their claim on the territory once ruled by Jabba the Hutt and his crime syndicate," reads the official synopsis, which teases a direction for Boba that's very different to the path he walked in the old Legends continuity. This should be very interesting.
But there are a few other questions you might have about the new show, its place in the Star Wars timeline, and what exactly the title of the show means. Here's what you need to know:
The Book of Boba Fett Release Date
The Book of Boba Fett will premiere on Disney+ on Dec. 29, 2021. You can find the complete schedule of upcoming Star Wars movies and TV shows here.
The Book of Boba Fett Trailers
Only one full-length trailer has released ahead of the show's premiere. It provides a look at only part of the first episode, as even showing the second half of the episode would "give too much away," according to director and showrunner Robert Rodriguez. Check it out below:
We broke down all of the trailers big secrets here.
Disney has dropped other teasers with a few snippets of new footage that hint at some additional storylines, such as how Boba Fett survived the sarlacc pit and how he got his ship back. Watch them all below:
But what about what all these trailers aren't showing. As Rodriguez has already hinted, there may be quite a few spoilers that the show's marketing is hiding. We've speculated about what other heroes, villains, planets, and criminal organizations might appear here.
The Book of Boba Fett Cast and Characters
Temuera Morrison reprises his role as Boba Fett, the infamous bounty hunter from the Original Trilogy who seemed to meet his end in Return of the Jedi, falling into the sarlacc pit, where he was doomed to be digested in the monster's stomach for the next 1,000 years. But you can't keep a good bounty hunter down. It was revealed in The Mandalorian season 2 that Boba had survived his terrible fate. After helping Din Djarin rescue Grogu from Moff Gideon and the Empire, Boba and Fennec returned to Tatooine to take over Jabba's crime organization.
That also means the wonderful Ming-Na Wen is also returning as Fennec Shand. The assassin who first ran afoul of Din in the first season of The Mandalorian was saved from a painful death in the deserts of Tatooine by Boba. Although she was severely wounded in the stomach, Boba was able to use machine parts to save her life. So, technically, Fennec is a cyborg assassin, which makes her that much cooler!
Jennifer Beals (Taken) and David Pasquesi (Veep) are both playing unnamed Twi'lek characters. Sophie Thatcher (Yellowjackets) joins them in an undisclosed role, although she looks like some sort of Tatooine biker!
You may be wondering whether Din Djarin (Pedro Pascal), Bo-Katan Kryze (Katee Sackhoff), Greef Karga (Carl Weathers), or Ahsoka Tano (Rosario Dawson) will appear in the new series. The short answer as that we don't know, but I wouldn't count on at least a cameo from one or two of these characters. But you might have a better chance of seeing Tatooine natives Peli Motto (Amy Sedaris) and Cobb Vanth (Timothy Olyphant) on the show.
One thing we do know is that Robert Rodriguez (Sin City, Alita: Battle Angel) is showrunner this time around. He directed several episodes, along with The Mandalorian returners Jon Favreau, Bryce Dallas Howard, and Dave Filoni.
When Will The Book of Boba Fett Take Place?
This is an easy one. The Book of Boba Fett picks up right after The Mandalorian season 2, which is set five years after the events of Return of the Jedi and the death of Jabba the Hutt (obviously). Oh, you want an actual date on the Star Wars canon timeline? The Book of Boba Fett takes place in 9 ABY (that's 9 years after A New Hope, basically).
When The Book of Boba Fett begins, Boba and Fennec will just have taken over Jabba's territory, the Imperial remnant is still operating in the Outer Rim, and the Mandalorians are still scattered throughout the galaxy, although Din and Bo-Katan may be preparing to take back Mandalore. Grogu is probably still with Jedi Master Luke Skywalker.
What Does "The Book of Boba Fett" Mean?
Much will be speculated about the title of the show ahead of its premiere. Why does the title refer to a "book" of Boba Fett? Are these the adventures the bounty hunter chronicled in his memoirs after he retired? Are we going to see Old Man Boba Fett jotting things down in a journal by a fireplace on Mandalore? Sure, it's possible the series has a frame story wherein Boba is recording his past in his diary or relating his life to his children (or grandchildren). It wouldn't be the first time Star Wars has used journals to reveal the "untold" stories of characters like Obi-Wan Kenobi.
But it's also possible The Book of Boba Fett (and The Mandalorian universe as a whole) is going the Avatar: The Last Airbender route where new story arcs are referred to as "books" and each episode is a "chapter" within that book. For example, The Mandalorian calls each new episode a "chapter." "The Book of Boba Fett," the title of a new Mandalorian story arc, could be a nod to that structure. It would make sense since executive producer Dave Filoni, one of the chief storytellers on the show and Star Wars as a whole, cut his teeth on Avatar before going on to work with George Lucas on The Clone Wars.
Or maybe Boba got himself a sweet book deal. Stranger things have happened!
More on The Book of Boba Fett as we learn it.