Features
The Mandalorian: Bryce Dallas Howard Proves She Has a Big Future with Star Wars
Bryce Dallas Howard's latest episode of The Mandalorian shows that she knows what makes Star Wars tick.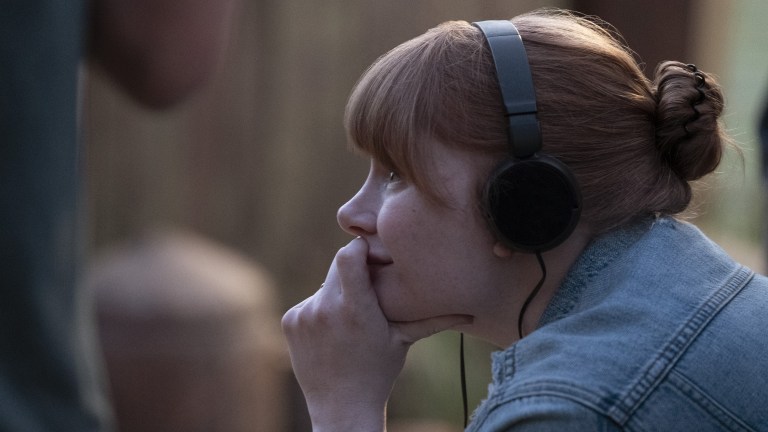 This Star Wars: The Mandalorian article contains spoilers.
Director Bryce Dallas Howard's two episodes of The Mandalorian — last year's "Sanctuary" and season 2's "The Heiress" — show her deep knowledge of what makes Star Wars tick. In particular, she knows how to deftly deploy the influences that make up the saga's backbone.
Star Wars began as a patchwork of classic sci-fi stories that inspired George Lucas. He originally wanted to make a Flash Gordon movie but couldn't secure the rights, which is why it's such a big influence on the original films. Akira Kurosawa's The Hidden Fortress is another major and oft-cited inspiration. Star Wars also shares many elements with the Lensman series of science fiction books by E.E. Smith and the Spaghetti Westerns of Sergio Leone. Lucas wanted to re-create stories that had thrilled him as a young sci-fi fan and, in throwing together all of his interests, created a blockbuster like the world had never seen.
Since then, the Star Wars franchise has continued to borrow from other media, and the people in charge have continued that tradition of looking backward while also trying to push the saga forward. Look at Star Wars veteran Dave Filoni, who mixed classic sci-fi, horror, and Ralph McQuarrie's concept art in The Clone Wars and Rebels while also introducing new concepts like time travel to the universe, and The Mandalorian showrunner Jon Favreau, who draws on his own childhood love of the Original Trilogy for the nostalgia-tinged series that also looks at an unexplored era in the Star Wars timeline.
Howard is particularly good at delivering satisfying homage. With "Sanctuary," Howard gave us Kurosawa's Seven Samurai on an alien planet. Written by Favreau, the episode has strong characterization and stakes for Din Djarin, with the peaceful town and the villager Omera symbolizing a life he could have if he gave up bounty hunting. The chemistry between Omera and Din, the scene-setting, and the action (this episode also introduces MMA fighter Gina Carano as Cara Dune) make it a strong showing. It's not quite original, as it pulls from classic samurai films, Star Wars itself, and a host of other stories to create a battle of underdogs against a more highly mechanized enemy, but Howard's direction — especially of the climactic nighttime battle, with its AT-STs, brights lights and fiery sparks, and thick shadows — makes the episode pop. "Sanctuary" remains one of the most memorable episodes of the show's first season
Her season two episode "The Heiress" (also written by Favreau) handles Star Wars influences in a different way: by directly connecting the look and feel of the episode to another part of the sprawling saga. Howard ushers in the first live-action appearance of animated character Bo-Katan Kryze, a Mandalorian warrior from The Clone Wars, and directs the action on the screen in a way that nods to the animated series: Mandalorians zooming through the sky with jet packs, the exchange of blaster fire across long hallways, highly coordinated gravity-defying maneuvers to board an enemy ship. The episode fully embraces the fantasy of being an armored warrior against overwhelming numbers, a setup found quite often in the animated series.
Howard has had a lot of time to learn how Star Wars works, of course. She's the daughter of Ron Howard, a longtime collaborator of Lucas' who also directed Solo: A Star Wars Story. In the behind-the-scenes interviews in Disney Gallery: The Mandalorian, she tells a story about having dinner with her father, Lucas, and Kurosawa when she was five or six years old.
Just like Filoni, Howard learned directly from Lucas as an adult, too. She shadowed her father on Solo and saw the importance of collaboration on Lucas' Willow.
"The people are just all in, give everything, own it, own the process themselves, and then are like, 'Your turn,'" she told Variety in 2019 about directing The Mandalorian. "It is so exhilarating and grounding and it doesn't ever get about the ego, because it's all about Star Wars, which it needs to be."
Now, it really is her turn. Her work directing episodes of The Mandalorian prove Howard has a promising future with Star Wars. In Disney Gallery, Favreau and his fellow directors talked about hiring Howard, a relatively new director, for the episode that was the most difficult to shoot because she didn't yet know just how difficult it would be to shoot that battle scene. But after that trial by fire, she's come through unscathed and become a trusted creator in the director's chair.
Howard having Star Wars in her blood comes with an extra dose of responsibility, of course. She may play things too safe for fans' tastes at times, and becoming a public Star Wars persona, or even a living meme like Dave Filoni has become to a certain degree, comes with its downsides. But right now, I'm happy to join in the celebration of "The Heiress" and Howard's contributions to the show. Both of her episodes have set her up as one of the keepers of Star Wars for the next generation.