Reviews
The Blacklist Season 10 Episode 1 Review: The Night Owl
The final season of The Blacklist begins with a bang ... several of them actually.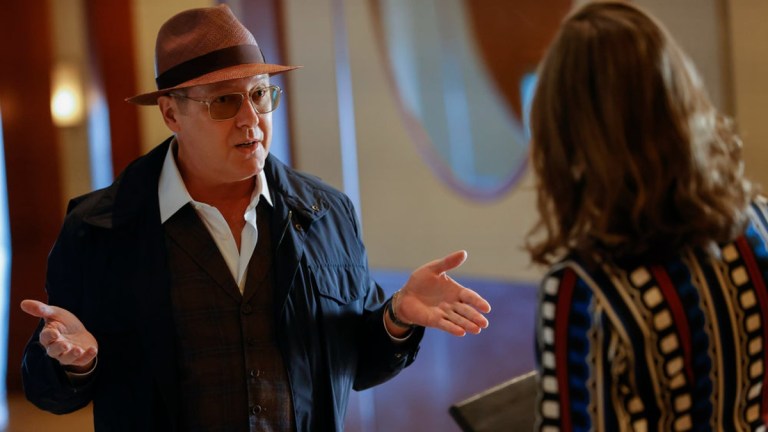 This The Blacklist review contains spoilers.
The Blacklist Season 10 Episode 1
It's been a long, 8-month wait since the season 9 finale of The Blacklist aired on May 28, 2022, and fans have been counting down the days until the season 10 debut. NBC announced recently that this will be the ultimate season of the show, both in being its final season and in the threats Raymond "Red" Reddington (James Spader) faces as an old foe, Wujing (Chin Han), begins a quest to join forces with all the criminals Red has wronged.
In episode 1 "The Night Owl" Red classifies Wujing as the "final weapon in the hand of Marvin Gerard (Fisher Stevens)," confidante, lawyer, and BFF-since-the-beginning of the Concierge of Crime. Marvin's final act against Red in season 9 was a gift to Wujing—a list of criminals that Red and the Task Force worked together to put behind bars. This list is a powder keg that wields a plethora of power to the one who possesses it.
Speaking of powder kegs, at least three of them explode in the first few minutes of "The Night Owl." First, guest star and former Task Force Agent Aram Mojtabi (Amir Arison) opens the scene with a N.Y.C. frolic from The Met to his preferred mode of transport: his trusty bicycle. Along his happy way, Aram notices a lone, familiar figure in the distance, and he calls out more than once only to be completely ignored by the man, at least until the figure is about to enter a taxi and he looks back with foreboding recognition at his long-time colleague and friend.
And that is powder keg #2: James Spader in all his bearded, long-haired glory–giving serious throwback, fugitive vibes to Red's "most wanted" photo from the pilot episode.
Apart from all the hair, another glaring feature of this new Red is that he is totally alone. He has no security guard, no driver, no friends to walk the street with him as he makes his escape before powder keg #3 explodes: a literal bomb that Red planted in a townhouse (a.k.a an official annex of the Chinese consulate). It appears that Red is aware of the danger-swarm around him and is unwilling to expose those he cares about to its collateral damage. Why else would he not inform Chuck (Jonathan Holtzman), Dembe (Hisham Tawfiq) or the Task Force of his presence? Only Red's former bodyguards fully understand how ominous the situation is when Chuck informs Dembe that he received a weird postcard from their old boss signed with a simple "Red." This postscript carries a message that only they can decipher.
In addition to Wujing, other former blacklisters appear in this episode and not all of them survive. Those that are still breathing at the end of "The Night Owl" represent a formidable beginning to a crew that can be expected to grow exponentially with each new episode of season 10. While the band of criminals increases, the FBI Task Force is looking meager. When Red makes his first appearance at the Post Office black site, he deems the FBI team more a "coffee klatch" than a "force."
But that tune is changing as Agents Dembe Zuma and Donald Ressler (Diego Klattenhoff) are introduced to Siya Malik (Anya Banerjee), who turns out to be instrumental in solving the mystery of the night owl. In fact, she puts her life on the line in service to the team that her mother, Agent Meera Malik, worked with prior to her assassination in season 1. Siya proves that she is tough and trustworthy as she gets her foot in the door with the Task Force and self-advocates for an official position on the FBI team.
Whether Director Harrold Cooper (Harry Lennix) hires her or not remains to be seen, but we can be sure that the Task Force and Red are going to need all the help they can get in defending against Wujing's growing syndicate of revenge.
The first nine seasons of The Blacklist are available to stream on Netflix now. New episodes air on Sundays at 10 p.m. ET on NBC.