Features
The Best Sitcoms on Netflix
Everybody needs a happy place sitcom. Here are the best hang out comedies and other pleasant shows Netflix has to offer.
TV shows can fill a lot of needs for us. 
One of the most important, however, is the need of a happy place. We all want a happy place to go to like Pawnee, Indiana, Dundler-Mifflin paper company, or the bar where everyone knows your name.
Life is filled with enough stressors. Sometimes a TV show can be good and welcoming enough that it will help you forget those stressors for 22 minutes or so. 
Netflix, bless them, has an incredible crop of these "happy place" TV shows. Read on to discover the best TV landscapes where you can leave your problems behind momentarily. 

Big Mouth
Imagine a cartoon about teenagers going through the trials and tribulations of growing up and getting through high school. It's been done before, you say? Not like this it hasn't. Big Mouth is a crass adult animation that tells the story of puberty as it is… in every gross little detail.
Written by Nick Kroll, Andrew Goldberg, Mark Levin and Jennifer Flackett, it's actually based on Nick Kroll and Andrew Goldberg's teenage years. While Nick still awaits his bodily changes, Andrew is being plagued by the 'Hormone Monster', a physical manifestation of all his sexual urges. Wet dreams, periods, the awkwardness of first kisses… it's all covered in excruciating detail. Highlights include a sequence in which Nick imagines everyone in school as erect penises, and a school play sponsored by the Church of Scientology named 12 Angry Travoltas. "It's a witch hunt, a b**ch hunt, a David Miscavige hunt!"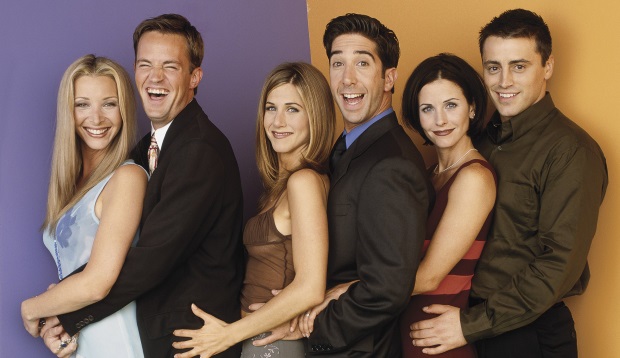 Friends
Hurrah! All ten seasons of Friends are finally up on Netflix and this means only one thing: hours of bingeing with the gang of New York pals.
Yes, they couldn't afford that apartment and yes, it was clearly filmed in a California studio but who doesn't love this highly quotable sitcom? Rachael, Monica, Phoebe, Ross, Joey and Chandler and names known the world over, just like we all know that Ross and Rachael were ON A BREAK and that Joey would approach any woman with his signature chat up line: "How you doin'?" You're in for hours of nineties fun.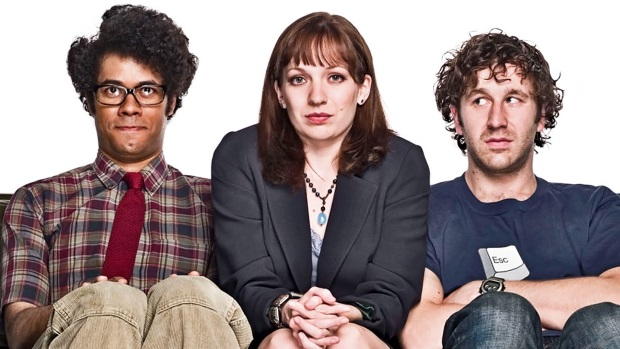 The IT Crowd 
This show obviously needs no introduction from us, but here goes anyway. Set in the dingy basement office of Reynholm Industries, The IT Crowd follows IT technicians Roy Trenneman (Chris O'Dowd) and Maurice Moss (Richard Ayoade) as they go about their days completely under the company's radar. The department's new relationship manager Jen Barber (Katherine Parkinson) shakes things up and suddenly the men have to adapt to sharing their space with a woman – and do some work, too.
This cult favourite is packed full of hilarious and implausible situations and gets all the more brilliant when Matt Berry enters the cast in the second series as Douglas Reynholm, the new boss with a history of sexual harassment. Get ready for some nerdy laughs.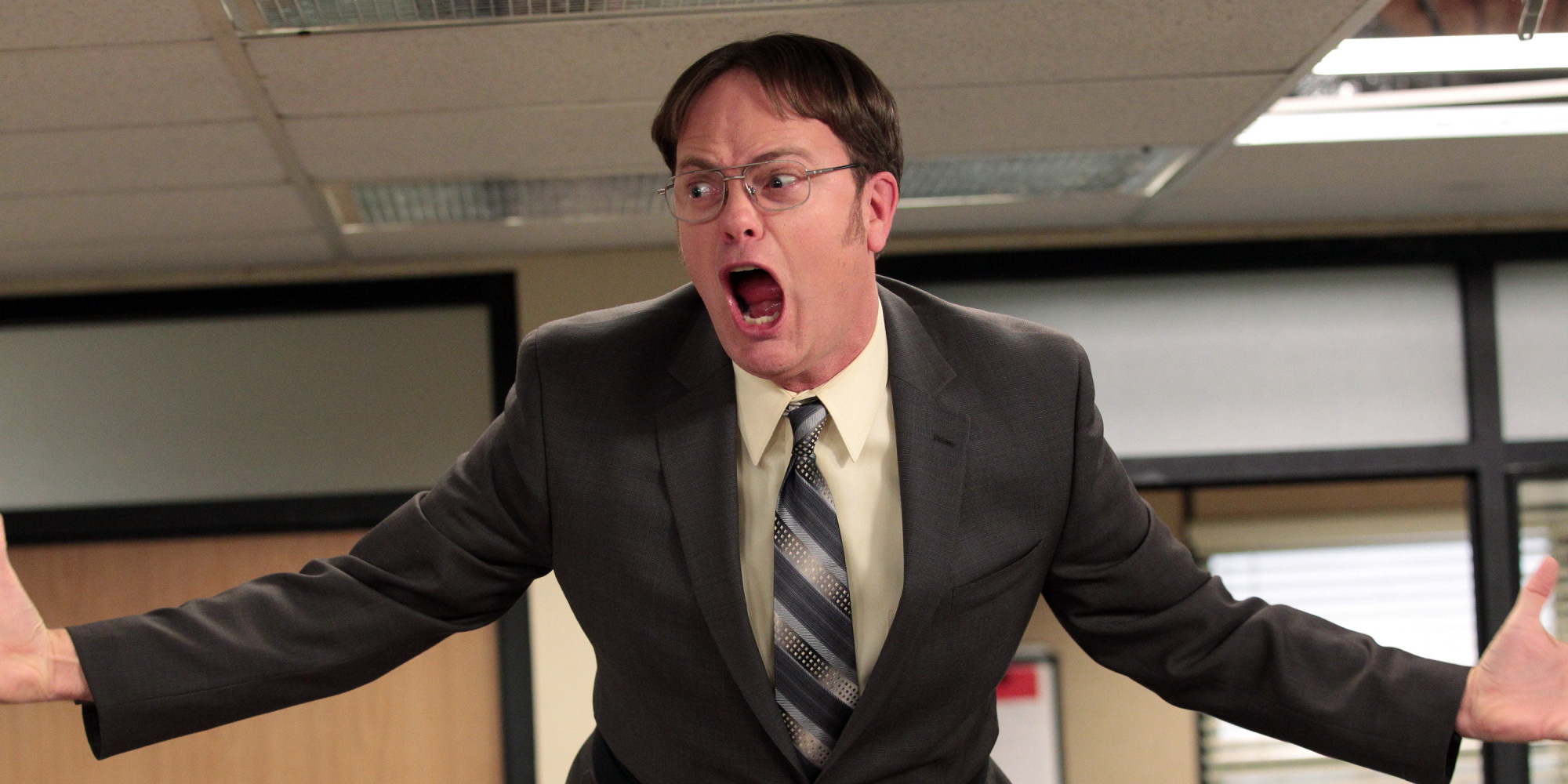 The Office
Terms like "reboots" and "remakes" used to be dirty words on television. Then the American remake of the British Office debuted and we all realized maybe they weren't so bad after all.
The Office is the quintissential happy place sitcom and arguably jump-started the modern trend of both "hang out" comedies and mockumentaries on television. The world of Dunder-Mifflin paper company in Scranton, Pennsylvania was supposed to be hell. The boss, Michael Scott (Steve Carell) is an incompetent buffoon and wants to be his employee's best friend.
But with fun people like Jim (John Krasinski) and Pam (Jenna Fischer), The Office ended up being a fun place to spend 22 minutes in. Particularly when you add in the cast of other colorful characters like Dwight (Rainn Wilson), Creed (Creed Bratton), and intern Ryan (B.J. Novak).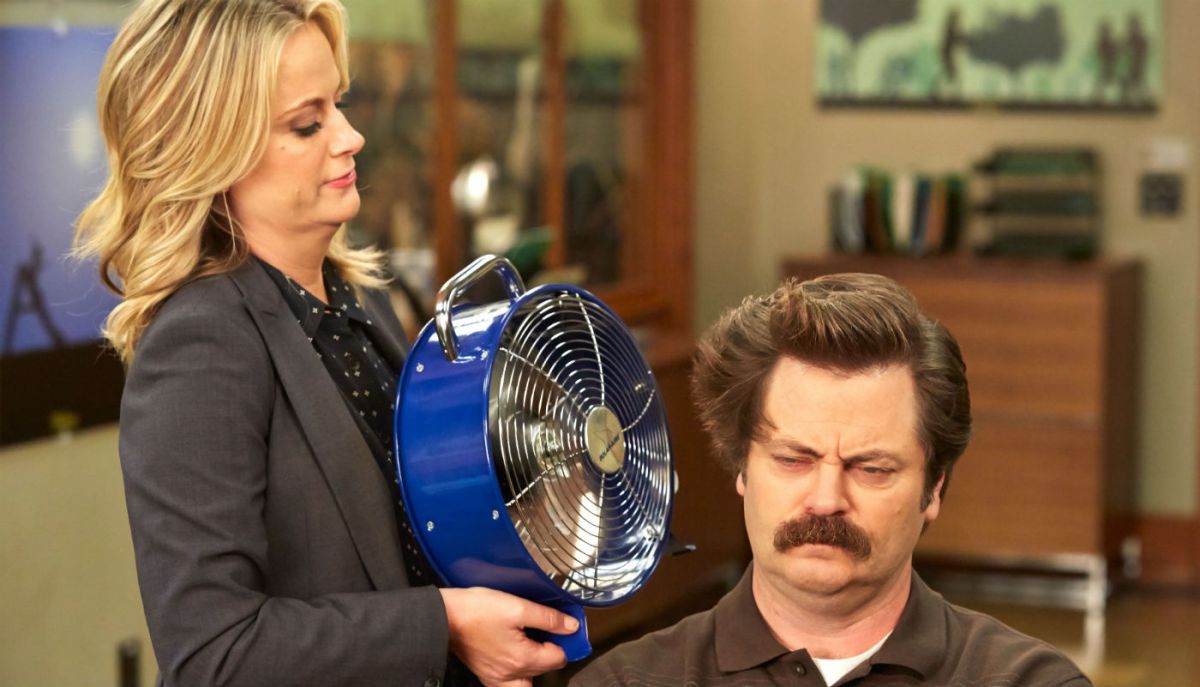 Parks and Recreation
If The Office introduced the concept of modern happy place television, Parks and Recreation perfected it. Parks and Recreation is set in the most believable small American town in television: Pawnee, Indiana.
The Pawnee Parks department works tirelessly (well deputy Parks director Leslie Knope works tirelessly at least) to make the city a better place for the largely ungrateful townspeople. Parks and Recreation is essentially a work-place comedy but it's also so much more. It's a bright and funny show about capable people working to the best of their ability and talents to make the world a better place.
It's also about Ron Swanson (Nick Offerman). The greatest man who ever lived.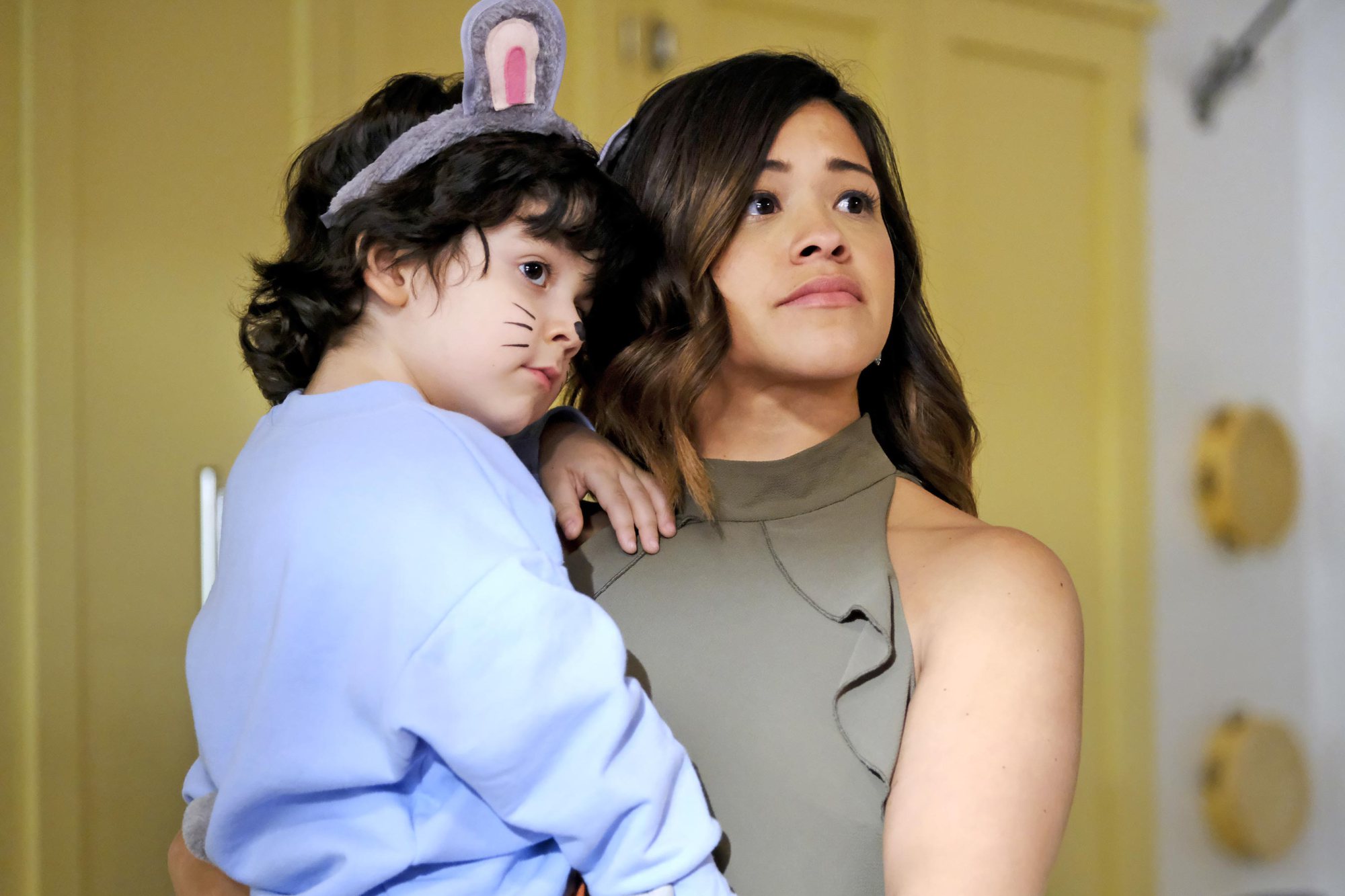 Jane the Virgin
Jane the Virgin is an adaptation of a Venezuelan telenovela and carries with it all the heightened drama of that genre. Jane Villanueva, is a religious young Venezuelan-American, whose vow to remain a virgin until marriage is complicated when a doctor accidentally artifically-inseminates her during a checkup. 
Would could become a dark and deeply upsetting premise instead becomes a powerful and funny comedy about the importance of family. Jane the Virgin is a sweet, believable show that is led by a lovely performance from Gina Rodriguez.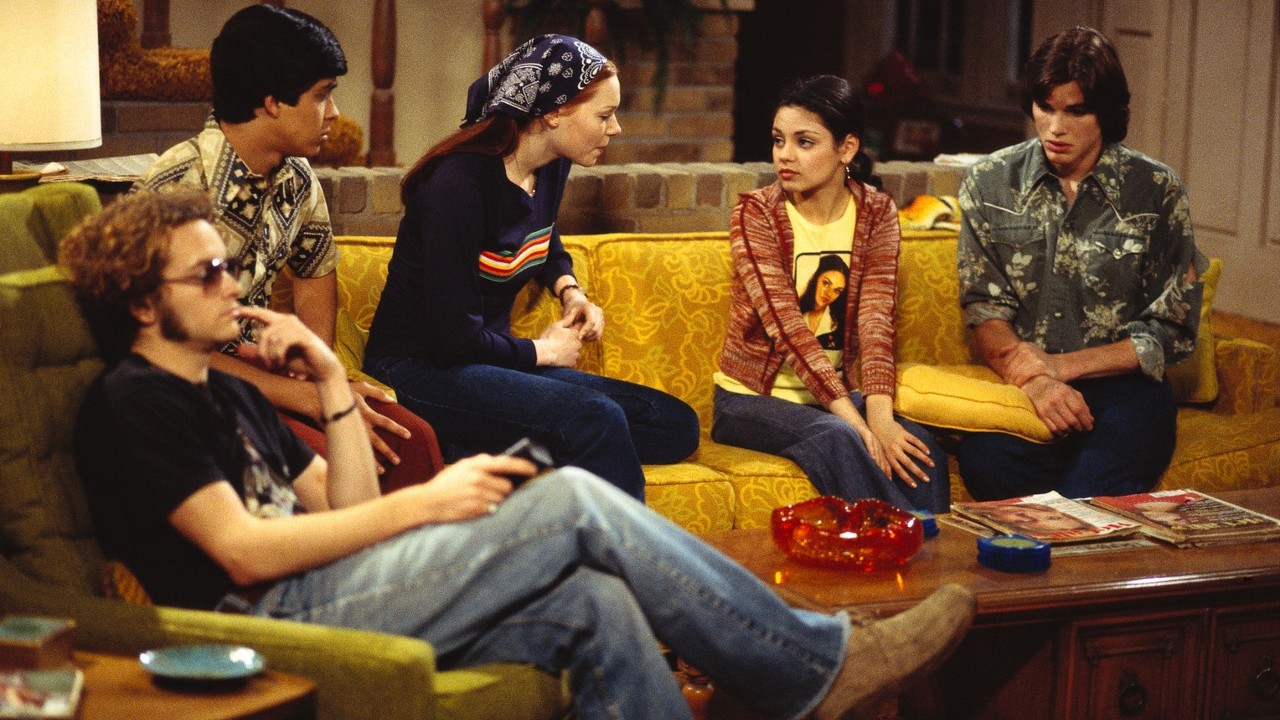 That '70s Show
You know that when a show's theme song begins with "hanging out down the street," you're in for a good hang out comedy. That '70s Show is exactly that.
Technically That '70s Show is a loving satire for everything '70s related. It has plenty of '70s related humor to be sure, but what the show really excels at is bringing together an excellent cast of talented young actors and getting them to bounce off one another.
Topher Grace, Mila Kunis, Wilmer Valderama, Laura Prepon, Ashton Kutcher, and the now scandal-embroiled Danny Masterson all star as six high school-aged friends, content to pass their days in a basement filled with weed smoke and good music.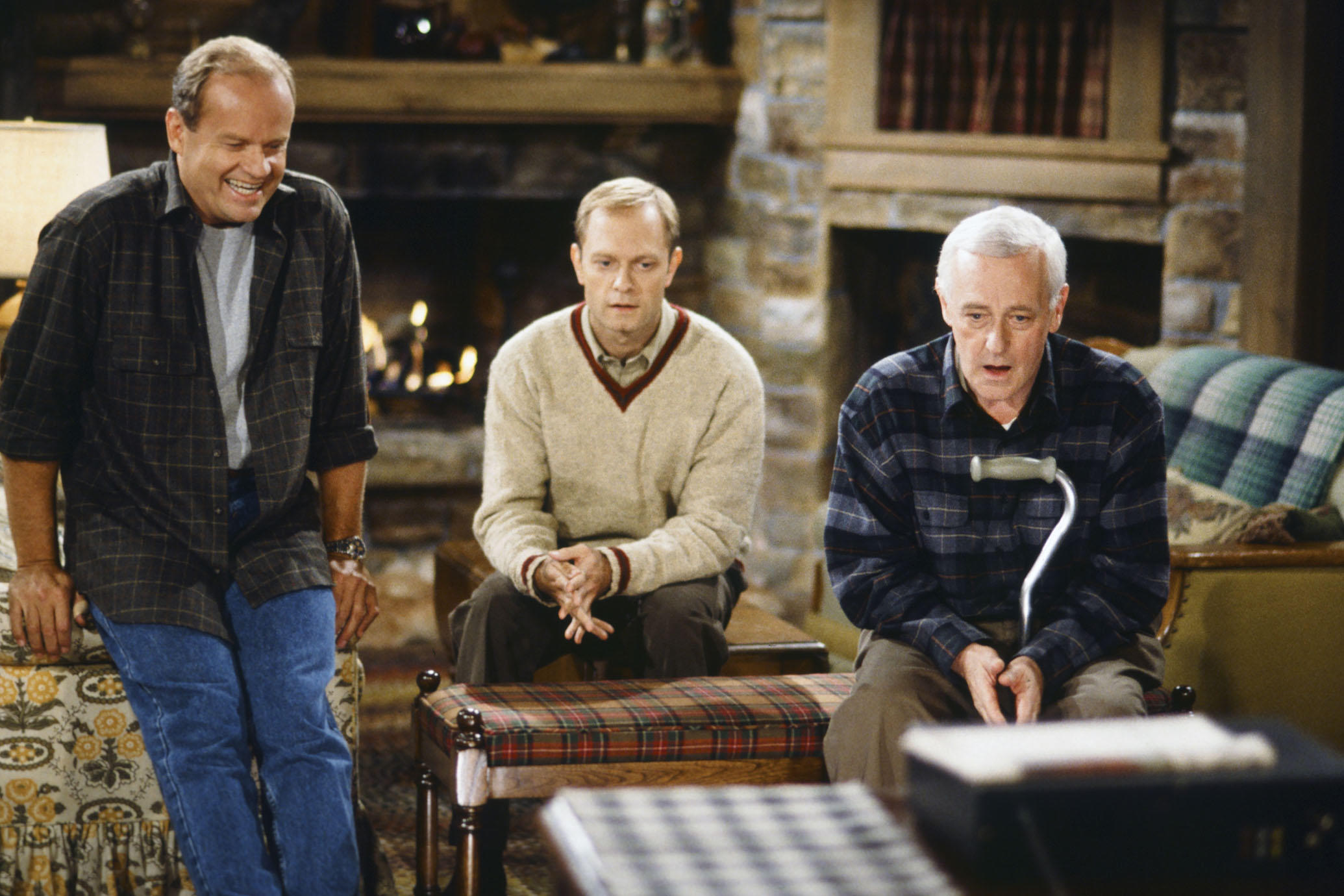 Frasier
'90s and early '00s NBC sitcoms have a strong presence on this list. That's probably becasue no network at any time in history has had a stronger understanding of the happy place comedy than the peacock.
Frasier takes its happy place concept to the rainy Pacific Northwest but remains as sunny as ever. Frasier Crane (of Cheers fame) is a psychologist with his own radio show. Episodes find Frasier (Kelsey Grammer) fielding questions from his callers, hanging out with station producer Roz (Peri Gilpin), and dealing with his aging father father, Martin (John Mahoney), and his high-strung brother Niles (David Hyde Pierce).
Frasier had a reputation for being the "thinking man's" sitcom thanks to Frasier Crane's somewhat bourgeoisie attitude and unplaceable accent. Still, it's every bit the hang-out comedy of its forerunner, Cheers.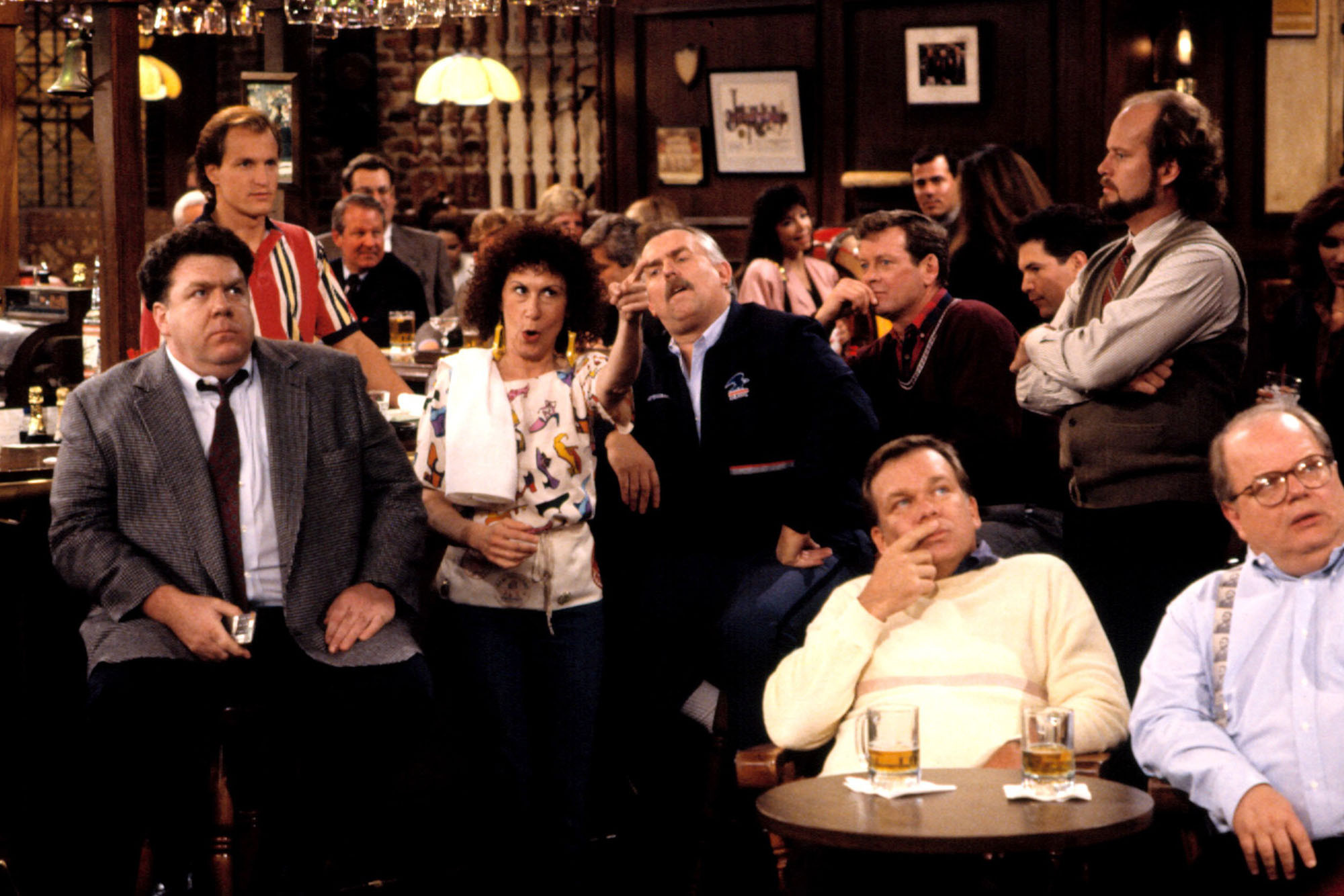 Cheers
The best moment of my life bar none was when the people at Dunkin' Donuts learned my name. After all, we all want to go where everybody knows our name.
Cheers is perhaps the most important "hang out/happy place" comedy in TV history. It set the archetype for so many brilliant sitcoms that came after it. The Office and Parks and Recreation's Michael Schur is a particular adherent to the church of Cheers. Cheers established the most important formula for sitcoms: find a simple location and populate it with interesting, agreeable people.
The denizens of Cheers bar in Boston Massachussets include bartender Sam Malone (Ted Danson), Coach Ernie Pantusso (Nicholas Colassanto), waitress Carla Torelli (Rhea Perlman), bar regular Norm Peterson (George Wendt), mail-carrier Cliff Claven (John Ratzenberger), and many, many more. 
Cheers is funny, pleasant, and a stone-cold comedy classic.