Features
The Best Gangs of London Fight Scenes and the Action Movies That Inspired Them
We analyse the best and bloodiest dust-ups from Gareth Evans' small-screen crime saga Gangs Of London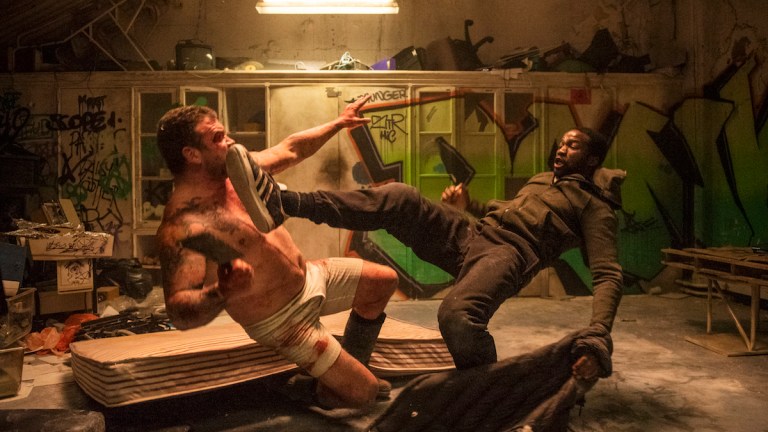 With a title like Gangs Of London, you might imagine the new British television thriller would contain a fair amount of violence. And with it being the brainchild of The Raid director Gareth Evans, you might think that violence would be manifested in a series of big, bold, deftly handled action set-pieces.
Well, you'd be right on both counts. Evans and co-creator Matt Flannery – together with guest directors Corin Hardy and Xavier Gens – have crafted an epic, nine-part organized crime saga featuring some top-tier throwdowns.
From brutal one-on-one combat to spectacular shoot-outs to intense mind games, here are some of our favorite skirmishes from the show. This list covers the entire series and, suffice to say, there are spoilers ahead, so you might want to come back if you haven't binged the whole thing yet.
Elliot vs the Albanians (Episode 1)
Gangs Of London's first proper fight does a bang-up job of setting out the show's stall: this isn't just any old British crime thriller – this is a British crime thriller from the minds that brought us cult beat-em-up The Raid and its even more action-packed sequel. And so, around halfway into the Evans-directed pilot, we get one of the best bar brawls seen on the small screen so far, as undercover cop Elliot (Sope Dirisu) proves his worth to the Wallaces by taking on a pub-full of Albanian gangsters. A one-man army, he swiftly dispatches a series of goons using nothing but a dart, an ashtray and some natty martial arts – in much the same vein as you'd catch the likes of The Raid star Iko Uwais doing on the big screen.
Evans and cinematographer Flannery (who's shot all of his pal's previous features) have already proved they have a knack for capturing expertly choreographed, bone-crunching action on an intimate scale and, on this basis, they clearly haven't lost their touch – creating what they describe as a "rollercoaster ride" of an action sequence that subverts what you might expect from a typical London gangster story. "To play up the tropes of a fight in a British boozer, but then to use an ashtray in a way that you're not quite expecting…that's the dark humour side of me," Evans explains. "We wanted it to be fun, energetic and thrilling, so you can kind of get dragged along through that sequence and enjoy it."
Elliot vs the Butcher (Episode 1)
Evans serves up action with a huge side of horror for the pilot's second stand-out dust-up, which pits Elliot against a hulking nemesis inside a blood-splattered hovel – a confrontation that's tonally miles apart from the bar fight. On interrupting gypsy boss Kenney's henchman Lenn (Lee Charles), who's busy chopping up poor young Ioan, Elliot is drawn into a terrifying fight for his life, as he faces off against a much bigger, deadlier opponent – who's also half-naked, as if to emphasise the point.
It's a classic David vs Goliath battle with rich cinematic roots – just like Bond vs Jaws or Rocky vs Drago, the tension comes from a fear that our overpowered hero might not actually win. Well, that and the wince-inducing swipes and swooshes of a bloody great big blade, of course. Evans ramps up the suspense, as Elliot desperately struggles to escape a grisly fate at the hands of a seemingly unstoppable adversary who's twice his size. "It's a bit of a beatdown, and it's no escape from something," Evans says. "It's relentless, and it's tormenting him. Weirdly, we shot the pre-vis [fight run-through] with the stunt guy in his pants as well…I don't know why!"
Lale vs the Turks (Episode 3)
The shocking beginning of the show's third episode digs into the past of Kurdish crime boss Lale (Narges Rashidi), as she fights to rescue her kidnapped husband from enemy forces in Turkish Kurdistan. Like a force of nature in an '80s action flick, Lale reveals her badass credentials by single-handedly storming the compound and taking out a bevvy of soldiers with a semi-automatic.
Up to now, we've only seen Lale in a more 'professional' setting, all tough talk and business wear, so it's startling to see her in such a different environment, kitted out in combat gear and going into full-on battle mode – something that's still usually the preserve of male protagonists, despite the presence of shows like Killing Eve or last year's Noomi Rapace-starring Netflix movie Close (that film's director, Vicky Jewson, spoke to Den Of Geek about the importance of bringing "layered, authentic women to the action genre").
Of course, Evans is no stranger to fight-savvy women – Julie Estelle's 'Hammer Girl' is one of the best things about The Raid 2 – and although Lale's efforts are all for nought (we'll never look at a restaurant hotplate in the same way again), this scene does establish her as a gang chief to be reckoned with among London's male-dominated criminal elite.
Elliot vs Cole (Episode 3)
Undercover cop Elliot gets another awesome fight in the third episode, going up against sinister hitman Cole (Gordon Alexander) as he tries to save Lale's sister and her kids from certain death. It's a bruiser of a fight, borrowing another typical "boss" figure from the action genre – this time, the sadistic psychopath who'll stop at nothing to get the job done (see No Country For Old Men's Anton Chigurh or The Raid's very own Mad Dog).
Elliot's opponent is once again tooled up, wielding an axe and later a knife to terrifying effect, with magnificently crafted choreography and some teeth-grinding near misses. But the really scary thing is that, much like Chigurh and Mad Dog, we know nothing about him or his M.O (other than the fact he's willing to butcher a couple of kids). Earlier in the episode, Elliot is warned not to let Cole "inside his head", and he's built up as some sort of dangerous, unknown quantity. Here, his reputation proves to be justified, as Cole – hardly uttering a word and his face shrouded in shadow – attacks Elliot with a manic, unpredictable ferocity that he can't quite match. It's another horror-angled set-piece that sees our battered hero almost defeated and breeds an intensifying sense of unease.
Sean and Elliot vs the snipers (Episode 4)
Coming from out of nowhere towards the end of the show's twisty fourth episode, a climactic parley between Sean (Joe Cole) and Albanian crime boss Luan (Orli Shuka) descends into chaos when they're targeted by balaclava-clad snipers, turning the alleyway they're meeting in into a bloody, bullet-ridden gauntlet. It's a short, sharp shock to the senses, as Sean and his new bestie Elliot race to escape the carnage.
The neon-soaked alleyway, presumably set in a version of Chinatown judging by the buzzing signs (Evans has made much of creating a heightened take on London that isn't necessarily "the one we know"), shares an aesthetic with the John Wick films and, much like that franchise, is heavily nodding towards the filmmakers' inspirations – i.e. East and Southeast Asian action cinema. This is four solid minutes of intense gunplay, exploding heads, and immersive sound design that wouldn't look out of place in a John Woo movie.
The Welsh vs the Danes (Episode 5)
Directed by Evans himself, this fifth chapter offers up arguably the best (and longest) action sequence of the entire series, as the investor-backed Danish militia lay siege to the house where Darren (Aled ap Steffan) is hiding out while waiting for safe passage out of the country. It's an episode of two halves: the first is all super-tense build-up, the second is 30 minutes of non-stop action, as traveler boss Kinney (Mark Lewis Jones) and his ragtag bunch of defenders take on the clinical Leif (Mads Koudal) and his crew of heavily armed mercenaries.
Inventive, intense and impressively cinematic (check out that overhead tracking shot of the Danes marching towards their target), the climactic battle is a real jewel in the show's gore-drenched crown. It plays like Evans' own take on Assault On Precinct 13 but, with its blend of modern warfare against a rural British backdrop, it also owes a huge debt to the climax of Skyfall (only with more ultra-violence and less Judi Dench).
It's also unique in that it's the series' most self-contained episode – leaving behind the complex politics of London to focus in on one specific conflict. This is a technique that worked wonders for Game Of Thrones over the years – some of that show's best eps were the one-off showstoppers (see 'Blackwater' or 'Battle Of The Bastards') – and it has a similar effect here, too.
Luan vs Mosi's mob (Episode 8)
Things aren't looking too good for Luan in the show's penultimate episode: his money's missing, his best mate's severed head is lying in the laundry basket next door, and he's been captured by vengeance-seeking Nigerian mob chief Mosi (Richard Pepple) and his machete-wielding henchmen. Riffing on stereotypes, their weapons of choice are wholly intentional – as Mosi growls in the previous episode, "They treat us like ignorant savages – that's what they'll get".
It's four against one – not great odds when you've got a massive knife held to your throat. But then, Mosi threatens his family and boom! Luan manages to turn the tables. In a flurry of fury, he breaks free, grabs a machete and mercilessly massacres the goons, before skewering his rival and gouging out his eyes. Director Xavier Gens' horror background – he broke out on the big screen with 2007 gorefest Frontier(s) – is brilliantly showcased here: the door punctures and arterial sprays soundtracked by shrill strings and squelchy sound FX. Extreme? Yes. Gruesome? Sure. But it's also a weirdly satisfying final victory for one of the show's best characters.
Marian vs Ed (Episode 9)
More a battle of wits than physical strength, the series finale sees a potent final meeting between Wallace matriarch Marian (Michelle Fairley) and Dumani patriarch Ed (Lucian Msamati) – former friends turned mortal enemies. Leaving the fisticuffs to the kids, the grown-ups' final confrontation is a much more civilised affair. The cemetery setting, the rival bodyguards hovering ominously in the background, the haunting rendition of 'Abide With Me' – this is almost operatic stuff that owes a lot to the classical mob epics of the likes of Coppola and Scorsese. Hardly a word is spoken, but the scene is loaded with tension – favouring acting chops over acrobatics. The two point their guns at each other, fingers poised on the trigger, neither willing to back down. But it's Ed who shoots first, quietly and solemnly taking Marian out of the picture.
Or has he? An epilogue, in which a stirring Marian is offered help by her husband's mistress, suggests that Fairley might finally get the onscreen resurrection she was robbed of in Game Of Thrones. Bring on series two…