Features
Gangs Of London Preview: What to Expect From Sky's New Show
Powerful new Sky original drama Gangs Of London lands on Sky Atlantic later this month. From the cast and creators, here's what to expect.
"I mean, if you don't like violence, it's not going to be your cup of tea," says co-executive producer and writer of Sky's new drama Gangs Of London, Claire Wilson, talking to a room full of journalists at London's Soho Hotel. It's a singularly British understatement for a show that's both rooted in the capital city but also brings together many multi-cultural facets with a flourish of ultra-violence that feels more like an international glossy noir than Danny Dyer's Deadliest Men.
There's a reason for that. At the helm is Welsh director Gareth Evans who is best known for his Indonesian martial arts movies The Raid and The Raid 2. Evans co-created the series with frequent collaborator Matt Flannery from an idea brought to them by executive producers Thomas Benski and Lucas Ochoa.
"I guess Lucas and I have always been fascinated by stories looking at London specifically as a place of corruption and crime, and how that crime is transversal," Benski explains. "So many of these types of films or shows tend to borrow from the West and try to copy American films. What we loved is the style and origin of Gareth and Matt's work, rooted in Indonesia and Asia and what happens if you start to look East instead of West for inspiration."
The result is a nine episode series which will land all at once on Sky Atlantic on the 23 April, beginning with a feature length first episode directed by Evans. The show centres around the fortunes of the criminal Wallace family. At the start of episode one patriarch Finn Wallace (Colm Meaney) has been assassinated and it's not yet clear who ordered the hit. Wallace was one of the most powerful crime bosses in the capital with relationships with other gang leaders of various nationalities involved in smuggling, trade routes, drugs, money laundering, and more. With Finn dead, his son Sean (Joe Cole) steps up to take the lead, but Sean isn't his dad. Instead he's an angry young pretender to the throne hell bent on tracking down his father's killer whatever the cost. Despite his powerful connections his best ally might just be low-tier lowlife Elliot (Sope Dirisu) a former squaddie who's spotted an opportunity to rise in the ranks.
Joining Wilson, Benski, and Ochoa for the Q&A after a screening of episode one are Evans, Cole, Dirisu, and Lucian Msamati who plays Finn's childhood friend and right hand man Ed Dumani. Here's what we learned about the upcoming Gangs Of London.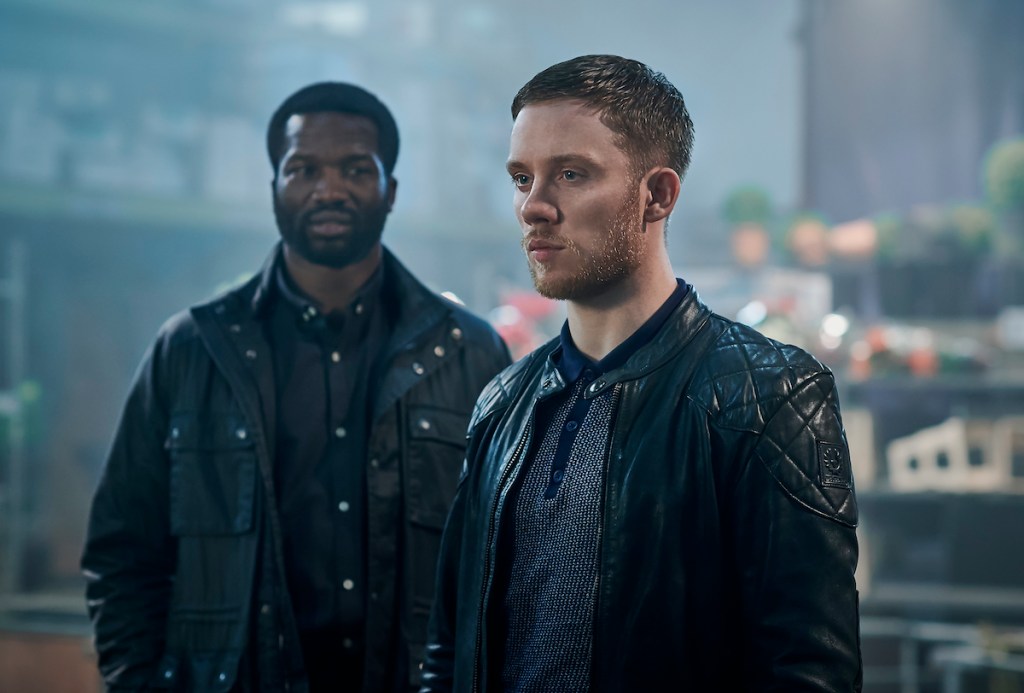 It's set in London – but not as you know it
The show will explore different parts of the capital but Evans says he wanted to make the city feel somehow unfamiliar, even for people who live there.
"We knew we didn't want to make something that felt like it was social realist, or go down that documentary style approach to the real life crime on the streets of London because that's been done and been done very well already," Evans explains. "So we decided to set it within a more heightened version of London itself. So when we did the big track back along the city at the beginning of the episode our intent was to eradicate the landmarks for it not to feel like the London that you guys would know."
It's a world which both does, and does not, feel like London. The blue-grey, glass and steel colour palette is familiar, the density and diversity of the architecture is present but this could be a neo-noir London from an alternate timeline.
"The city's got a really interesting vibe to it. It's almost like a construction site in places and then you can be looking at one end and it feels really high end and then turn around and be in another part where you've got these dark alleyways and grime. It felt really interesting to us on an aesthetic level to peel back the layers and not do the tourist approaches to the city, but to create our own world."
Batman is an inspiration
The explosive pre-credits sequence in episode one throws you fast into the action but early imagery of Sean standing at the top of a building overlooking the whole of London might remind you of the Dark Knight gazing over Gotham – and that's quite deliberate. "Gotham-izing" is what Evans calls it.
"It's a shorthand way of us being able to describe what we were going for. We were playing into genre, we're playing into noir elements, we were definitely playing into my influences from East Asian action cinema," he says.
"I think myself, Corin (Hardy) and Xavier (Gens), my fellow directors on the show, all have a shared love of world building, of taking things which are grounded in reality and having the ability and flexibility to stretch that. It is very much a heightened world."
Hardy is best known for his folk horror debut The Hallow and Conjuring spin-off The Nun, while Xavier Gens also has a background in genre filmmaking having directed New French Extreme horror Frontier(s), depressing post-apocalyptic sci-fi The Divide and video game adaptation Hitman.
Joe Cole cites sports promoters Barry and Eddie Hearn as a reference point
Cole's character Sean suddenly finds himself in command of his dad's criminal empire after his father Finn is assassinated. But not everyone in the underworld thinks he's up to the job.
"Initially, his task is to find who's killed his father and then as the show goes on, he has bigger problems," says Cole.
"I'm finding my feet in this adult world, a privately educated son who has various levels of PTSD from quite a horrific upbringing in a gangster's family. He also wants to put a stamp on this world and has his own ideas and his own ways of running things. I reference Eddie Hearn because when he took over from Barry Hearn everyone was like this is the privately educated son who's 'silver spoon', had it all," he says. "There was this incredible pressure to outdo and outperform your dad. I think Eddie Hearn has done it and I think Sean has the tools to do it. He's not just this posh little kid who's been thrown into the hot seat and shouldn't be there."
It's about family, and not just nuclear family.
"It's a family drama as well as a thriller," says Claire Wilson. "I like to think of it as a kind of, like violent melodrama."
Evans agrees, saying it's, "a story of a family and about relationships. It couldn't be just gangsters doing gangster shit all the way through."
For Lucian Msamati that means more than just the people you're related to by blood. Ed and Finn are self-made men, one black, one Irish, who dragged themselves up together in a London that was very different from the modern multicultural city we see today.
"As Ed says when he's delivering his friend's eulogy, they met as kids on the streets of London, the bastard children of the British Empire who arrived with nothing, doors closed to them and they had to survive," Msamati explains. "They joined forces and they have literally built an empire. They built it brick by brick, body by body, tower by tower. Ed has seen this grow from the ground up. He's holding it in place. It is as much his as it is Finn's, and they are family truly."
It is indeed going to be violent
Episode one opens with an incredibly violent set piece, is packed with several more, and this violence shows no sign of letting up throughout the series. Evans, whose films regularly showcase the Indonesian martial art of pencak silat, has brought some of the same stylised fighting to Gangs Of London in extended sequences that are almost balletic. Violence explodes throughout the first episode of the show but there are two very distinct standout scenes – one which takes place in a pub, and another which takes place in an abandoned building, between the agile and skilled Elliot and a much bigger man in his underpants armed with a hatchet, named Lenn (Lee Charles).
Sope had played a lot of football and Rugby and done Judo and Karate when he was younger but prepping for the fights in Gangs Of London was another level, he explains.
"For a month my body did transform from this has-been athlete to someone who could hold his own weight in these fights," he says.
"For us it was, it was always a challenge because the stuff out in Asia was turning a fighter, a martial artist, into an actor. This is obviously the reverse, it's turning an actor into someone who could also be physically capable of the choreography we're going to throw at him," Evans concurs. "For those bigger stunts, that's when we bring in the double but I think Sope is probably in it for about like 95% of the shots and gave everything to it."
Evans explains that he builds his intricate fight scenes by planning meticulously in advance.
"One of the things that helps with the way that we've approached action is that we work off of pre-vis, we work off an already figured out shotlist and cuts and edits and everything else. And so when we're doing a sequence like the pub fight or the Lenn fight I'm not asking Sope to go through the entire action sequence, and now we're going to grab it from this angle and run coverage on it. We were able to compartmentalize so he knows that for that four seconds worth of action, he could give 100% to it, and then know that once the take's good, we don't have to do that again.
"You get short bursts of extreme adrenaline and extreme energy, but then you can preserve that energy then for the next shot and for the next shot and for the next shot."
The fights scenes have different influences
Evans says he wanted the pub fight to feel like "a rollercoaster ride", something energetic and thrilling that the audience would enjoy, and the backdrop was a nod to gangster flicks of the past.
"The ashtray, and the darts, that was a bit of a wink and a nudge. People are going to expect this to be a very typical Cockney gangster story type of thing. And to play up the tropes of what a British boozer is like was kind of a bit of a nod to that, but then to use an ashtray in a way that you're not quite expecting – that's the dark humour side of me, that's the fun I like," Evans explains.
But the "Lenn fight" was a different beast entirely.
"When it came to the Lenn fight, it's a whole different tonal shift. The Lenn fight borrows way more from the horror genre. It's a bit of a beatdown, and it's no escape from something. It's relentless, and it's tormenting him."
The cast is massive.
A show this sprawling requires a very large cast and as well as those here today for the screening Evans has assembled a vast array of actors, both veteran and new.
"One of the things Gareth wanted to do was to bring into the genre world, extremely sophisticated, accomplished actors that would not necessarily appear in this type of show. Creating that slight conflict or dynamic really elevated the show to a really special place," says Benski.
"I don't think we could have asked for a better cast. Every time I watch it I'm blown away by every single performance. That is a huge defining factor of our show. The second thing our casting director Kelly Valentine Hendry understood and really committed to was the authenticity around the cast and how we tried to be representative of all those different gang factions. Whether that's casting not super experienced actors or non-actors to come into this from very specific communities and really unearth the essence of what that culture looks like, I think that's something that brings layers to the show and puts it in a slightly different place than a typical gangster show."
What results is a massive, cinematic, and complex saga packed with diverse characters and culture clashes – a violent melodrama indeed. All nine episodes of Gangs Of London land on Sky Atlantic on April 23.