News
Teenage Bounty Hunters Trailer Reveals Plenty of Teenage Bounty Hunting
Teenage Bounty Hunters is the next series produced by GLOW's Jenji Kohan and is set to arrive on Netflix in August.
In a world of frustratingly vague TV show titles like Reprisal, Dark, and Run, some titles have the moral courage to stand up and declare their intentions, loud and proud. Such is the case with Netflix's latest teenage action comedy. It's called Teenage Bounty Hunters and you will absolutely guess what it's all about.
Teenage Bounty Hunters stars Maddie Phillips and Anjelica Bette Fellini as fraternal twins and best friends Sterling and Blair Wesley. As the show's title so helpfully implies, Sterling and Blair are 16-year-old bounty hunters. Netflix's full synopsis of the show reads:
"Rebelling against their buttoned-up Southern community, sixteen-year-old fraternal twin sisters Sterling (Maddie Phillips) and Blair (Anjelica Bette Fellini) Wesley team up with veteran bounty hunter Bowser Jenkins (Kadeem Hardison) for an over-the-top adventure as they dive into the world of bail skipping baddies and suburban secrets while trying to navigate high school drama — love, sex, and study hall."
Teenage Bounty Hunters was created by Katheleen Jordan, who also co-wrote and executive produced the show. Jenji Kohan, Tara Herrmann, Robert Sudduth, and Blake McCormick executive produced the series. Kohan is best known for creating Weeds, Orange is the New Black, and GLOW. All 10 episodes of Teenage Bounty Hunters are set to premiere on Friday, August 14 on Netflix.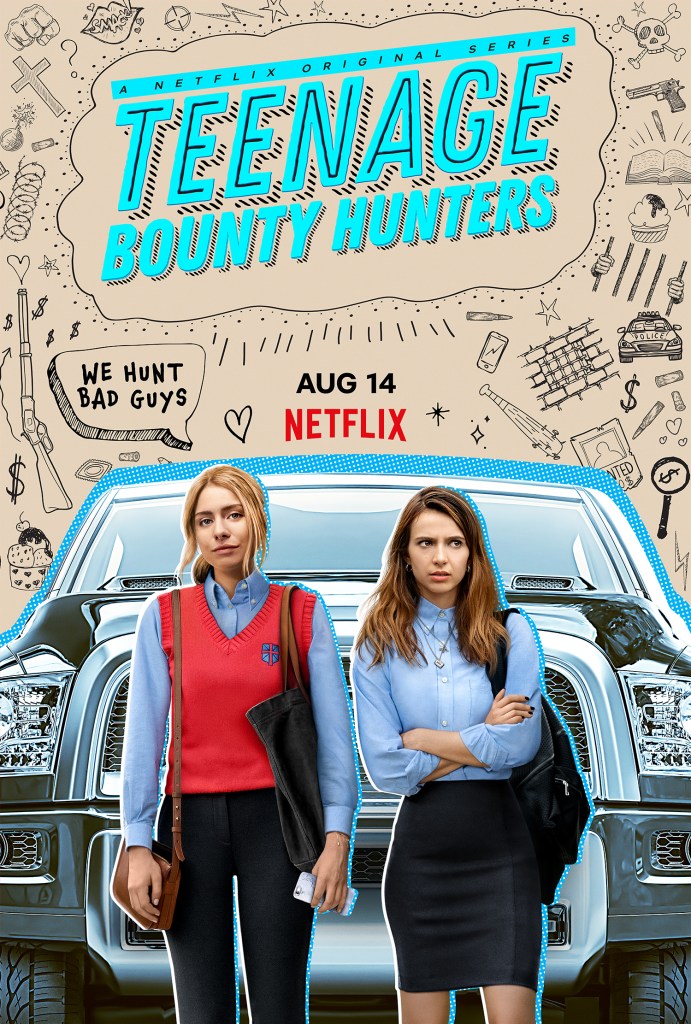 When Teenage Bounty Hunters was announced last year the show was known as "Slutty Teenage Bounty Hunters." Netflix has since decided to drop the extra adjective from the title. But as evidenced by the…sexually charged nature of the show's first trailer, the twins probably would not have objected to the branding. Give it a look below:
Yep, those sure are teens. And they sure are bounty hunting. The trailer's tagline promises that the twins are "catching feelings and catching criminals" which makes it sound like a pretty ideal late-summer fare. It's also in keeping with the M.O. of many other young women-centric Kohan shows. The trailer reveals that the show is set in Atlanta, which kind of calls into question the synopsis describing it as a "buttoned-up" Southern community. The Atlanta mall setting and ice cream store does give the show some welcome Stranger Things season 3 vibes though.
In addition to Phillips and Fellini as the show's main bounty hunters, Teenage Bounty Hunters stars Kadeem Hardison as Bowser Jenkins, a no-nonsense veteran bounty hunter and the teens' reluctant trainer. The rest of the cast is made up of Myles Evans as Miles Taylor, Spencer House as Luke Creswell, Devon Hales as April Stevens, Virginia Williams as Debbie Wesley, Mackenzie Astin as Anderson Wesley, Shirley Rumierk as Yolanda Carrion, and Method Man as Terrance Coin.