Run Episode 1 Review: Run
Sexual tension, charming leads, and solid premise helps HBO's Run get off on the right foot.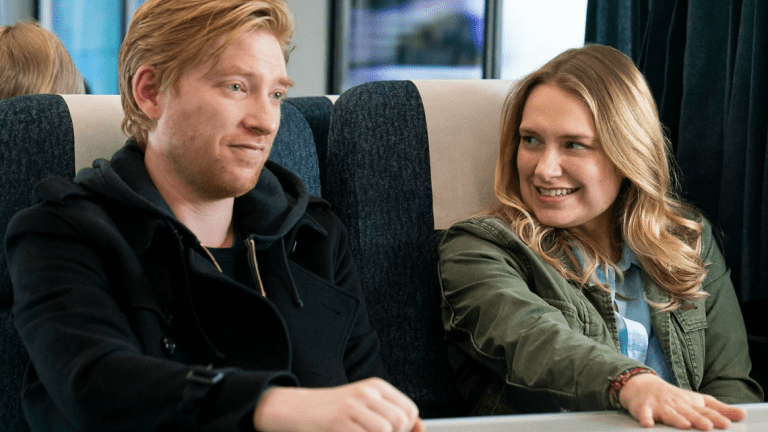 This RUN review contains spoilers.
Run Season 1 Episode 1
There's a palpable, ready to combust sexual tension that's flying around in HBO's new comedy/thriller/romance series, Run. From Vicky Jones (Killing Eve) and Phoebe Waller-Bridge (Fleabag), Run's pilot is cheeky and withholding. Like the other great pairings of the Waller-Bridge IP universe (Hot Priest & Fleabag/Eve & Villanelle), Merritt Weaver's Ruby and Domhnall Gleeson's Billy are intensely charming. Bonding a great premise and likable leads with crackling chemistry, Run bursts out of the gate at an impressive full sprint.
The episode begins with Ruby fielding a call from her husband in a Target parking lot. With just the tone of her voice, a little distracted and fake friendly, Weaver reveals Ruby's suburban malaise in an instant. Suddenly, Ruby receives an all-caps text message that reads "RUN." After a moment of hesitation, she texts back the same and hits the road. Dropping everything, she hurries to Grand Central Station in New York City, primping herself along the way and trying to calm her nerves. She boards a train to Chicago and finally bumps into Billy, who sent the text.
Right away, it's clear that these two know each other intimately. The mixture of nervous energy and animal-like attraction radiates off of them and leaps off of the screen. To put it bluntly, these two are extremely horny for each other. Their non-verbal, fidgety cues help to explain the situation that the writers are playing coy with; clearly Ruby and Billy used to date in college and had a pact that if later in life one of them texted "RUN" and the other responded, that they'd drop everything and run away together. Now sitting across from each other in the flesh, still trying to process what they're doing, there's a mixture of amusement and guarded curiosity.
Not ready to spill all of the details of her life, Ruby calls for a moratorium on personal questions. Still lust, history, and a contained space are working against them. Little details begin to sneak out; We learn that Billy is some sort of self-help guru and that maybe he's hiding following a public meltdown. Meanwhile, Ruby seems to be lying about her career. Later, when Billy sneakily looks at her phone, we see her husband (Mad Man's Rich Sommer) and kids. Clearly, both of these people had reasons to want to escape their lives, and we've got plenty of episodes left to learn why.
The premiere does an excellent job of letting Weaver and Gleeson's performances and chemistry carry the episode. Fans of Netflix's Unbelievable know that Weaver is a special talent. It's nice to see her working in something that shows off her range. We see Ruby toggle between excitement, arousal, panic, confidence, and regret all in 30 minutes, making her feel already lived-in. Gleeson is great as well, playing Billy with just the right number of cracks in his confident persona. The episode itself heightens the energy that they're giving off by shooting this spontaneous, romantic fantasy like a Hitchcockian thriller. It's a great tone and hopefully one that the show can sustain.
The only complaint I have about the episode is about the plot hinging on "no cell service" in 2020 like that's a thing that commonly happens, but that's a small nitpick. With the wrong leads, Run may not have made much of an impression. With these two? I'm eager to see more. Especially with everyone stuck inside at the moment, watching these two dash across country sounds like a dream.