Features
Teen Wolf's Tyler Posey and Crystal Reed Break Down The Movie's Painful Twists
Tyler Posey and Crystal Reed discuss the ending of Teen Wolf: The Movie and what could come next for Scott and Allison.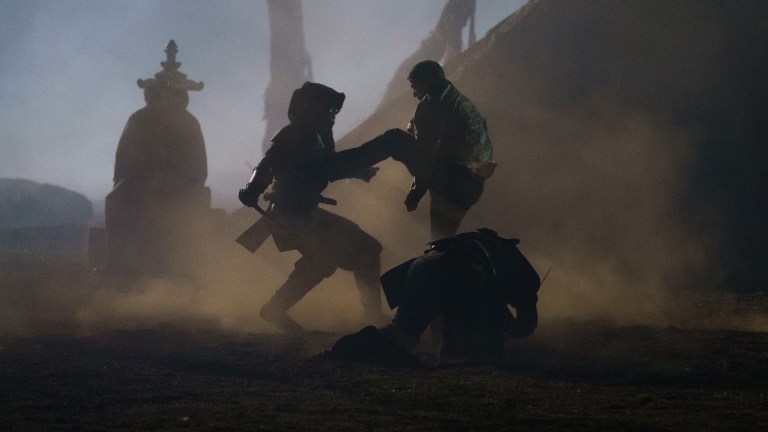 This article contains spoilers for Teen Wolf: The Movie.
It must be a full moon again, because Teen Wolf is back following a six year absence from our screens. The franchise is in a new phase of its life now though. Gone are the 45 minute(ish) episodes airing on MTV. In their place is a brand new feature-length movie that's found a new home on Paramount+.
That's not all that's changed either. Six years have passed in real-time, but for everyone who lives in Beacon Hills, it's actually been fifteen years since everything that went down in the sixth and final season. It's an adjustment, for sure, and not just for fans watching back home.
"'Where the hell is Scott McCall 15 years later?'" That's the question Tyler Posey had to ask upon returning to his most recognisable role. "I was a little nervous. I was like, 'It's been five years since I played Scott. Do I still have the chops? Am I able to know how to play this guy still?'"
"It was challenging," Posey recalls, but "as soon as they said 'action,' I was like, 'Oh, yeah. I remember this guy so much.' He never left me."
Crystal Reed, who returns as Allison Argent after an even longer time away, tells Den of Geek it was "really challenging" too. "I found a lot of joy seeing everyone again and experiencing everyone's essence, but it was hard for me."
While Tyler had to deal with Scott becoming a Man Wolf, Crystal had to contend with what's essentially a completely different take on Allison. Without her memories, this new version of the character is actively trying to hurt the people she loves for the vast majority of the film's runtime.
"I was channeling a completely different energy for her," says Crystal. "Physically, it was really hard for me. I tried my best, but it was really hard for me to kind of maintain my health during that shoot."
Reed assures us that "It was so worth it" though.
"I feel like that happens on most shoots where you're in it. You're like, 'Oh, this is so difficult,' and then you kind of can widen the aperture. 'It's really beautiful' in that sometimes the best things take a lot of hard work."
If there's one scene in the film that best encapsulates these mixed emotions, it's the memorial held for Derek Hale at the end. Following his brave sacrifice, everyone gathers to pay their respects in a scene that was emotional for Posey in more ways than one.
"As heartbreaking as it was to have Allison die [in season three], it is, to me, necessary for our story to have these moments because I have experienced a major death of a loved one. I'm sure so many of the fans have. What we do best on our show is relating to people who are having these catastrophic, life-altering losses. And so Derek fits right in that."
"Derek is by far one of the most loved characters," adds Tyler. "Having to go through that mourning, the fans mourning with us and grieving and doing it in a way where we pay homage in such a beautiful, delicate way… It was super moving. I cried."
Perhaps the hardest thing to watch in this scene is the moment where Scott stands up and makes a speech in tribute to Derek, his fallen friend.
"My little speech brought back a lot of memories from my own past about that kind of thing," says Posey. "It's cathartic. It's not triggering. I'd rather accept it and cope and live with it rather than trying to shove it down. So being able to do that for myself is super cathartic and therapeutic. I think it was beautiful."
Allison is there in support of Scott, and Crystal herself remembers how everyone was there to support Tyler in that moment as well.
"All of us were just watching Tyler, welling up, because we knew that it's close to home. It was just so poignant that scene. It is so so so beautiful. We all felt that. Truly, it was wonderful thanks to Jeff [Davis] for including it and for Tyler to call upon that stuff. To use it for art is a beautiful thing."
There's only one more scene in the film starring their characters after that, and it's one that many fans back home will describe as "beautiful" and "poignant" too. Because after all that grief and trauma, Scott and Allison are finally together again, ready to enjoy the happy ending they've always fought so hard for.
"I felt giddy during that scene," says Crystal. "Watching it back too, there's something about the way our characters look at each other that still feels really youthful, even though we're much older people. I think that is the essence of those two people in love… It still remains. Maybe that's why people love them together. It's younger, youthful and innocent — genuine still."
"That's what love is right?" suggests Tyler. "True love is youthful. It's a beautiful balance of youthful energy inside of you while also having this gnarly past and dealing with it and growing together. That's what I love about Allison and Scott. They're number one, always. They're the essence of teenagers. And the fact that we got to come back and do it together again, I'm getting chills. It was a perfect payoff."
Teen Wolf: The Movie is available to stream on Paramount+ now in the U.S. and will premiere Friday, Jan. 27 on Paramount+ in the U.K.