News
Harriet the Spy Animated Series Ordered by Apple TV+, Beanie Feldstein to Voice Title Role
Apple TV+ has picked up a Harriet the Spy animated series, adapting the classic children's novel, starring Beanie Feldstein.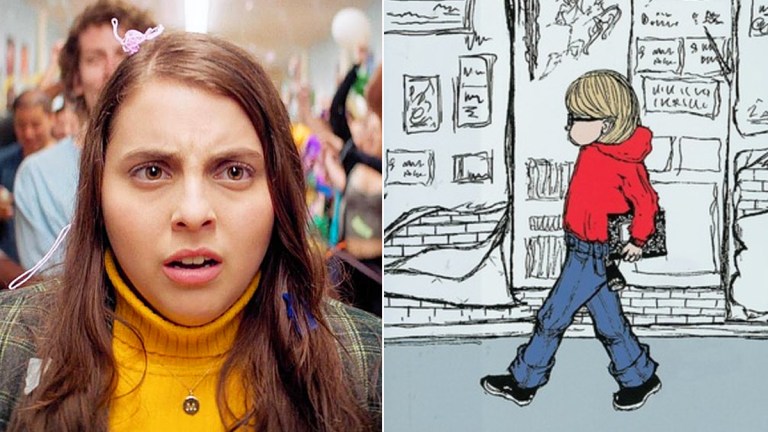 Harriet the Spy is once again set to gather friendship-damaging intelligence, this time in the animated arena, thanks to Apple TV+'s green light for a new series.
Apple TV+ has announced its pickup for a Harriet the Spy animated series, which will directly adapt the iconic 1964 children's novel of the same name written and illustrated by Louise Fitzhugh. The series, hailing from The Jim Henson Company and Rehab Entertainment, will have Beanie Feldstein (Booksmart) voice the titular role of young Harriet M. Welsch, joined by Jane Lynch (Glee) as no-nonsense nanny Ole Golly. Notably, it will take shape creatively under Will McRobb (creator of The Adventures of Pete & Pete), who serves as the show's primary visionary as writer and executive producer. Titmouse Animation Studios will handle animation duties.
Apple's Harriet the Spy won't stray from the source material, since it will be similarly set in 1960s New York, centered on the exploits of the eponymous precocious eleven-year-old, whose proclivity for documenting her surreptitiously obtained observations in a notebook leads to a personal disaster when said notebook ends up falling into the wrong hands. She is then tasked with repairing the damage caused by the public release of her acerbically-frank opinions about popular mean girls ringleader Marion Hawthorne (appropriately voiced here by Mean Girls' Lacey Chabert), and even worse, unflattering tidbits about her own friends, resulting in her becoming a pariah at school; essentially a 1960s version of getting doxed.
Fitzhugh followed up the first Harriet book with two sequels, 1965's The Long Secret and 1979's Sport, the last of which was published posthumously, with the author having passed away in 1974. However, the franchise took live-action shape as a theatrically-released 1996 film, directed by Bronwen Hughes and starring a young, (pre-Buffy the Vampire Slayer,) Michelle Trachtenberg alongside Rosie O'Donnell as Ole Golly. That film also happened to be the first in-house feature released by Nickelodeon. While plans in 2004 for a live-action television series failed to bear fruit, the Harriet franchise would again be revived in 2010 with Disney Channel TV movie Harriet the Spy: Blog Wars, directed by Ron Oliver and starring Jennifer Stone.
The new animated show's creative fulcrum, Will McRobb, brings a vast CV of children's properties, most notably as co-creator of revered 1992-1996 live-action series The Adventures of Pete & Pete and 1996-2000 animated favorite KaBlam!, with recent writing stints on Costume Quest, Danger & Eggs, Sanjay and Craig and Bravest Warriors. He will be joined by producer Sidney Clifton (Black Panther) and executive producers in The Henson Company's Lisa Henson & Halle Stanford, Rehab Entertaiment's John W. Hyde & Terissa Kelton and 2 Friends Entertainment's Wendy Moss-Klein & Nancy Steingard.
Harriet the Spy lands a surging star with lead voicer Beanie Feldstein, whose momentum from roles in 2019 comedy features Booksmart and How to Build a Girl, along with 2017 dramedy Lady Bird, yielded opportunities such as the starring role as Monica Lewinsky in Ryan Murphy's upcoming American Crime Story anthology iteration about the Clinton impeachment scandal. Co-star Jane Lynch, who gained prominence from her series-spanning role as ultra-intense cheerleading coach Sue Sylvester on 2009-2015 Fox series Glee, recently appeared on Netflix's Space Force and, amongst an array of recurring voice roles on shows such as American Dad and Big Hero Six: The Series, voiced the role of Calhoun in 2012 film hit Wreck-It Ralph.
No release window was revealed yet for Apple TV+'s Harriet the Spy series, but we will keep you updated as the news arrives.