News
Marc Guggenheim to Write Sony's Jackpot Spider-Man Spinoff Movie
Spider-Man character Jackpot is set for a spinoff movie from Sony, which has procured writer Marc Guggenheim.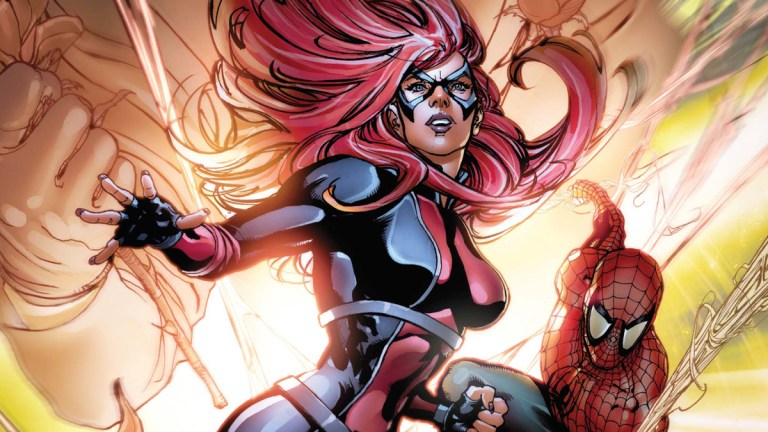 Jackpot may not exactly be considered an A-list Spider-Man comic book character to most fans, but Sony Pictures apparently sees superheroine solo movie potential, with the studio bringing such a project to the forefront—just a day after the report of another new one—by tapping a prolific writer from the realm of comic books and comic book television.
Marc Guggenheim has been hired to pen the script for a Jackpot movie, reports Deadline. The project will adapt the story of the titular female hero, born Sara Ehret. The character gained powers after she was accidentally exposed—while pregnant—to Lot 777, an experimental genetic cure for Parkinson's Disease, which left her comatose for 4 months, after which she emerged with enhanced strength, stamina and durability after having her child. However, after taking the natural next step of becoming a superhero—officially registered as necessitated in a post-Civil War world—her crimefighting career would take a circuitous route, yielding tragic consequences.
Indeed, Sara would sour quickly from the superhero lifestyle. This led to a fan of hers, Alana Jobson, endeavoring to inherit the mantle by taking the extreme measure of emulating Sara's powers with experimental drugs and a mutant growth hormone. While the method did yield Alana the powers she sought, it quickly became her undoing after she was attacked by a blindness serum from villain Blindside, which caused a fatal reaction with her powers-wielding drugs. Consequently, Sara, wracked by guilt over Alana's death, would retake the Jackpot mantle, having experienced her own tragic Spider-Man-esque, "with great power comes great responsibility" moment.
Jackpot debuted in the 2007 Free Comic Day one-shot, Spider-Man: Swing Shift. Interestingly, her name is connected to the secretive way in which the character was introduced. With her identity initially a mystery, the masked character's visible red hair and Spider-Man connection immediately evoked the guess of Mary Jane Watson. Thus, the character's creators, writer Dan Slott and Phil Jimenez, exploited the angle by calling her Jackpot, a clear reference to Mary Jane's iconic introduction in 1966's The Amazing Spider-Man #42, specifically in one of the most famous panels in comic book history, in which she—as a heretofore dreaded blind date—showed up on Peter Parker's doorstep, stating, "Face it, Tiger… You just hit the jackpot." Thus, the character's very name was a red herring in a figurative and literal sense.
With Guggenheim, Sony has a writer with legitimate connection to the character, since he wrote Marvel's 2009 solo miniseries, Amazing Spider-Man Presents: Jackpot, in which the character teamed with Spidey to battle villain Boomerang amidst a larger conspiracy. Of course, he's also served as a longtime creative staple for The CW's DC Comics shows such as Arrow, The Flash, Supergirl, Legends of Tomorrow and the Vixen animated series offshoot, and also fielded ABC's short-lived 2010-2011 superhero sitcom, No Ordinary Family. Moreover, for better or worse, Guggenheim was one of the names attached to the script of the notorious 2011 movie, Green Lantern, which, to this day, serves as a self-deprecating punchline for star Ryan Reynolds.
The Jackpot project is yet another Sony-concocted cold spinoff film featuring characters culled from the Spider-Man comic book mythos, sans any onscreen baton-passing from the current big screen Wall-Crawler, Tom Holland. It continues a tradition firmly established with the initial spinoff, the 2018 Tom Hardy-starring Venom, and set to continue with the Jared Leto-led Morbius and sequel Venom: Let There Be Carnage, along with a long-gestating Kraven the Hunter movie. Yet, it also joins the aforementioned other brand-new entry on the studio's Spidey-centric backlog, this one a secret project believed to be centered on Madame Web, which will be directed by S.J. Clarkson.
For now, Sony's Marvel Cinematic Universe-adjacent sandbox is on schedule to continue with recently coronavirus-rescheduled offerings in Morbius on March 19, 2021, followed by Venom: Let There Be Carnage on June 25, 2021.