Features
Stranger Things Season 4 Volume 2 Trailer Breakdown: More Vecna, Kate Bush, and Explosions
The Stranger Things season 4 volume 2 trailer makes a deal with God and presents a plethora of intriguing visual tidbits.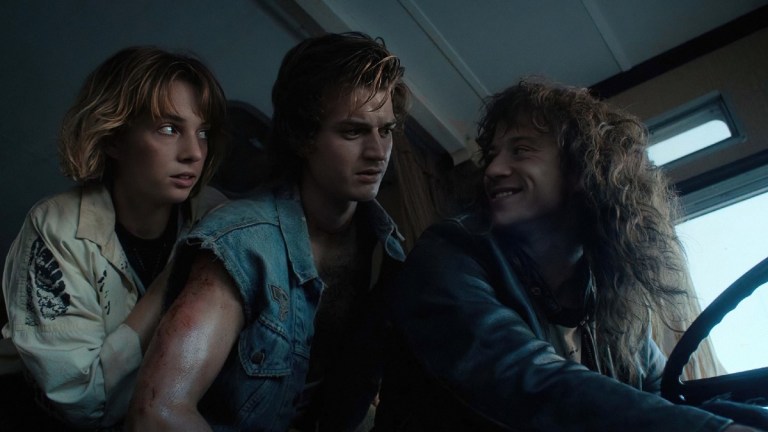 While some may find the splitting of a season of television into two chunks unnecessary and exhausting, it does come along with one undeniable benefit: Two trailers, baby.
Just as the Stranger Things season 4 volume 1 trailer was an epic delight, so too is the just-released two-minute clip featuring action from season 4 volume 2. Give it a watch below.
For those who haven't kept track, Stranger Things season 4 isn't over yet. You could be forgiven for assuming so given the epic nature of episode 7's ending. But in reality, episodes 8 and 9 are still to come in season 4. Both of the feature-length episodes (90 minutes and 140 minutes, respectively) will arrive to Netflix on July 1.
And based on this trailer, that approximately 230 minutes of television is going to be properly epic! Here is everything of note that we noticed in the Stranger Things season 4 volume 2 trailer.
Eleven in Her Empire Strikes Back Era
Fittingly, this trailer opens with Dr. Brenner's (Matthew Modine) ominous words to his young charge, Eleven (Millie Bobby Brown): "I know you're frightened. You're terribly frightened by what you've seen. But I'm not gonna lie to you. Your friends are not prepared for this fight. Hawkins will fall."
After voiceover from Eleven assures Brenner that her friends need her, he responds with "You're not ready."
Does that exchange remind you of anything? How about Yoda's conversations with Luke Skywalker in The Empire Strikes Back? Stranger Things creators The Duffer Brothers are nothing if not '80s aficionados. And the Star Wars middle chapter released in 1980 in many ways set the dramatic tone for every genre story to come after it. In George Lucas's film, Luke unwisely cuts his Jedi training short to go save his friends in Cloud City on the planet Bespin. Though the story eventually has a happy ending, things don't work out well for Luke in the near term.
Given that Stranger Things has another whole season to go after the season 4 finale, we think Eleven's battle against Vecna might not go the way she plans this time either.
Running Up That Hill – Kate Bush
Forget Eddie Munson (Joseph Quinn) or Dimitri "Enzo" Antonov (Tom Wlaschiha), the real breakout character from Stranger Things season 4 is a 63-year-old pop star from the U.K. Kate Bush's '80s classic "Running Up That Hill" has played a major role in the events of Stranger Things season 4 so far, going so far as to literally save Max Mayfield's (Sadie Sink) life. Of course it had to be featured in the volume 2 trailer then.
Aside from just being an absolute banger, "Running Up That Hill" features lyrics that may be applicable to the events of season 4. As we watch Eleven go through hell to keep her friends safe, we can't help but consider the lyrics: "And if I only could/I'd make a deal with God/And I'd get him to swap our places."
Like Darth Vader before him, Vecna is pretty open about wanting his only psychic competition, Eleven, to join him in his world-conquering mission. What if the only way to save her friends is for Eleven to make a deal with God…or the devil?
Eddie Munson Shreds
Elite Dungeon Master Eddie Munson putting his heavy metal skills to good use and shredding his way through the Upside Down has been a long-awaited moment ever since it was first teased in the first Stranger Things season 4 trailer. Well here Stranger Things goes again – teasin' us. In this trailer we see Eddie retrieve his guitar from the Upside Down and then fire off some crunchy licks from atop his trailer.
We've always thought this would be the climactic (and perhaps final?) moment for Eddie's character. And nothing in this trailer disavows us of that notion. What song will Eddie play though? That's a question we explored over on Tik Tok.
Will and Mike's Moment
One of the worst kept secrets on Stranger Things season 4 is that Will Byers (Noah Schnapp) has likely come to terms with the fact that he is gay and that he loves his friend Mike Wheeler (Finn Wolfhard). The show has dropped many hints to suggest this from Will working on a deeply personal art project that he's mustering up the courage to show Mike to Will shying away from the romantic overtures from one of his female classmates.
This trailer features two major moments between Will and Mike. The first is Will tapping into his Upside Down knowledge to warn Mike that Vecna is not going to stop until he's killed everyone. The second, more wholesome, moment finds the boys hugging each other in a restaurant kitchen. We would have to imagine that this is the moment that Will shares his feelings with his friend and receives some closure and acceptance.
The Gang Suits Up for Battle
One of the light cliffhangers in Stranger Things season 4 episode 7 is Nancy's fate. Last we saw she was in Vecna's clutches, receiving an uncommonly privileged look into his back story. Thankfully, this trailer just foregoes any further drama and acknowledges that she makes it back to the Right Side Up. There she appears to be a part of one hell of a team.
Lucas (Caleb McLaughlin), Dustin (Gaten Matarazzo), Robin (Maya Hawke), Steve (Joe Keery), Eddie, and Nancy are all quite literally gearing up for battle. Eddie and Dustin have assembled some crude D&D style Medieval armor to wear while Robin has found a stylish beret that hopefully has at least a ward save. Clearly this team is united and planning to strike back at Vecna. How exactly will they go about it though?
Return to Creel House
Vecna a.k.a. Number One a.k.a. Henry Creel really seems to have goofed in letting Nancy know his real history. At one point in the trailer, Lucas, Max, and Erica (Priah Ferguson) all visit the Creel House in the real world armed with a Walkman set to play Kate Bush and the rest of their favorite songs. The moment is brief but it suggests to us that the Hawkins gang has a legitimate plan to tackle Vecna: hit him from both sides.
While the rest of the gang enters back into the Upside Down, the Max group will have business to attend to in our own world. We don't know what the particulars of that plan are just yet but it's hard to argue with the group's two-pronged approach.
What Do Hopper, Joyce, and Murray Find?
Somewhat surprisingly, this trailer features fewer glimpses at Hopper (David Harbour), Joyce (Winona Ryder), and Murray (Brett Gelman) than the shorter TV spot that was recently released did. It does, however, include one moment of the trio that promises to be one of the most important bits from the final two episodes.
What exactly is that black cloud that the Hopper gang stumbles across in the Soviet prison camp? It's impossible to say what it is exactly but its origins are almost certainly Upside Down-related. If the Soviets have been experimenting with the supernatural this whole time, perhaps Hopper and co. can uncover something about the Shadow Realm that will be useful in taking down Vecna…assuming they ever make it back to the U.S., of course.
Lucas is a Badass
Sometime in-between rescuing Nancy from Vecna's clutches and accompanying Erica and Max to Creel House, Lucas somehow has time to punch basketball douche Jason Carver (Mason Dye) right in his stupid face. This is a cathartic moment to be sure but it's also indicative of just how much this cast has grown. Now they can throw haymakers like real action heroes.
Vecna
What would a Stranger Things season 4 trailer be without our new big bad Vecna? We see the Mind Flayer's general a couple of times here but more terrifying than his appearance Like Brenner before him, Vecna has some ominous words to share with Eleven via voiceover, saying "It's over. Now I just want you to watch. Your friends have lost."
That, combined with Robin's assertion that "I have a terrible feeling. It might not work out for us this time." really does make this feel like The Empire Strikes Back of Stranger Things trailer. Now we just have to wait and see if that feeling carries forward into the actual episodes.
Stranger Things season 4 volume 2 will premiere Friday, July 1 on Netflix.