News
Stranger Things Season 4 Volume 2 Release Date: When Will Episodes 8 and 9 Premiere?
After the conclusion of Stranger Things season 4 volume 1, it will be a short wait for volume 2. Here is when you can expect to binge the lengthy episodes 8 and 9.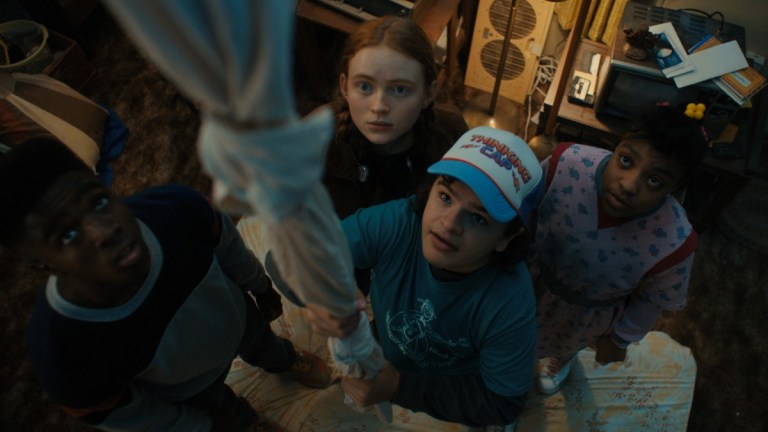 Stranger Things was never meant to last forever. Heck, the original concept of Stranger Things was barely meant to last past its first season. But that's before Netflix and series creators The Duffer Brothers got a look at the show's marvelous cast and viewers' enthusiastic response to them. Still, the end is now fast approaching.
Stranger Things season 4 volume 1 has now premiered its seven episodes on Netflix. After that, only the two episodes that constitute season 4 volume 2 and a fifth season are set to follow. Prior to the premiere of season 4, Matt and Ross Duffer explained their reasoning to fans in an open letter.
"Seven years ago, we planned out the complete story arc for Stranger Things," the identical twins wrote. "At the time, we predicted the story would last four or five seasons. It proved too large to tell in four, but — as you'll soon see for yourselves — we are now hurtling toward our finale. Season 4 will be the penultimate season; season 5 will be the last."
Fans have now gotten a peek at what that penultimate season would look like – filled with new monsters, both of the human and Upside Down variety, and plenty of the same Hawkins residents we've come to know and love. As of right now, however, that second-to-last season remains incomplete. Stranger Things season 4 episodes 8 and 9 are on the way. When we can expect to watch them?
Stranger Things Season 4 Volume 2 Release Date
Stranger Things season 4 volume 2, which consists of only two episodes, will premiere Friday, July 1 on Netflix. Typically new Netflix series arrive on the streamer at 3:01 a.m. ET/12:01 a.m. PT. Expect Stranger Things season 4 volume 2 to be no different.
Stranger Things Season 4 Volume 2 Episode Lengths
This actually might be a first for Den of Geek. Or at least it's a first for me. I can't recall typing out "Episode Lengths" in a subhead before but in this case it's actually warranted! "Why do I care how long an episode of something is?" you may be asking yourself. Well, in this case you may actually want to know as it could change drastically affect your streaming plans. The episode lengths are as follows:
Stranger Things season 4 episode 8 – 1 hour, 25 minutes
Stranger Things season 4 episode 9 – 2 hours, 30 minutes
For those who have gotten accustomed to streaming full seasons as they drop, those runtimes might not be too imposing. But for everyone else – just be sure to wear comfortable clothes and drink lots of water.