News
Stranger Things Season 4 Stars Address Will's Sexuality: "Zebra in a Field of Horses"
Stranger Things stars Noah Schnapp and Millie Bobby Brown answer fan questions by not answering them.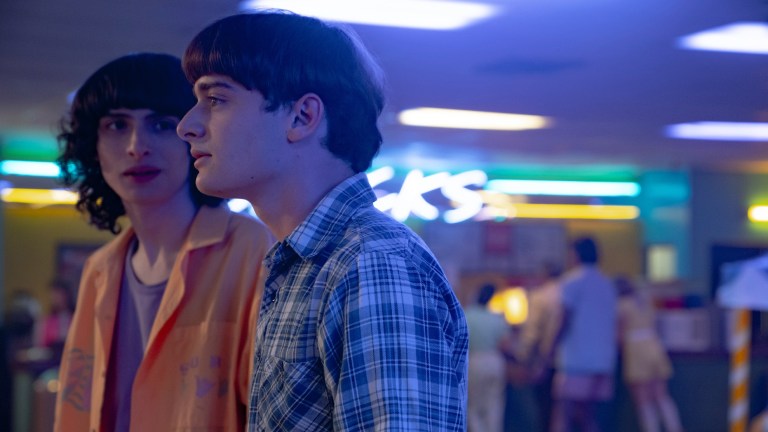 This Stranger Things article contains spoilers.
For all of its dream demons and trans-dimensional government plots, Stranger Things does feature one completely realistic story element. In the six years since the first season premiered on Netflix, we have watched the four main boys grow up and grow apart. Fissures between the primary friend group were already present in the series' third season, as Mike, Dustin, and Lucas all had girlfriends that consumed their time more than the Dungeons & Dragons they loved to play.
These divisions have become more pronounced in season four, which begins with Eleven living in California with Will (and his older brother Jonathan and mother Joyce), while the rest of the boys remain in Hawkins, Indiana. To make matters worse, Lucas' place on the basketball team makes him one of the cool kids, part of a group who routinely bullies his own.
But some viewers see a simpler reason that Will fails to connect with his old friends, one that goes far beyond physical distance or new social standing. To many, Will appears to be struggling to tell his friends about his homosexuality. In the middle of an argument in season three, Mike defends his decision to spend time with girlfriend El by insisting, "It's not my fault that you don't like girls."
In season four, Mike shares with Will his frustration about failing to open up to Eleven, prompting the latter to sympathize. "Sometimes, I think it's just scary, to open up like that — to say how you really feel, especially to people you care about the most," Will tells his friend, looking for understanding. "Because what if… what if they don't like the truth?"
While these conversations may seem clear to some, Will's actor Noah Schnapp and El's actor Millie Bobby Brown aren't so certain. In a conversation with Variety, Schnapp praises the show's reluctance to overtly state Will's sexuality, arguing, "I think that's the beauty of it, that it's just up to the audience's interpretation, if it's Will kind of just refusing to grow up and growing up slower than his friends, or if he is really gay."
For Brown, the ambiguity makes Will more relatable for kids who aren't certain of their own sexuality. "[H]e's just a human being going through his own personal demons and issues," Brown contends. "So many kids out there don't know, and that's OK. That's OK to not know. And that's OK not to label things." For Schnapp, that relatability makes Will such a special character. "Will is kind of like a zebra in a field of horses," Schnapp says of his character.
Will's inability to fit in makes him an outsider in a group of outsiders. Where Lucas has basketball, Mike has his interests in gaming and music, and Dustin his expertise in all things tech, Will isn't defined by hobbies, nor by the trauma of the earlier seasons. The series gives him space to figure things out, which is, for Schnapp, worthwhile. "It's just nice to see that and have that shown on Stranger Things for fans to connect to and be able to relate to."
Stranger Things season 4 is streaming on Netflix now.