Features
Steve from Blue's Clues Reminds Us Why Children's TV Matters
Steve from Blue's Clues' brief return to the public eye reminds us all of just how important children's TV programming can be.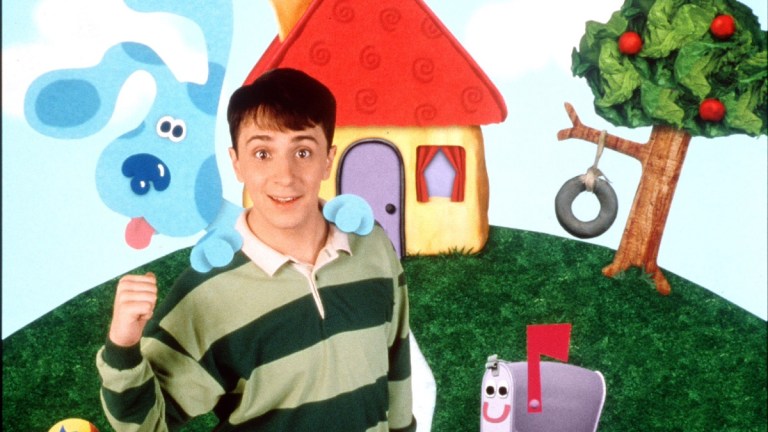 What makes a great children's TV show?
Is it the colorful aesthetic of the world on-screen? Is it the funny voices of the cartoons and the playful interactions they have with one another? It's all that but it's also more. Good children's shows understand that young ones are intelligent enough to grapple with concepts like right and wrong, friendship, family, and what it means to be creative. Kids are far more shrewd than adults give them credit for, therefore making a program for an age group that we have been out of touch with for decades presents a myriad of challenges.
Once in a while there is a show that understands all of the above and for kids who grew up in the late 1990s and early 2000s, there was nothing like Nick Jr.'s Blue's Clues. Hosted by Steve Burns between 1996 and 2002, the program follows a rigid format in which the host and Blue (the canine namesake) help the audience figure out a puzzle presented at the onset of the episode with clues littered throughout the fictional world. Paw prints mark the objects that hint to what was trying to be figured out, and the tone is simultaneously lenient and encourages challenging thought-provocation that respects a child's level of intellect and their desire to problem solve.
Blue's Clues wasn't the first children's show to attempt to merge what is happening on the screen with a prodding of viewer interaction; Sesame Street is the forever original in that category. Because the window of time the show ran in its first iteration was so short, the kids who watched it felt it belonged to them. Other similar outfits transcended many generations, but this one was inherently tied to Gen Z. 
When Burns left after six years, that version of fun was altered. The show continued with Donovan Patton playing Steve's cousin, Joe, but his style didn't connect with Steve's generation nearly as much. Steve felt like a cool pseudo-parent, someone who we respected and listened to while knowing that we could turn him off after 30 minutes and take a break from any hindrance or concept that maybe hit a little too close to guardian-speak.
What hurt was that Steve's absence, while valid (he went off to college), confused the young audience and they were left to wonder whether we did something wrong. Now in their mid-20's, the fans of the show got a major surprise answer earlier this week when Burns posted an update video on social media for the 25th anniversary of Blue's Clues. 
The brilliance of the clip is that Steve Burns is still in character as "Steve" and still speaking the way he did to us when we were kids, with his hallmark verbal traits like pausing after a statement to give time to respond and asking open-ended questions that make the person on the other end think and process. The topics being discussed are obviously much more mature though. He addresses how far we've all come in the last two decades and references jobs, school loans, and families. Twitter users appreciated his candor and awareness of us being grown-up, tying childhood to adulthood in a very raw and realistic manner. 
That's why Blue's Clues was so special. It interacted with its audience knowing that the little tykes behind the glass are going to be adult men and women with a variety of joys and hardships in their futures. The show fully intended to form a lifelong relationship between the characters and the viewers, one that would endure and be remembered long after it had come to an end.
It respected the mental capacity of the children watching as people who have fluid development tracks rather than concrete beings who are recycled as they age. No one group of kids is the same as the next one. It's why the show is so niche and profound for this specific age group and was pushed into major viral territory by the zoomers with this acknowledgement from Steve. It should be noted that the show was rebooted as Blue's Clues & You! in 2019, giving a chance for the current youth to experience the same feelings of fulfillment and joy as the previous ones.
Original Blue's Clues watchers are adults now but still have the ability to be transported right back to childhood in the blink of an eye. The innocence is gone, but we got to where we are because of shows like Blue's Clues that prepared us to solve problems, make friends, and enjoy the nuances and humor in every situation. The human lifecycle is universal, but the further we get from childhood the more we unfortunately act as if we never had formative years.
It was so heartwarming to see both Steve and the audience come together as one and recognize that this was a show that profoundly touched those involved, and we will still reminisce about it in another 20 years!