News
Will Star Wars: The Bad Batch Season 2 Happen?
Here's what we know about the Star Wars: The Bad Batch season 2 release date.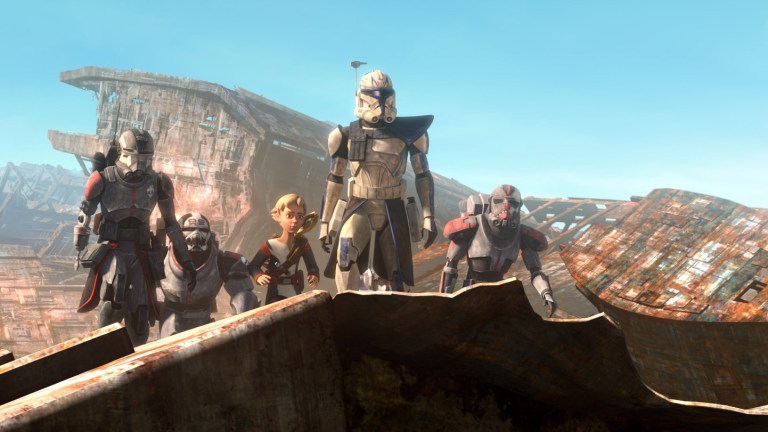 Star Wars: The Bad Batch was a welcome surprise for fans who hoped to get more episodes of The Clone Wars despite the show completing its story last year. Picking up right where Star Wars' most beloved animated series left off, The Bad Batch follows a squad of genetically-mutated elite clone troopers known as Clone Force 99 as they navigate a quickly changing galaxy after the end of the interstellar civil war.
The Empire has been established and has plans to replace the Republic's clone army with a new military force made up of obedient human acolytes. This leaves the members of Clone Force 99 in an uncertain place. Should they fall in line with the new galactic order, even as it slaughters citizens and Jedi in order to assert its dominance over the galaxy, or should they run and carve out their own path away from war? When Hunter, Tech, Echo, and Wrecker meet a mysterious clone named Omega, who wants nothing more than to escape the labs on Kamino, they decide to go AWOL.
But not all members decide to abandon their "duty" to the new Empire. The team's sniper, Crosshair, joins the Empire and vows to hunt his former squad down. It's a classic Star Wars tale of family torn apart by opposing sides of a conflict. After betraying his brothers, can Crosshair be redeemed? We learn more about why he became an Imperial agent as the first season progresses.
Across 16 episodes, we also watch as what remains of the Batch — including new member Omega — figure out their next move sans a commanding officer, from becoming mercenaries for criminal-with-a-heart-of-gold Cid to joining an old friend on a mission to uncover why the clone army so easily turned against the Jedi during Order 66. Fans of the Rebels animated series will even find an origin story or two for some of their favorite characters.
With the first season coming to a close, and a few plot threads left hanging after the finale, fans might be wondering whether Lucasfilm is planning The Bad Batch season 2. Well, good news: the studio has already confirmed that season 2 is a go on Disney+. It will hit the streaming service in 2022.
"Fans have enthusiastically embraced the action and drama of Star Wars: The Bad Batch, and we are excited to see the Star Wars animated universe continue to expand on Disney+," said Michael Paull, president of Disney+ and ESPN+, in a press release. "As the dedicated streaming home for the Star Wars franchise, we can't wait for the second season of this fan-favorite animated series."
"The entire Lucasfilm Animation team and I would like to thank Disney + and our fans for the opportunity to continue telling the story of the Bad Batch," said executive producer Dave Filoni.
While fans wait for The Bad Batch season 2, they have plenty of other Star Wars TV series to look forward to, including The Book of Boba Fett, which is out later this year. Check out the full Star Wars movie and TV series release schedule here.