News
Star Wars Obi-Wan Kenobi: Why Darth Vader Was Chosen as the Villain Over Maul
Obi-Wan Kenobi director Deborah Chow sets the record straight about those Darth Maul rumors.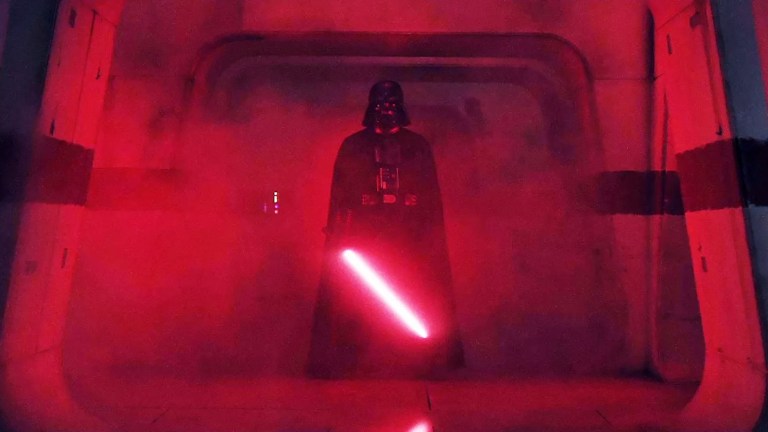 Much will be written in hindsight about the making of Obi-Wan Kenobi, which is set to bring back two of the biggest stars in franchise history to Disney+ in May. Ewan McGregor reprises his role as an older, broken Obi-Wan living in exile on Tatooine, while Hayden Christensen will complete his transformation into Darth Vader, donning the cyborg suit for the first time since Revenge of the Sith. It's no exaggeration to say that their rematch is one of the most anticipated pop culture events of the year.
But behind the scenes, depending on who you ask, this surprise, pre-A New Hope clash between Jedi Master and Dark Lord of the Sith was either always part of the plan or the result of a creative shake up that saw Joby Harold (Army of the Dead) replace Hossein Amini (Drive) as series writer.
In March, THR reported that Amini's scripts played out very differently to the six-episode miniseries that's about to unfold on our TV screens in a few short weeks. According to the outlet, the original story saw Obi-Wan on the run with a 10-year-old Luke, with several villains, including a resurgent Maul, on their tail. But when Star Wars exec producers Jon Favreau and Dave Filoni read the scripts, they felt the story was too similar to The Mandalorian, which sees a bounty hunter in a similar situation with his little Yoda-like ward. Per the outlet, Lucasfilm president Kathleen Kennedy decided that a creative overhaul was needed to take the series in a new direction.
But now Obi-Wan Kenobi director Deborah Chow has debunked this report in a new interview with Total Film. According to the filmmaker, Maul was never even considered for this series.
"As long as I've been involved, we've never had Darth Maul in any of it," Chow explained. "Dave [Filoni] did a beautiful job of telling that story already."
It's true that Maul's return in Obi-Wan Kenobi would have been a weird one considering the way Filoni concluded the villain's arc on the animated series Rebels. In their climactic episode, which is set about seven years after the upcoming Disney+ series, Maul finds Obi-Wan on Tatooine and they have one final duel. It's a beautiful, melancholic ending to Maul and Obi-Wan's story together, and it's possible tacking on another duel years earlier would have run the risk of cheapening the effect of that moment.
To hear Maul's return on Obi-Wan Kenobi was never even considered by Lucasfilm is good news. Of course, Chow is only speaking about her time on the project. But before Obi-Wan Kenobi became a limited series, it was originally being developed as a movie in 2017, with director Stephen Daldry (The Hours) at the helm. It's possible Maul was in the running for that version of the project. Coincidentally, Solo: A Star Wars Story, which is set just a year before the events of Obi-Wan Kenobi, did bring back Maul as a crime lord. Was the villain's cameo in the Han Solo movie once designed as a tease for his bigger role in an Obi-Wan picture? In the end, all we can do is speculate.
Whatever the case, Chow explained to Total Film that Darth Vader made much more sense as the villain of the piece.
"For anybody trying to tell a story in the middle of these two trilogies, there were only certain elements that made sense in where [Obi-Wan] is," Chow said. "With a lot of the legacy aspects, the decision to bring Vader into it was not made lightly. We're 10 years after Revenge of the Sith. Where is Obi-Wan's starting place? What has been important to him in his life? Anakin and Vader are a huge and very profound part of his life. We ended up feeling that he made sense in telling this story. And Vader casts such a dark shadow in this, that to have Maul as well, it might be a little bit much."
One can imagine the things McGregor and Christensen must have felt while shooting their first scene together in 17 years, but what really surprised the Obi-Wan actor is how frightening it was to finally face off against the Dark Lord. McGregor described a scene in which Vader "had to come from behind me. I turned around, and fucking Darth Vader was coming at me. It was like I was six again. I'd never acted into Vader's helmet. I'd never looked him in the eye."
"It scared the shit out of me," McGregor said to Total Film. "I'm not joking. It gave me a proper jolt of absolute fear. I was like, 'Oh my God, that's not acting. That's real. I'm really, truly frightened right now.'"
Chow said there was "a moment of silence" when Vader first appeared on set: "Just having Vader standing in front of you is a crazy thing. It's an amazing thing, but it's very intense when you first start doing it."
Meanwhile, Christensen won't say much about his return to Star Wars, teasing only that "the extent of this journey remains to be seen." The actor will also reportedly appear in the upcoming Ahsoka live-action series in some way — perhaps in a flashback or as the Force ghost of Anakin Skywalker? Speculate away.
Star Wars: Obi-Wan Kenobi premieres on Disney+ on May 27.