Sponsored
Best Star Wars Trading Card Sets to Celebrate Lucasfilm's 50th Anniversary
We look at some of Lucasfilm and Topps' greatest collaborations in the Star Wars universe.
This article is part of our Collector's Digest content series powered by: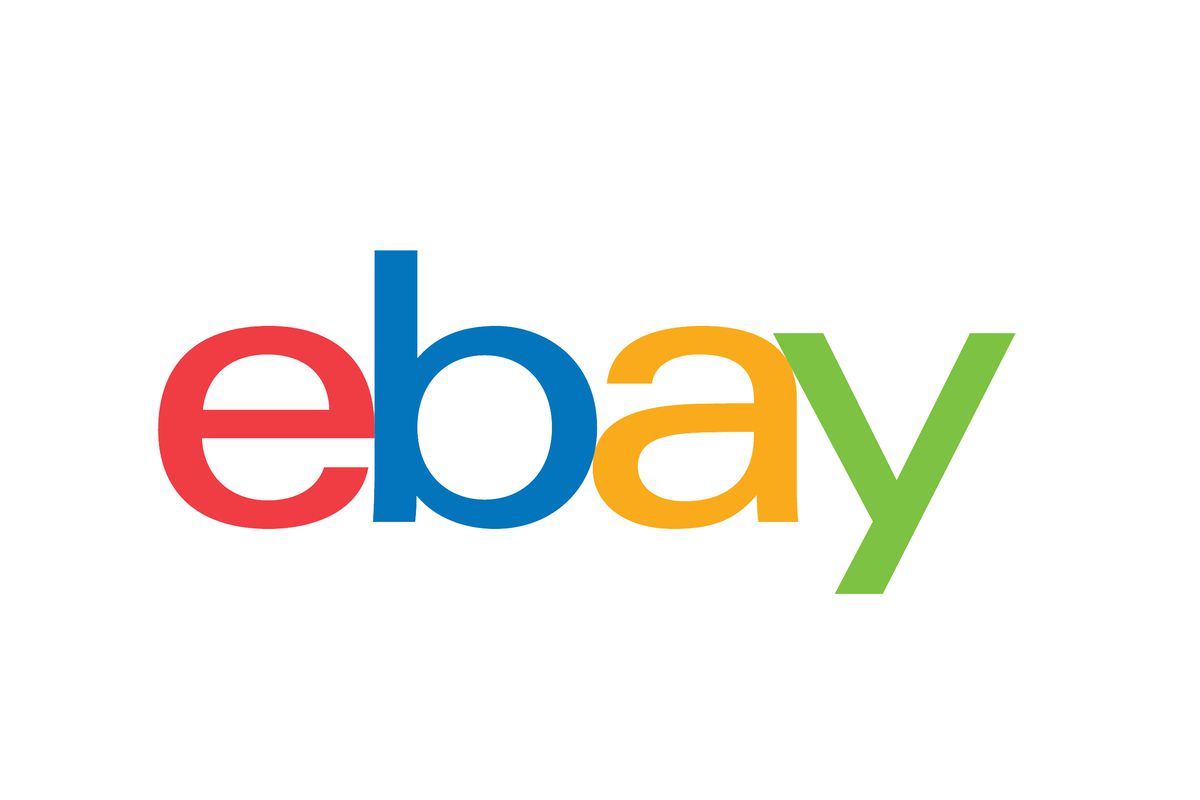 This year marks the 50th anniversary of Lucasfilm. To say the corporation that George Lucas founded as a way to realize his artistic vision forever altered popular culture is akin to understating the heat of the sun. Indeed, it is incomprehensible to think of a world without Lucasfilm and the wonders it has given us over the course of the past half century.
What initially began as a way for Lucas to pursue his creativity outside of the auspices of the Hollywood machine is a fascinating story in and of itself – one whose irony is impossible to overlook given how the independent filmmaking ideologies held by the company eventually gave way to the biggest film franchise in history. And that's not to overlook the significant artistic and technological achievements Lucasfilm unleashed, Ark of the Covenant style, with the Indiana Jones franchise.
Lucasfilm is an embedded part of the mainstream fifty years later. Yet the company has never strayed far from its initial mission statement of creating works that elicit genuine wonder. The fact that Lucasfilm productions often offer profound commentary on the human condition – even when a huge chunk of the characters who populate the Star Wars universe aren't human – is just another example of the creative alchemy they continue to conjure.
As we celebrate this milestone anniversary, we wanted to share with you some of our favorite merchandise spawned by the company's releases, namely Topps trading cards. (Besides, Lucasfilm and its consumer output has an ouroboros-like relationship at this point). Below you'll find an assortment of trading cards lines that Topps has issued inspired by the various Star Wars films and television shows.
All of these offerings represent not only how Lucas and Lucasfilm deconstructed and rebuilt science fiction into a far-reaching phenomenon but also the simple ways that collectibles are a part of our shared history. Maybe you have fond memories of buying a pack of The Empire Strike Back cards off of your local ice cream truck, or warm reflections about schoolyard discussions about Jabba the Hutt spawned by trading Return of the Jedi trading cards. These memories are a part of why the Star Wars saga is so meaningful to fans the world over, and we have Lucasfilm and Topps to thank for this. And thankful, we truly are. Here now, is a look at some of Lucasfilm and Topps' greatest collaborations.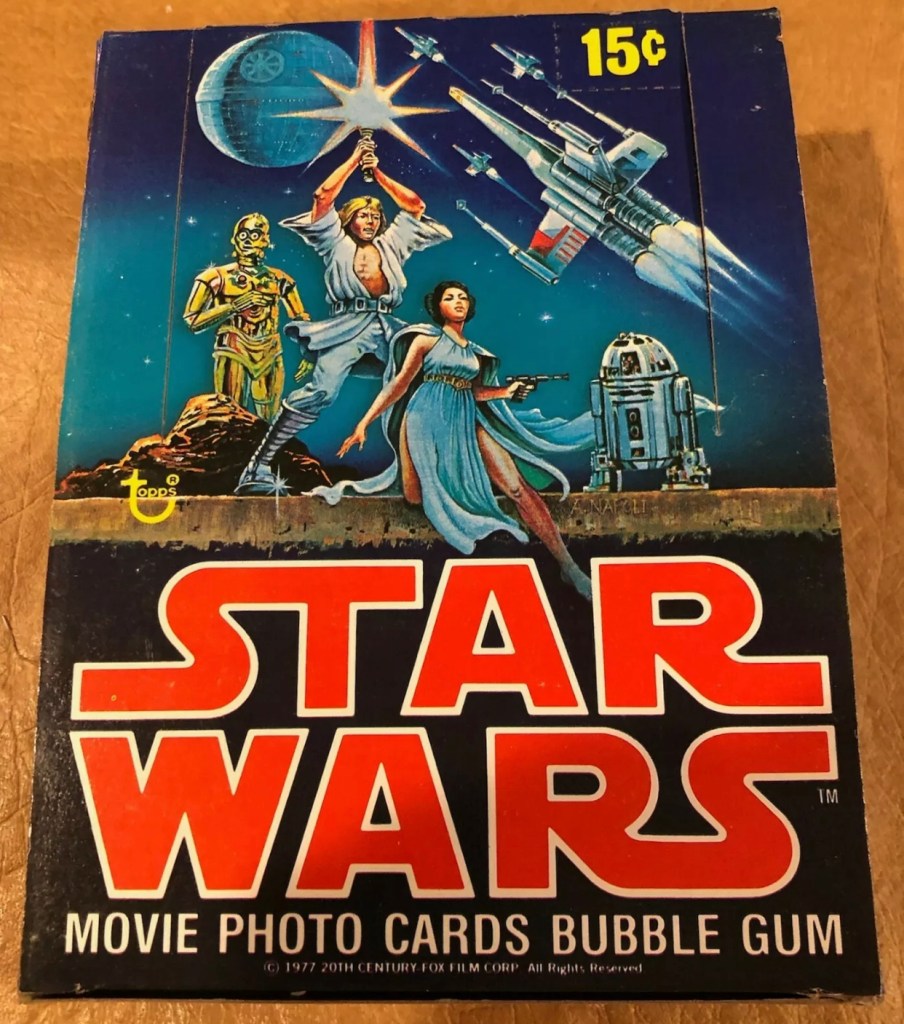 Topps Star Wars Unopened Trading Card Box
Price: $2,000 – $4,000
Impossible though it may seem from a 2021 perspective, there was a time when Star Wars collectibles were downright difficult to find. Kenner's infamous Early Bird Certificate issued for Christmas of 1977 was essentially an empty cardboard sleeve that promised action figures that didn't technically exist yet. Other quickly produced merchandise like inflatable lightsabers (which, admittedly are kinda badass), puzzles, and a board game helped temporarily quell the desire for all things related to a galaxy far, far away.
Of the initial products, the one that has endured the longest is Topps' various trading cards. For a mere 15 cents, would-be Star Warriors could get several cards with full color images from the film, a dazzling sticker – you'd feel like royalty if you'd score a Darth Vader one – and a stick of gum. These were inexpensive, highly collectible, and super cool. Not only did they help introduce a generation to trading cards, but the five different colored lines that make up the series remain some of the most desired Star Wars collectibles ever. Which is why an unopened box of these cards will set you back a pretty penny. The bragging rights owning one will give you though? Priceless.
Buy a Topps Star Wars Unopened Trading Card Box on eBay here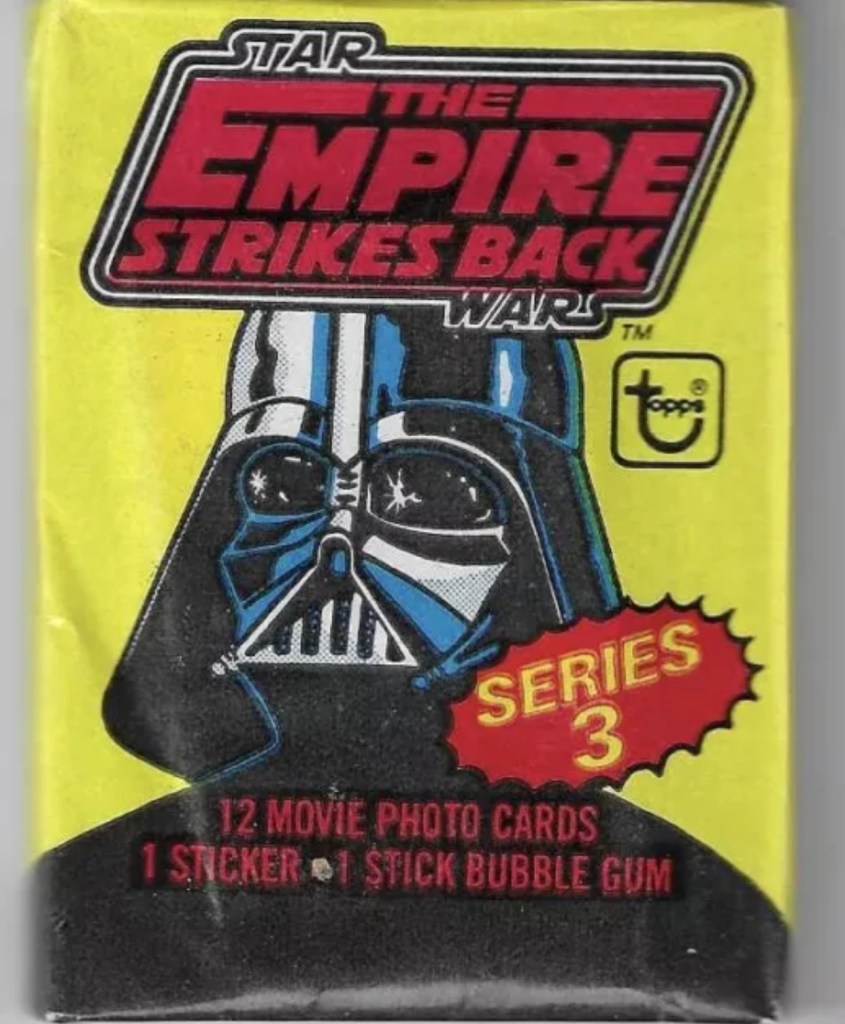 The Empire Strikes Back Series 3 Unopened Pack
Price: $5 – $30
When it came time for Topps to release card sets for The Empire Strikes Back, the company ramped up the excitement in a manner befitting the source material. There were three separate sets released for the sequel, with the 88-card set in the third series being arguably the most exciting. Why? The third series offered everything from comic styled depictions of characters like Boba Fett and "Probot" to jaw-dropping art from visionary Ralph McQuarrie to deliciously melodramatic captions like "Threepio in a Jam!" and "Dodging Deadly Laserblasts!" Recreating the action of the film on a trading card feels like an impossible task, one Topps was somehow able to achieve.
Buy a The Empire Strikes Back Series 3 Unopened Pack on eBay here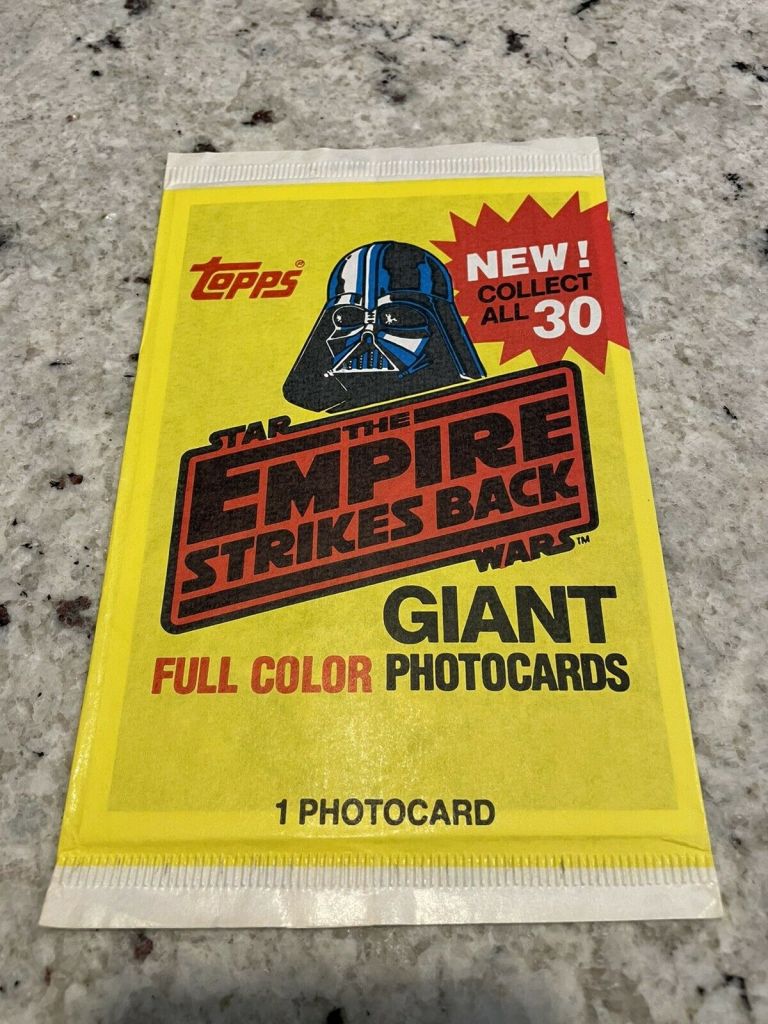 The Empire Strikes Back Full Color Giant Photocards Unopened Pack
Price: $5.99 to $14.99
Back in 1980, Topps pulled off the impressive feat of selling a single Star Wars card for 20 cents. Yes, they really had some cojones to attempt to pull off such a stunt, but this move was about way more than milking the Star Wars cash cow. Each of these 30 "Giant Photocards" from The Empire Strikes Back was a behemoth suitable for locker display and/or framing. Unfortunately, consumers weren't buying the whole less-is-more thing, and the line evaporated quicker than Luke's snowy vision of Ben Kenobi.
Buy a The Empire Strikes Back Full Color Giant Photocards Unopened Pack on eBay here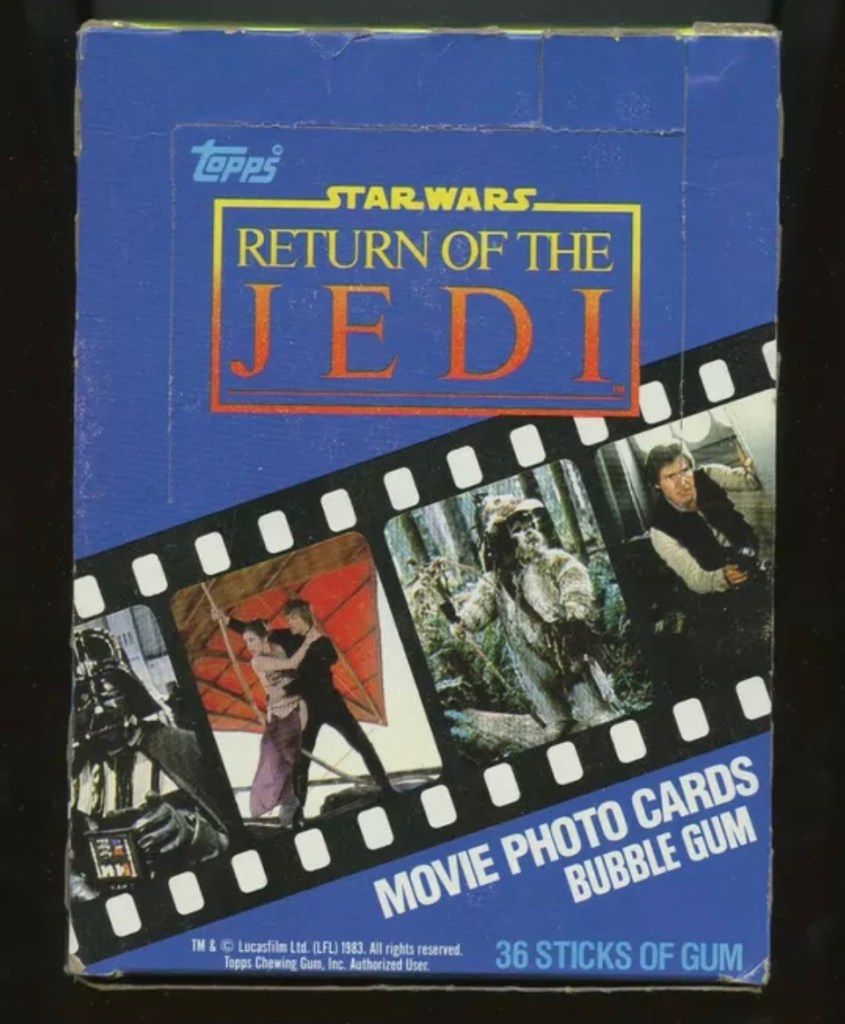 Return of the Jedi Trading Cards Unopened Box
Price: $300 – $500
Let's be honest, Return of the Jedi was a bittersweet affair. It marked the end of the original Star Wars trilogy, and some viewers found it to be a disappointing wrap up. Add to that the uncertainty of when we would see these characters again, and you've got a recipe for some complicated feelings. Not that you'd know any of this galactic ennui from the movie's merchandise, which paints it as a fun-packed — if somewhat underwritten — conclusion to the Skywalker story. (What little we knew back in 1983, huh?)
The corresponding card line from Topps tended to focus on the film's biggest moments. In the process, it presented a clear image of what Return of the Jedi truly was: inspired pop entertainment for a galaxy of moviegoers.
Buy a Return of the Jedi Trading Cards Unopened Box on eBay here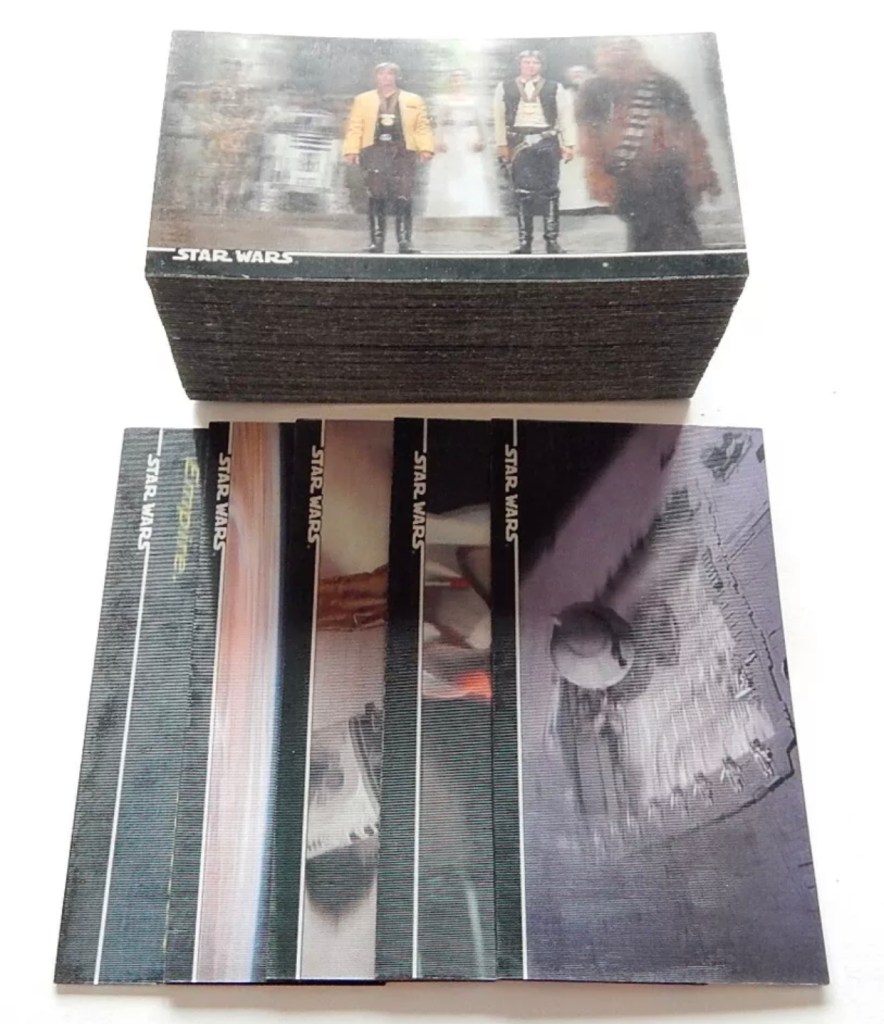 Star Wars 3Di Widevision Card Set
Price: $50 – $75
Topps is consistently at the forefront of trading card technology, and this is exemplified by their 1996 3Di Widevision Card set. Building on the Widevision style they premiered the previous year, these cards featured images from Star Wars that replicated their original aspect ratio. More than that though, each entry in the series recounted the film's story through lenticular images that seemed to pop off of the card. More than a mere novelty, this felt like the evolution of trading cards.
Buy the Star Wars 3Di Widevision Card Set on eBay here
1993 Star Wars Galaxy Unopened Box
Price: $80 – $100
After what seemed to be an eternity but was actually just about a decade, Star Wars started to roar back to life in the early 1990s due to Expanded Universe material like Timothy Zahn's Thrawn novels and Topps' Star Wars Galaxy card lines. Enlisting the aid of a diverse array of artists that included Mad Magazine's Sergio Aragones and poster art legend Drew Struzan, this set – punctuated by rare foil etched chase cards – expanded the parameters of the Star Wars universe in richly inventive ways.
Ever wonder what Chewie did in his off hours? Or how various artists interpreted the Droids? This line answered those questions, and many more. The Galaxy line was such a success that it spawned several sequel lines as well as a 2018 reboot. As amazing as these subsequent lines have been, they don't have the sheer magic of the 1993 original, which reminded us of how the possibilities of Star Wars were as infinite as the universe itself.
Buy the 1993 Star Wars Galaxy Unopened Box on eBay here
Journey to Star Wars: The Force Awakens Set
Price: $40 – $160
The Star Wars saga is rich with repeating motifs and characters whose paths echo in unexpected and exciting ways. In 2015, Topps released the Journey to Star Wars: The Force Awakens card set to show how the franchise's past influenced its future. The Force may not always be in balance, but Star Wars merchandising is!
Buy Journey to Star Wars: The Force Awakens Sets on eBay here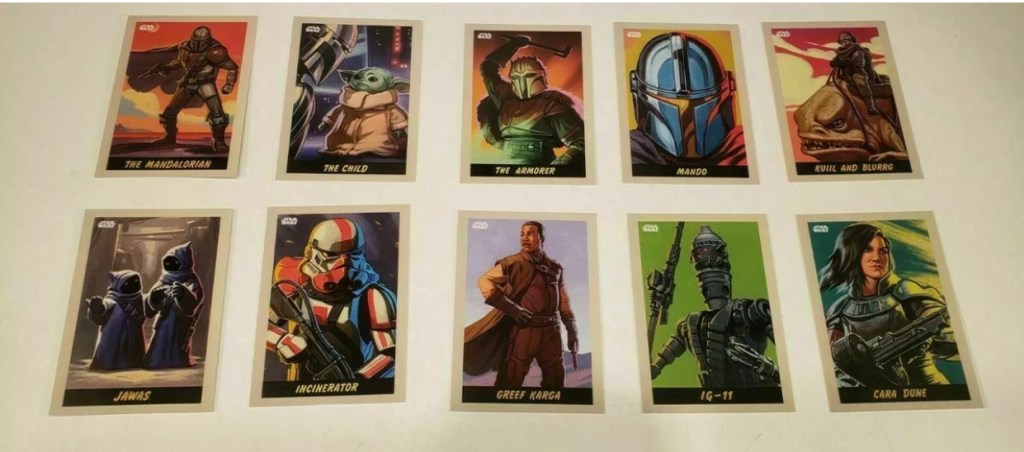 The Mandalorian eBay Exclusive Topps Card Set
Price: $50 – $85
If you'll allow us to get meta for a moment, we'd be remiss if we didn't mention this release from The Mandalorian that was available last year as an eBay exclusive. Topps gave this 10-card set a retro feel by utilizing a Mars Attacks-esque font and gorgeous retro art that really drives the whole galaxy far, far away point home.
Buy The Mandalorian eBay Exclusive Topps Card Set on eBay here