News
Star Wars Ahsoka: Rosario Dawson Explains Big Change to Live-Action Character
Rosario Dawson's turn as Ahsoka Tano has been a largely popular one, but some fans are still questioning one big change during the character's transition from animation to live action.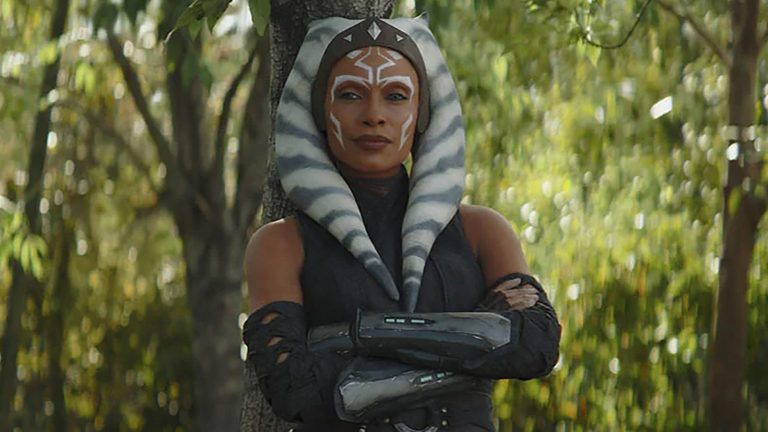 Disney+ has a full slate of Star Wars shows coming up this year, but Lucasfilm is already looking beyond Obi-Wan Kenobi, Andor, and The Mandalorian season 3. Principal photography is currently underway for next year's Ahsoka, a new series starring Rosario Dawson as the beloved Jedi hero who first made her debut in animated series The Clone Wars and Rebels.
Ahead of Star Wars Celebration Anaheim next week, where it's possible we'll see the very first footage from the set of the new show, Dawson sat down to chat with Vanity Fair about the process of bringing the character to live action. Along the way, she recalled her initial reaction to the key prosthetic needed to complete her transformation into Ahsoka Tano: the headpiece that makes up the Togruta character's montrals (the horn-like sensory organs on top of her head) and lekku (the head tails hanging down to her shoulders).
As soon as Dawson put the headpiece on, she noticed live-action Ahsoka's montrals and lekku were shorter than in the animated series: "When I first put it on, I was like, 'Oh they look different…," Dawson said.
Funny enough, Dawson isn't alone in her assessment. While the response to her guest appearances on The Mandalorian and The Book of Boba Fett has been largely positive, some fans have been quick to point out that live-action Ahsoka isn't a 1:1 recreation of the animated character. And it's true that there's a noticeable difference: in Rebels, Ahsoka's montrals stand a bit taller while her lekku hang all the way down to her waist.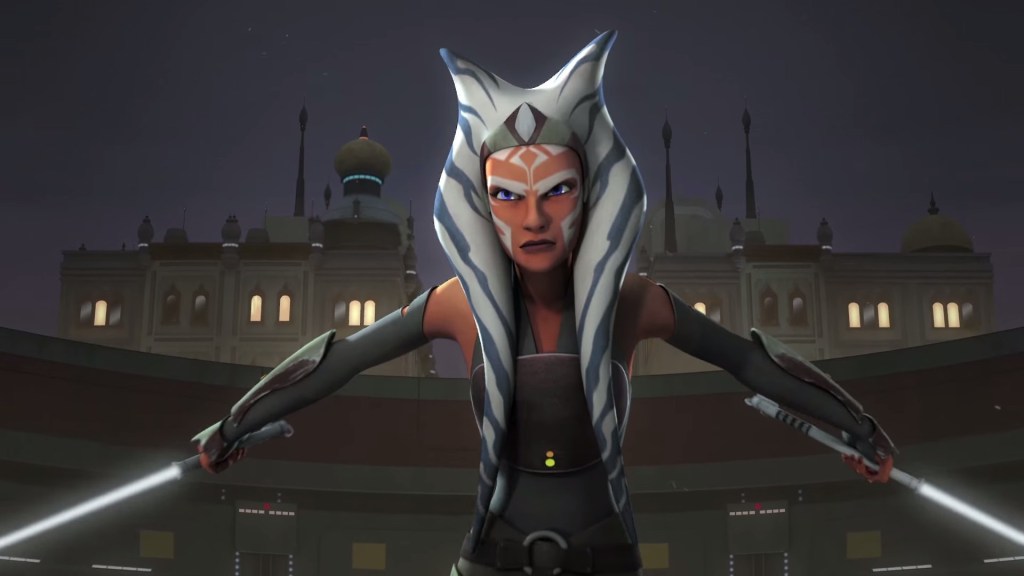 Some more hardcore fans might call this a continuity error between the live-action and animated worlds of Star Wars, but Dawson explained that there was a very good reason for the tweak. Ultimately, it came down to designing a headpiece that would complement the character's demanding stunts.
"[Dave Filoni] was like, 'No, but we're working with stunts and everything, and we want to be able to do all of that practically.'"
In other words, the acrobatic stunts and climactic duel in The Mandalorian season 2 episode "The Jedi" would have been much more difficult to shoot had live-action Ahsoka been encumbered with longer montrals and head tails.
Lucasfilm character concept designer Brian Matyas echoed just that when asked in 2020 about changes to Ahsoka's appearance for The Mandalorian: "From animation to live action I did a ton of design exploration for her and their appropriate size for the actor with consideration for stunts and movement."
Dawson goes on to reveal that she was also given the choice to not change her natural brown eye color to the character's blue one, but she was all in: "When I put the contacts on, it went from cosplay to embodiment."
Ahsoka is scheduled to hit Disney+ sometime in 2023, but it's possible we'll see more of her before then on The Mandalorian season 3, which will arrive later this year.
You can also check out a full schedule of upcoming Star Wars movies and TV series here.