News
Star Wars: Ahsoka Episode 8 Release Time and Season Recap
Here's everything you need to know before tuning into the Ahsoka season finale, including when and where to watch the final episode.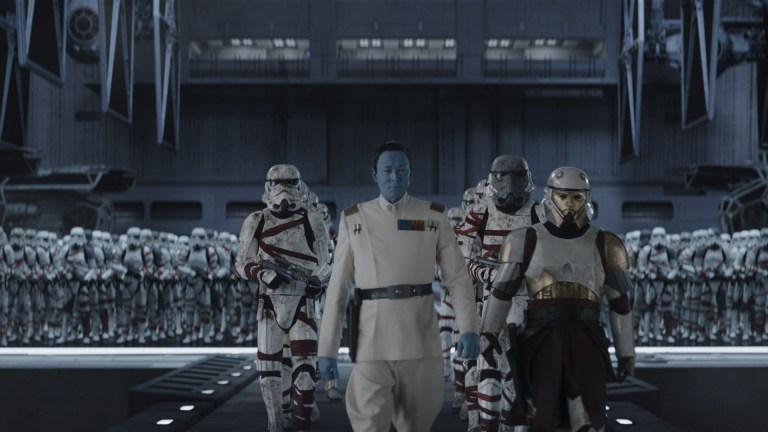 This Star Wars: Ahsoka article contains spoilers.
The end of Ahsoka season 1 is near, and Thrawn's (Lars Mikkelson) ascendance feels more imminent than ever. Sabine Wren (Natasha Liu Bordizzo), Ezra Bridger (Eman Esfandi), and Ahsoka Tano (Rosario Dawson) are finally reunited after nearly a decade, but will they be able to stop Thrawn and still make it home themselves? The Grand Admiral always seems to be a step ahead, but Baylan Skoll (Ray Stevenson) and Shin Hati's (Ivanna Sakhno) separation may not have been something he predicted, even with the foresight of the Great Mothers on his side.
The fate of two galaxies hangs in the balance as we approach the season finale. Here's everything you need to know before watching episode 8 of Ahsoka.
When Does Ahsoka Episode 8 Come Out?
Ahsoka episode 8 will be available to watch on Disney+ in the US on Tuesday, Oct. 3 at 6 pm PT/9 pm ET and in the UK on Wednesday, Oct. 4 at 2 am BST.
Ahsoka Season Recap
A lot has happened in the first season of Ahsoka. Between the threat of Grand Admiral Thrawn returning, the reappearance of Nightsisters and their Dark Magick, and traveling to an entirely new galaxy, there's a lot of different plotlines left to be resolved in the season finale. In case you need a refresher, here's everything you need to remember before watching episode 8.
Rebels Reunited and the Search for Another Galaxy
Years after Ezra Bridger and Grand Admiral Thrawn disappeared in a herd of Purrgil at the end of Star Wars: Rebels, Ahsoka Tano has a lead to their potential location. She's found a map in an old Nightsister temple that is supposed to reveal coordinates to a new galaxy – the problem is she isn't the only one looking for the map. Lady Morgan Elsbeth (Diana Lee Inosanto) along with former Inquisitor Marrok and Jedi-turned mercenaries Baylan Skoll and Shin Hati are also searching for the map in order to bring Thrawn back home as the Heir to the Empire.
Ahsoka reaches out to Sabine Wren and General Hera Syndulla (Mary Elizabeth Winstead), who also served with Ezra during the Rebellion, hoping that they will be able to help crack the map's code before Elsbeth gets her hands on it. During their reunion, it's revealed that Sabine trained with Ahsoka for a time as her Jedi apprentice before they had a falling out and parted ways. Sabine is a skilled swordsman, but still has trouble connecting to the Force.
Sabine reluctantly agrees to help Ahsoka, as this is the first time in years she's had hope of seeing Ezra again. But just as she solves the map's puzzle, it's stolen by Hati, who takes it to her master and Elsbeth on Seatos.
The New Republic
After living through the Clone Wars and the Rise and Fall of the Empire, General Hera Syndulla is no stranger to conflict, and is concerned by the New Republic's complacence and disinterest in investigating credible threats from Imperial Remnants. While Sabine recovers from a lightsaber wound inflicted by Hati, Hera joins Ahsoka on a trip to Corellia – a planet full of shipyards that were run by Elsbeth before the fall of the Empire. In an effort to save time and costs, the New Republic kept on many of the shipyard's previous employees, despite their previous allegiances. Surprising no one, this came back to bite them as Hera and Ahsoka discover that Corellia has still been supplying Elsbeth with parts and labor for the ship she plans to use to bring Thrawn back.
Hera tries to use this information to gain the New Republic's aid in stopping Elsbeth at Seatos before she even makes the jump to another galaxy, but many Senators, especially Senator Xiono, don't believe the threat of the Empire is credible enough to warrant the manpower. Hera being Hera defies her orders and puts together a small crew anyway, including The Mandalorian's Carson Teva (Paul Sun-Hyung Lee). While they arrive too late to stop Elsbeth, they do arrive just in time to save Ahsoka from her journey in the World Between Worlds (more on that later).
Unhappy that she defied a direct order, the senate calls Hera in for a hearing, threatening to revoke her status as General. But thanks to Senator Leia Organa (via C-3PO), Hera gets the charges dismissed. Chancellor Mon Mothma knows that Leia didn't really approve Hera's mission, but she also knows that Hera and Leia wouldn't be taking this risk if they didn't believe the threat of Thrawn's return was real.
The Nightsisters
Ahsoka revealed that Lady Morgan Elsbeth, who was first introduced in The Mandalorian, is one of the few surviving Nightsisters of Dathomir, a witchy group of force wielders that were first introduced in canon in Star Wars: The Clone Wars, but are also an important part of Legends continuity. The Nightsisters practice a kind of Dark Magick that allows them to do things like resurrect the dead, create illusions, and influence minds. After Ahsoka kills the Inquisitor Marrok on Seatos, his body releases a puff of green smoke, implying that he was resurrected by Elsbeth to do her bidding.
When Elsbeth, Skoll, and Hati arrive on Peridia, the ancient home of the Nightsisters, we meet the Great Mothers. They have partnered with Thrawn to leave the planet and galaxy with generations of dead Nightsisters from the catacombs, though their true plans and intentions have yet to be revealed. Could there be a Nightsister zombie army in the galaxy's future?
The World Between Worlds
Sabine and Ahsoka follow Elsbeth to Seatos while Hera tries to get the New Republic on their side. Soon after they arrive, they are forced to fight Skoll, Hati, and Marrok while trying to stop Elsbeth from uploading the map's coordinates to her massive ship The Eye of Sion. Ahsoka successfully takes out Marrok, but is pushed off a cliff by Skoll.
Sabine and everyone else assume that she's dead, but Ahsoka once again finds herself in the mysterious realm The World Between Worlds. This time, she doesn't see Ezra Bridger, but instead sees her former master Anakin Skywalker. It's an emotional reunion full of flashbacks to her time as a child soldier and padawan during the Clone Wars. Given the choice, she decides to return to the real world and continue her mission.
Peridia and the Return of Grand Admiral Thrawn
Thinking that Ahsoka is dead, Sabine agrees not to destroy the map in exchange for passage to Peridia and the new galaxy on the Eye of Sion. They are greeted by the Great Mothers who summon Thrawn and his Night Troopers to prepare for the journey home. Thrawn lets Skoll uphold his agreement with Sabine and allows her to go find Ezra, but he sends Skoll and Hati after her as soon as she leaves.
Meanwhile, Ahsoka connects with the Purrgil surrounding Seatos to gain passage to Peridia and stop Thrawn from returning. She reunites with Sabine and Ezra just in time for a fight with Skoll, Hati, and Thrawn's Night Troopers. Skoll leaves Hati behind to do his own thing – he's after some other source of power on Peridia outside of what Thrawn can offer. Hati is also left behind by Thrawn's Night Troopers after he orders them to retreat as part of a greater strategy. Ahsoka offers her aid, but she declines – for now at least.