News
Star Trek: Strange New Worlds – Writing Has Already Begun
Star Trek executive producer Alex Kurtzman gave a Strange New Worlds update at this year's SDCC at Home.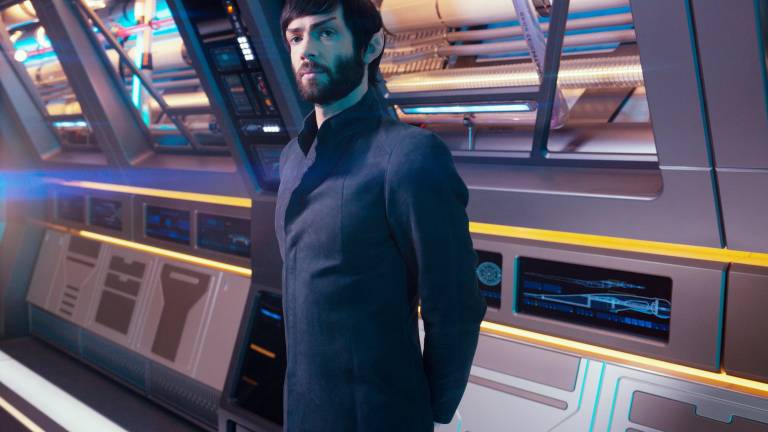 Normally, at this time of year, nerds descend on San Diego to celebrate all things mainstream pop culture. Sadly, the COVID-19 pandemic has made that impossible this year, but San Diego Comic Con has moved online for "SDCC at Home" with pre-recorded panels from some of our favorite nerd creators and/or creators of nerd culture. This, of course, includes the Star Trek franchise, which is a Comic Con mainstay.
While most of today's "Star Trek Universe" panel focused on Star Trek: Discovery, Star Trek: Picard, and Star Trek: Lower Decks, Star Trek executive producers Heather Kadin and Alex Kurtzman did pop in to give some updates about Star Trek: New Worlds, the much-anticipated Discovery spinoff that will give us more time with Captain Pike (Anson Mount), Spock (Ethan Peck), and Number One (Rebecca Romijn).
"I really wanted to tell everyone about [Strange New Worlds] last Comic Con," said Kurtzman during the panel, mentioning that the Trek creative team did get some questions about the possibility of a Pike/Spock/Number One series, adding: "We were already having real, active conversations at that point."
Strange New Worlds was actually announced only a few months ago, in May, but Kurtzman informed Comic Con at Home viewers that work has already begun on the series. The executive producer said that the writers' room has started working, and that 10 of the season's episodes have already been "broken," which means the story ideas for those episodes have already been brainstormed and fleshed out, though the writing of the scripts has not necessarily happened yet. "It was one of those shows where everyone came in with such enthusiasm and so much love," said Kurtzman of the writers room dynamic.
At this point, it's unclear how much of the season those 10 episodes represent, as there has been no official announcement of the number of episodes ordered for the first season of Strange New Worlds. While Discovery has had between 13 and 15 episodes in its seasons, Star Trek: Picard has 10-episode seasons. Strange New Worlds could have 10 episodes in a season, or it could have a slightly longer season a la Discovery, or it could break the newer Trek series mold and be even longer. One thing we do now know? It will be at least 10 episodes.
Strange New Worlds cast members Anson Mount, Ethan Peck, and Rebecca Romijn were part of the Q&A section with the Discovery cast where they had time to tease what their characters might be up to when we see them in the new show. Mount especially had some interesting things to say, hinting that Pike will continue to struggle with the knowledge of where his character ends up.
"I think the biggest thing, obviously, was seeing my future and when you see how it's all gonna end and that it's not so pretty, you know, what do you do with that?" said Mount. "I think there's a reason that we can only see our past because we're a very neurotic species and we wouldn't know how to comport ourselves. And so I think ultimately the question becomes: how do you move forward? I think he's going to wrestle with how he can best utilize the rest of his life for the good of the world, the universe."
When Romijn mentioned the importance of the Strange New Worlds team surrendering to the fates of the universe together, Mount added to his musings on Pike's characterization, saying: "That's probably a very important point. He's not thinking about it as a team yet because he's wrestling with it himself, which I hope he's going to learn to let other people help him wrestle with it."
As for Spock, Peck noted that the character would continue to be influenced by his relationship with sister Michael Burnha, (Sonequa Martin-Green), even if (as Michael has jumped with the Discovery crew into the far future) they probably won't be seeing each other again. Peck said that it is Michael "gives him the permission to be human and teaches him what it is to be human."
"And so that is essential to the development of Spock," continued Peck, "as we follow along between the conflict between his emotion and logic going forward into when when we first see Leonard Nimoy in The Original Series. It's a huge character point for me and will dictate a lot of behavior for Spock, because of his interaction with Michael."
You can watch the entire "Star Trek Universe" panel, which includes a reading of the Discovery Season 2 finale, as well as question and answer sessions with the cast and creative teams behind Discovery, Lower Decks, and Picard, below…