Features
Netflix Wants Its Own Korean Variety Show Hit
If you've never watched a Korean variety show, then you're missing out. And Netflix is looking to change that...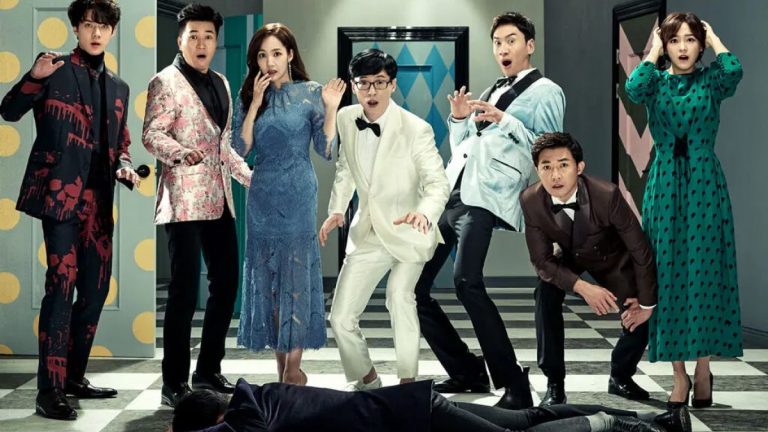 It's no secret that Netflix is going to continue to invest heavily in the Korean entertainment industry, with the hope of not only expanding its presence in the East Asian country, but also growing its reach in other countries where K-culture is a hot commodity (which, yes, includes the United States). One look no further than the teaser Netflix just dropped for its upcoming "Global Fan Event" TUDUM (a phonetic spelling of its distinctive intro sound that accompanies its logo), which mostly features stars from around the world awkwardly trying to figure out not only how to say "TUDUM."
In addition to the teaser, Netflix also released some promotional images via Twitter, including one that features K-pop stars Kai (aka Kim Jongin, from the group EXO) and Heechul (aka Kim Hee-chul, from the group Super Junior and Netflix's Men on a Mission), a sign that Netflix is looking to invest some of its substantial promotional power behind its K-content—more specifically, in this case, its forays into the Korean variety show format…
The Korean Variety Show Format
Korean variety shows aren't quite like anything we have on American TV. While variety shows were popular on U.S. television through the 1970s, they were mostly phased out, with the main surviving example being Saturday Night Live, which falls into the comedy sketch variety show subgenre. Today, the Korean variety show format has some equivalency to the American talk show in the sense that both are ostensibly about promoting their various celebrity guests, but the Korean variety show format tends to reframes or completely cut out the boring talking bits in favor of prioritizing games, gimmicks, and high-concept comedy.
Korean variety shows are so popular in Korea that it can be hard to define them, as the format includes so many subgenres, but the broad genre often includes elements of contemporary reality programming—especially travel and competition—and feels incredibly modern in both its pace and willingness to genre-mash. (For an example of a Korean variety show, you can check out BTS' long-running variety show Run BTS, or a more general example like Running Man.) Korean variety shows are fun, they're often intentionally chaotic, and (when done right) they allow their guests to not take themselves too seriously, which tends to make viewers like them—and the show—even more.
Korean Variety Shows on Netflix
Netflix has begun to understand just how popular K-dramas are globally, and are now seemingly looking to tap into another existing Korean entertainment format for international distribution—or at least be more vocal about it. After all, Men on a Mission (also known as Ask Us Anything and Knowing Bros)—a Korean variety show that features a main cast acting as students and various Korean celebrities (BTS appear in Episode 24) coming into the concept as transfer students—has been available to stream on Netflix since 2017. The aforementioned Heechul, featured in that TUDUM promo image, is part of the Men on a Mission fixed cast, and the show has new episodes currently being added to Netflix every week.
The versions of the Men on a Mission episodes that appear on the streamer are different from their original broadcast, with notable music changes being made due to copyright laws. This has led to many fans choosing to watch the show elsewhere, and also could be a minor factor in Netflix's decision to become production partners on upcoming Korean variety shows from the get-go rather than solely a global distributor. This dilemma also serves as a reminder of how layered the Korean variety show format can be—remove some of the original musical choices, and you stand to lose much of the meaning of a particular moment.
While Netflix seems to be interested in increasing the visibility of its Korean variety show programming, it has been somewhat quietly investing in the format since 2018. That was the year it invested in the now-concluded Busted, a variety show that saw its seven cast members acting as detectives who have been unknowingly implanted with a chip containing the DNA of famous sleuths throughout history. Led by the mysterious "K," they are recruited to solve a murder case, while also uncovering the truth of their own involvement in Project D. (I told you Korean variety shows are next level.) When Busted premiered in 2018, it was Netflix's first original program to feature an all-Korean cast, including Kai's EXO co-member Oh Se-hun.
Kai's Netflix Variety Show: From the New World
Busted may be over, but Netflix has not given up on the Korean variety show game. Kai, the other Korean celebrity in that TUDUM promotional image we started with, is set to star on an upcoming 2021 Netflix variety show with the working title From the New World. According to Korean broadcaster JTBC's official announcement, the show will be set on the picturesque island of Oedo, and will observe its five cast members as they arrive, unaware as to where they are going. In addition to Kai, the show stars idols and actors Lee Seung-gi, Eun Ji-won, Park Na-rae, and Jo Bo-ah. The show is expected to premiere before the end of the year, which seems like an especially safe bet given Kai's participation in TUDUM, which is happening on September 25th.
Last month, I wrote about the edge a niche streamer like Viki has against a behemoth like Netflix. Currently, Viki—which specializes in East Asian entertainment for global (and especially U.S.) audiences—has a much better Korean variety show catalogue than Netflix. Given Viki's head start, specialty in the region, and much more social-friendly platform, I don't see that changing anytime soon—but with Netflix investing $500 million in Korea in 2021 alone, it could change eventually.
Have you ever watched a Korean variety show? What is your favorite? Let us know in the comments below.