Reviews
South Park: Joining the Panderverse Is for Everyone and No One
South Park: Joining the Panderverse is funny but a dead end for political and social commentary.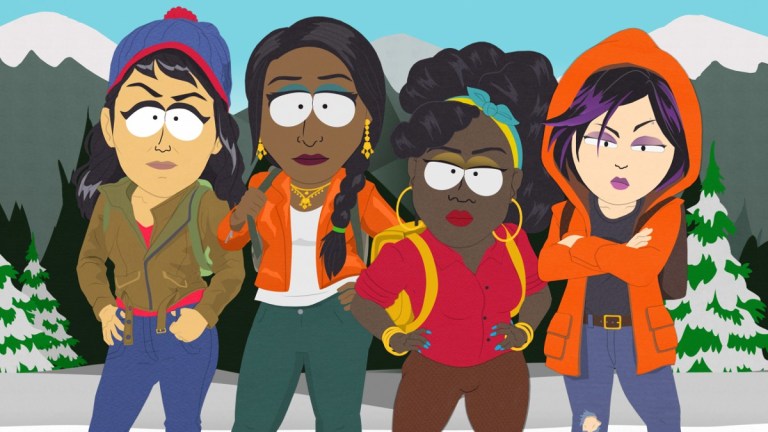 This article contains spoilers for South Park: Joining the Panderverse.
It's about that time of year again for Matt Stone and Trey Parker to continue their $900 million 14 TV movie Paramount+ contract promise and drop another near-hour-long South Park special.
At this point, it's expected that these specials are the central platform for Stone and Parker to satirize recent social events but in the most outrageous South Park possible, as they do with the mainline show. Like its recent seasons, the specials have had a scattershot quality — usually plentiful in gags that are funny until tired or decent commentary on the rollercoaster years we've endured recently.
Nevertheless, it's continually enticing to see which corner of American culture the creators will aim their tomatoes at and how ridiculously they will depict a central topic. In their latest special, South Park: Joining the Panderverse, the creators target the cycle of anti-woke content creators and Disney diversity tactics affecting one another under the guise of a satirical multiverse tale that's funny but middling in its social commentary.
Eric Cartman becomes paranoid over a recent string of nightmares where he and his friends are replaced by women of color who complain about the patriarchy. He asks his mom to look under the bed to see if any Disney execs, specifically Lucasfilm's Kathleen Kennedy, are there. At school, he tries warning his friends that Kathleen Kennedy is out to get him and the infinite multiverse possibilities of them being replaced by diverse women who "complain about the male patriarchy." Ignoring Cartman for being Cartman, Kyle, Stan, and Kenny leave and comment on how multiverse stories have become the scapegoat for lazy writing in the process.
As they turn their back, Cartman gets transported via portal to the alternative universe from his nightmares, and the diverse woman Cartman ends up in. In that parallel universe, Cartman finds himself chased by Kathleen Kennedy, as the two must work together to return home and defeat the Cartman Kennedy version of her who took her place in his universe. Meanwhile, Randy Marsh and the other men in South Park have become too lazy to do any physical labor in an AI-dominated world and try to hand their work to southern dingbat handymen to fix. It all blows back in their faces when those handymen become increasingly rich and end up buying social media companies and fighting to colonize planets instead of doing anything meaningful for their fellow man in society.
Silly as it sounds, Panderverse works in its takedown of right-wing, anti-woke social media accounts. You know the accounts – the ones that have their trigger on the pulse looking at every minuscule change at big Hollywood studios and spending their livelihoods making YouTube videos about trivial diversity-casting tactics, while showing their bare racist asses on main.
There's a hilarious scene early on in which Eric expresses to a therapist that his perception of diversity boils down to Kathleen Kennedy making things lame by casting a diverse woman and making that character gay for brownie points. Then Cartman describes how, because of this, Disney head Bob Iger's stocks go down as if there's any correlation between the two. Cartman has always been a vessel for Parker and Stone to stab at the immature side of America, and it's always funny to see those Cartman-minded people who lack media literacy log onto Twitter, post clips of those scenes, and go, "Matt and Trey agree with us." Audiences frequently forget that Matt and Trey are politically libertarian to a T, for better or worse.
It's also clever how the special accurately depicts tokenized diverse casting or at least the optics of it for execs who think the race or ethnicity of a performer doesn't matter. As long as they embody the traits of that recast character, pandering to everyone and no one makes it as effective as it is "progressive." D.C. (Diverse Cartman) is the embodiment of that Hollywood sentiment. However, I found her funnier than Cartman with voice actress Janeshia Adams-Ginyard capturing his spirit and dialect with her expert comic timing in her delivery. Her interactions with Kenny, Stan, and Kyle and some callbacks got colossal cackles out of me.
Through Diverse Cartman, Stone and Parker make their argument regarding casting optics fleshed out. The boys aren't convinced about the diverse Cartman being Cartman––to the dismay of PC Principal, who says the boys are the problem for not accepting her as Cartman. The boys then mention where laziness ends, and innovation begins, using Miles Morales as a counterpoint. Kyle and Stan retort to PC Principal that Miles Morales is sweet, mainly because "He's a whole constructed thing with his own character and narrative." Meanwhile, studios such as Disney remake the same schlock with a person of color without making any other extra effort. When the story focuses on them, the conversation is fluent.
Unfortunately, Cartman gets prominent attention, and the messaging could be more nuanced than the "both sides suck" area the creators love to roll around in. When Kathleen Kennedy and Cartman finally meet, they blame each other for influencing the other –– Cartman's racist hate mail and death threats she received motivate her to touch the "panderstone" to make remakes with diverse casting to combat racism.
There's ripe criticism for Disney's recent diversity tactics, but they've only really done it twice––Halle Bailey in Little Mermaid and Rachel Zegler in the upcoming Snow White remake. The special's references to the latest Indiana Jones starring Phoebe Waller-Bridge makes it sound like Ford wasn't portraying Jones in the picture. Not to mention the last time Parker and Stone took umbrage to Indiana Jones, but their argument had more clarity then.
The idea here comes across as outdated on arrival when things like diverse casting and projective feminism weren't as prominent as they used to be in, say, 2019 when Disney had that all-female hero team-up scene from Avengers: Endgame used for International Women's Day emails from the company, that terrible "Speechless" song from Aladdin (2019), and that "X-Women" line from Dark Phoenix ––all written by men, mind you.
Arriving on the heels of the aforementioned Little Mermaid and the recently moved Snow White ––two movies with lead actresses getting excessive hostility from Cartman-like audiences––South Park: Joining the Panderverse feels a bit too little, too late. Then again, that's on me for expecting a South Park special to have a concise argument as if it's not going to be stupid first and smart second.
As consistently funny as it is, Joining the Panderverse is a stalemate in commentary. Despite some strong satire on anti-woke culture and multiverse trends, its central conversation on "projective inclusion in Disney movies" arrives outdated and unfashioned, especially not enough to hold down a near-hour special.
South Park: Joining the Panderverse is available to stream on Paramount+ now.