News
Solar Opposites: Trailer for Hulu Series from Rick and Morty Team
Rick and Morty team Justin Roiland and Mike McMahan bring you Solar Opposites, a Hulu series about a family of eccentric extraterrestrials.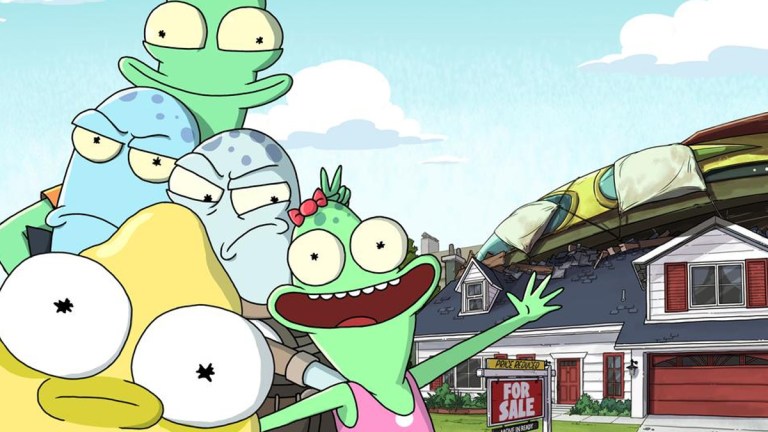 Solar Opposites, a new animated offering from Rick and Morty creative duo Justin Roiland and Mike McMahan, is headed to Hulu, set to showcase the story of a family of advanced extraterrestrials who have been forced to take refuge on a planet in the backwater part of the galaxy, called Earth, specifically in suburban middle America.
Brandishing obvious aesthetic similarities to the ultra-popular Adult Swim series, Solar Opposites will feature a voice cast consisting of (Rick himself,) Roiland, joined by Sean Giambrone (The Goldbergs), Mary Mack (Golan the Insatiable) and Thomas Middleditch (Silicon Valley).
Hulu was clearly confident in Roiland and McMahan, having given their new brainchild a two-season order back in August 2018, confirming 16-episodes overall and cementing Solar Opposites Season 2 nearly two years before the series would ultimately premiere.
Solar Opposites Trailer
Hulu has now released an energetic full trailer for Solar Opposites. There's a lot going on here but be sure to stick around to the end for what is surely the best joke.
The first teaser trailer for Solar Opposites has arrived, showcasing a screwball suburban saga in which many (assuredly animated) animals were most definitely and excessively harmed.
Solar Opposites Release Date
Solar Opposites will premiere the entirety of its 8-episode inaugural season on Hulu on Friday, May 8.
Solar Opposites Details
The main voice cast of Solar Opposites consists of Justin Roiland, Sean Giambrone, Mary Mack and Thomas Middleditch.
Solar Opposites, a production of 20th Century Fox Television, is the co-creation of Justin Roiland (Hot Streets) and Mike McMahan (Star Trek: Lower Decks), with the latter replacing Dan Harmon in the Rick and Morty creator credits this time around. Roiland and McMahan serve as executive producers, joined in that capacity by Josh Bycel.
As Roiland explained of the show and its alien inhabitants back at the Comic-Con 2019 panel (via THR):
"The show is very violent." Adding, "The characters are very sweet and nice, but they tend to kill a lot of people accidentally. They don't understand human culture. They don't know what's real and what's fake."
The advance two-season order for Solar Opposites may seem unusual, even when considering its brandishing of the Rick and Morty creators, but with the duo having scored a 70-episode order for their flagship show back in 2018 – essentially ensuring its run throughout most of this new decade – it starts to make sense, seeing as it's the proverbial Futurama to the highly-sought duo's The Simpsons.
Joseph Baxter is a contributor for Den of Geek and Syfy Wire. You can find his work here. Follow him on Twitter @josbaxter.