Features
Sky One's Intergalactic Cast: Where Have You Seen Parminder Nagra, Craig Parkinson and Eleanor Tomlinson before?
From Doctor Who to Black Mirror, Utopia, This Is England and Line of Duty, here's from where you might recognise the cast of Sky One's space crime romp Intergalactic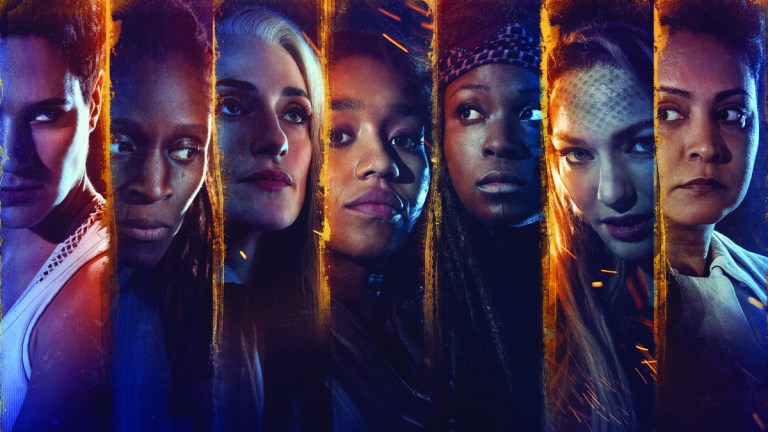 Sky One sci-fi Intergalactic is part conspiracy thriller, part prison break drama, and all space romp. It's set 150 years in the future, when all of Earth's nations have united into a single authority known as the Commonworld, and a new element has enabled Earth's people to escape ecological collapse and colonise other planets via intergalactic travel. Over eight episodes, available to stream as a box-set on NOW, we follow a group of female fugitives searching for freedom and uncovering long-buried lies.
The cast has been gathered from far and wide, ranging from relative newcomers to TV like Diany Samba-Bandza to more familiar faces Natasha O'Keeffe, Thomas Turgoose and Eleanor Tomlinson, and established actors Parminder Nagra, Craig Parkinson and Neil Maskell. Here's who everybody is playing, and the major roles where you may have encountered them before.
Oliver Coopersmith as Echo Nantu-Rose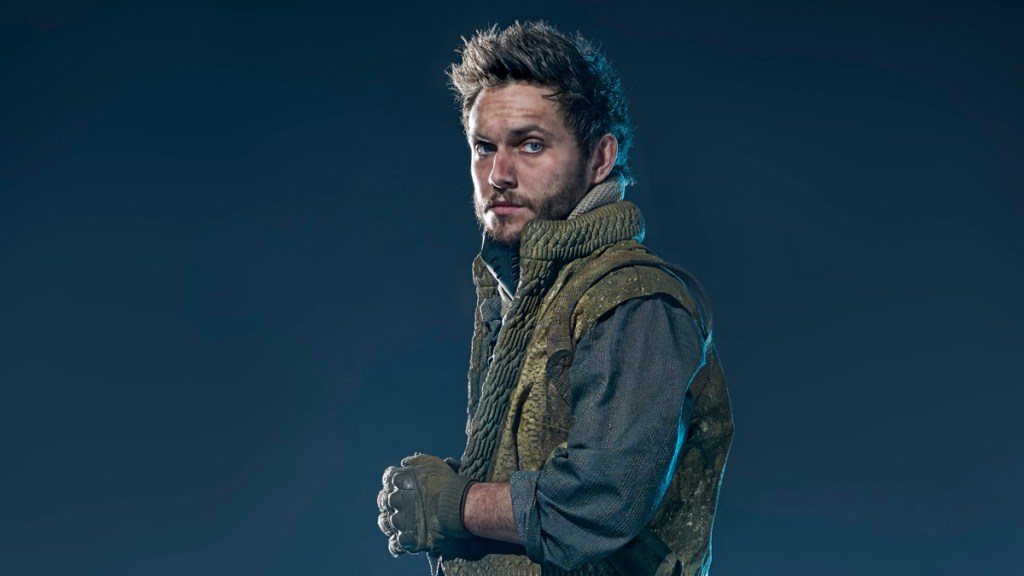 Coopersmith plays space pirate Echo in Intergalactic, his next major TV role since criminal Whitey Brown opposite Tim Roth in Sky Atlantic's Canadian-set crime thriller Tin Star. Before that, he wooed Martha Cratchit as John Bagnet in BBC One's Dickensian, starred opposite Maisie Williams in sci-fi thriller iBoy and played a Synth terrorist bomber in season three of Channel 4-AMC co-production Humans. Follow him on Instagram here.
Imogen Daines as Verona Flores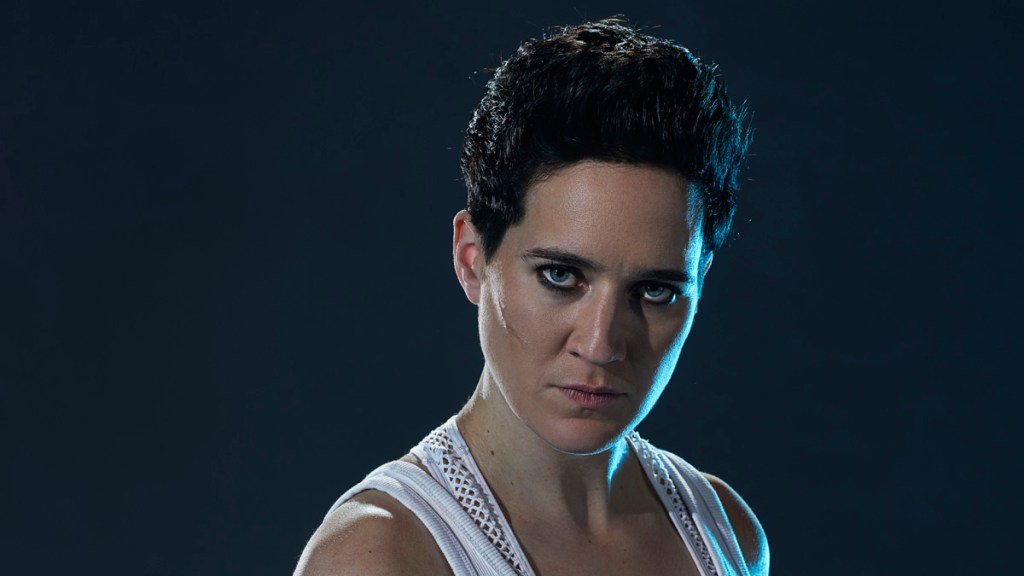 Criminal cyber hacker Verona is RADA graduate Daines' first major TV role, following appearances in Netflix's The Witcher, and Black Mirror episode 'Hated in the Nation', alongside Kelly Macdonald and Faye Marsay. Daines' The Witcher character is sex worker Danica – seen in bed with Geralt in a flashback – who's rumoured to be returning for season two. Follow her on Instagram here.
Sharon Duncan-Brewster as Tula Quik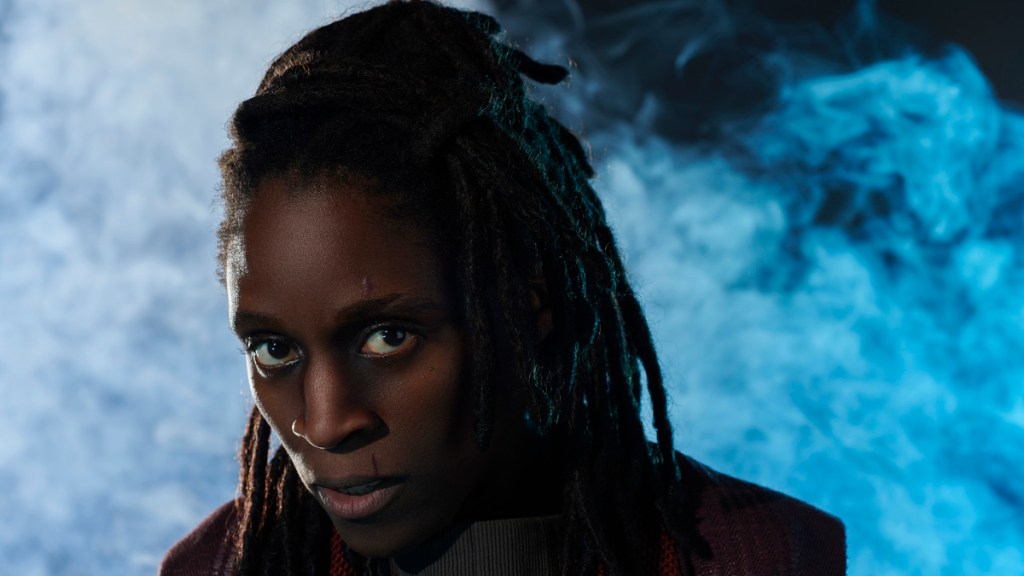 A regular collaborator with Russell T. Davies since she appeared in Doctor Who episode 'The Waters of Mars', Duncan-Brewster also appeared in Davies' Cucumber, and played storyteller Fran Baxter in future-set dystopia Years & Years. Playing Crystal in ITV prison drama Bad Girls was good preparation for her Intergalactic role as dangerous gangster and drug dealer Tula, mother to cyber-enhanced fighter Genevieve (see below). With a long screen career, Duncan-Brewster has appeared in several major UK shows, from EastEnders to Netflix's Sex Education. Follow her on Instagram here.
Neil Maskell as Wendell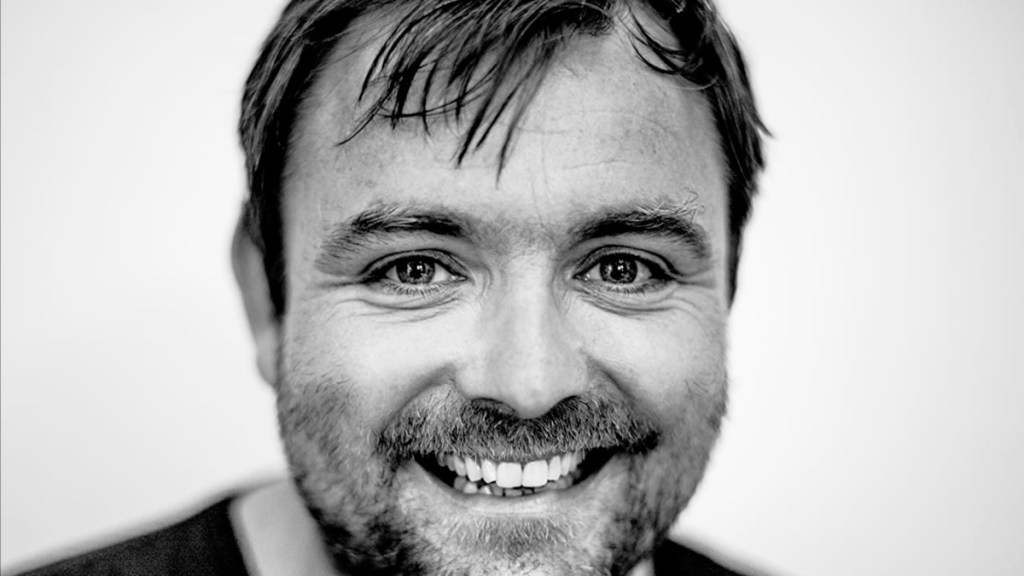 Neil Maskell plays Ash Harper's Commonworld cop boss Wendell in Intergalactic, and is a much-loved face from UK comedy and drama with a long and varied screen career. For fans of Channel 4 cult series Utopia, he'll always be associated with the unforgettable role of asthmatic hitman Arby. Recently, he's appeared in Steve McQueen's 'Red, White and Blue' Small Axe film opposite John Boyega, ITV's Cleaning Up, Channel 4 thriller Baghdad Central, and played Winston Churchill in Peaky Blinders. He's also been in comedies No Offence and King Gary, and was part of Channel 4-AMC's Humans.
Parminder Nagra as Rebecca Harper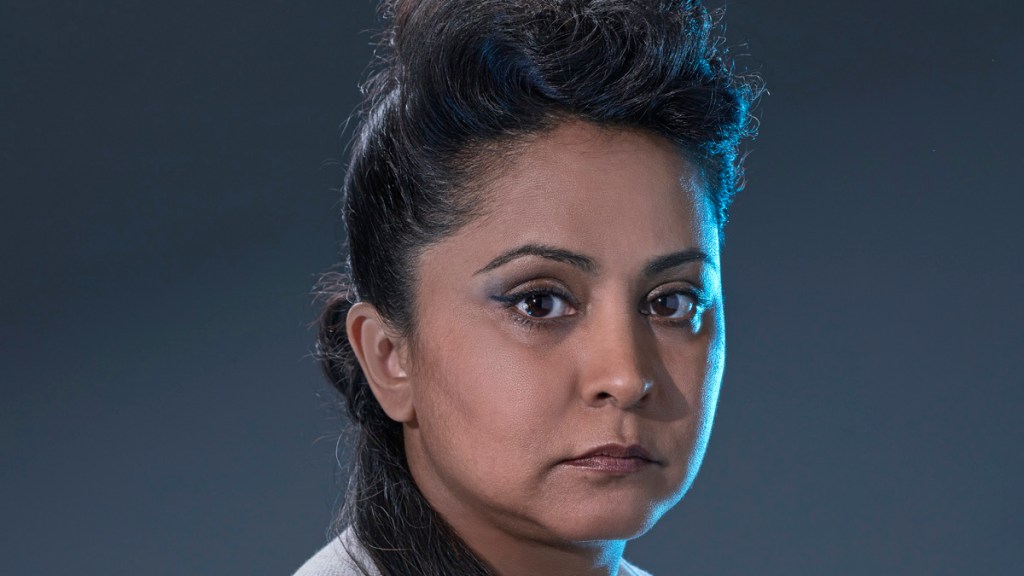 No-nonsense Rebecca is Head of Galactic Security for the Commonworld, and mother to skycop Ash (see below). She works alongside government leader Dr Lee (Craig Parkinson) in Intergalactic. Nagra's first major screen role was opposite Keira Knightley in 2002's Bend it Like Beckham , which she followed up with the regular role of Neela in ER. That led to plenty more US TV roles, including parts in Alcatraz, Psych, The Blacklist, Agents of SHIELD and Netflix's 13 Reasons Why.
Craig Parkinson as Dr Benedict Lee
Dr Lee is a high status scientist and leader of the Commonworld government who works alongside Head of Security Rebecca Parker. To Line of Duty fans, Parkinson is best known as DI Matthew 'Dot' Cottan in series one to three of the BBC police drama (he's also a podcaster and the host of the BBC's official Obsessed with… Line of Duty podcast). You'll also have seen Parkinson recently in Sky's Temple, and Netflix's Black Mirror: Bandersnatch and football-themed period drama The English Game. Follow him on Twitter here.
Natasha O'Keeffe as Dr Emma Grieves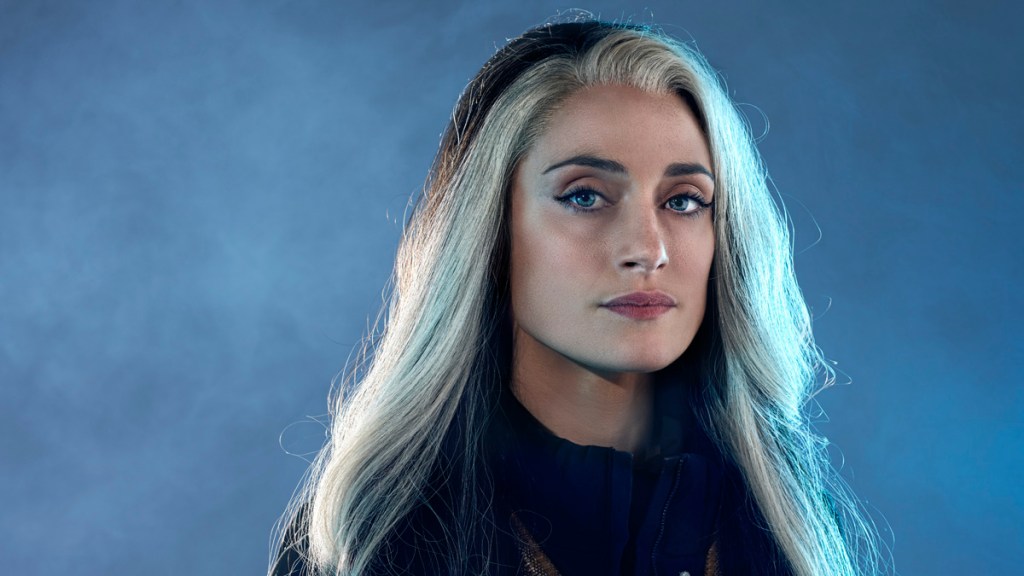 O'Keeffe plays a mysterious political prisoner with plenty of secrets on board the Hemlock prison ship in Intergalactic. Her most famous roles to date for readers of this site will be as Abbey in the final series of Misfits and as Lizzie in BBC gangster drama Peaky Blinders. She's also been in Sky's Temple, plays the ex of lead Cormoran Strike in the BBC adaptations of JK Rowling's detective novels, and made a memorable appearance in the Sherlock Christmas special as Emelia Ricoletti, the titular bride from The Abominable Bride. She's on Instagram here.
Diany Samba-Bandza as Genevieve Quik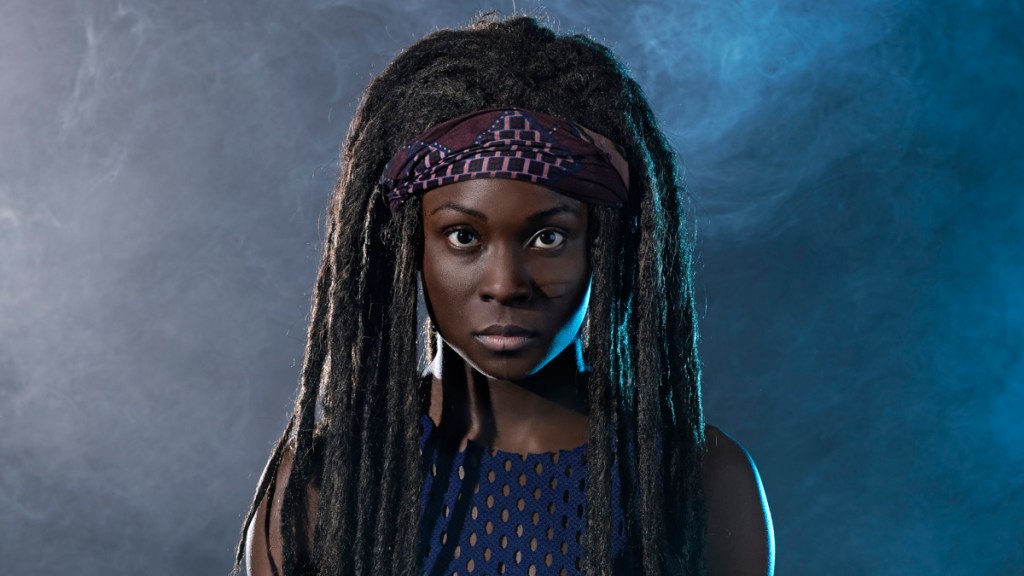 Samba-Bandza plays the lethal Genevieve, daughter of Sharon Duncan-Brewster's gang leader Tula. She's a killing machine whose body has been cybernetically enhanced to turn her into a weapon, making her a kind of bodyguard for Tula on board the Hemlock. A relative TV newcomer, Diany Samba-Banza has previously played an MI5 agent in Tom Clancy's Jack Ryan and appeared in ITV2's The Stand-Up Sketch Show. Follow her on Instagram here.
Savannah Steyn as Ash Harper
Ash is the series lead, a talented pilot and skycop for the Commonworld authorities, her mother is the government's high-ranking Head of Security and her father is commemorated as a pilot killed by anti-Commonworld terrorists when Ash was three years old. Intergalactic is Steyn's biggest TV role to date, following roles in Sky crime drama The Tunnel and BBC Three comedy Wannabe.
Eleanor Tomlinson as Candy Skov-King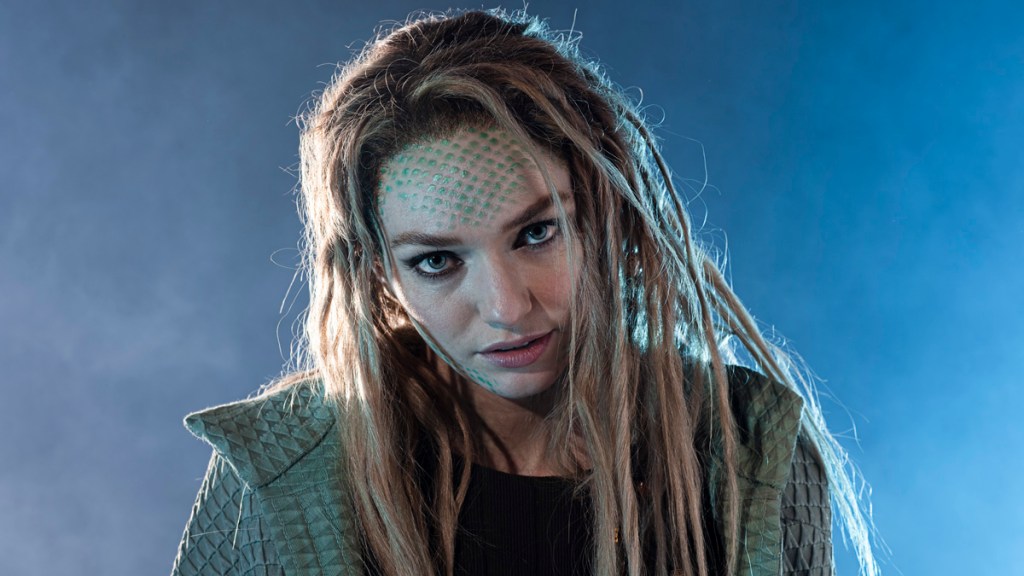 Candy is an 'evolved human' or alien from the Aurean galaxy, and a drug user whose addiction has landed her in debt to gang leader Tula (see above). She's played by Eleanor Tomlinson who is best recognised for the role of Demelza in BBC One's period drama Poldark, as well as other BBC dramas including 2019's The War of the Worlds and 2018 Agatha Christie drama Ordeal By Innocence. She plays Mary Brighton in Victorian-set fantasy series The Nevers, arriving on Sky in the UK this May. She's on Instagram here.
Thomas Turgoose as Drew Bunchanon
Drew is a kind-hearted guard who finds himself wrapped up in the Hemlock prison break. He's played by Thomas Turgoose, who came to fame in Shane Meadows' This is England film and spin-off TV series. That led to a role in another Meadows project, Somers Town, followed by several more films including Kingsman: The Golden Circle, and the part of a Lannister solider in an episode of Game of Thrones. More recently, he's in Creation Records biopic Creation Stories, available on NOW. Follow him on Instagram here.
Intergalactic airs on Sky One and all eight episodes will be available to stream on NOW from Friday the 30th of April.