News
Cats: Rian Johnson Asks Universal to Release the Butthole Cut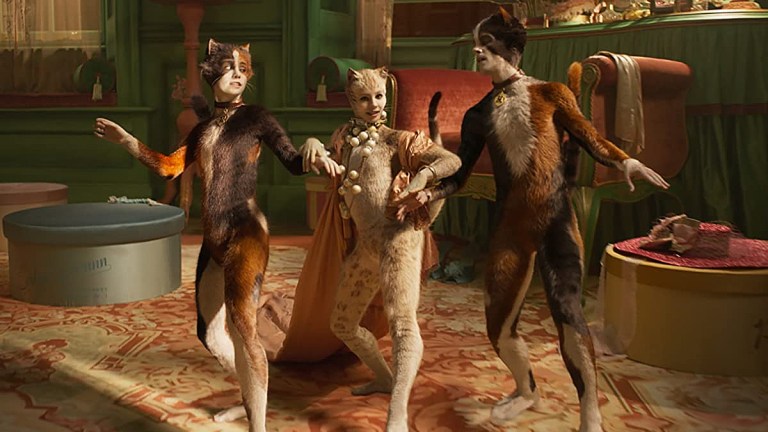 Cats, the 2019 CGI-laden live-action film adaptation of Andrew Lloyd Webber's iconic musical, may have set its paws in the cement of notoriety for a variety of reasons, but it seems that it just provided a freaked, cabin-fever-afflicted world something of timely and intangible value: a cause. This one, however, is centered on the digital buttholes of anthropomorphic singing cats. Do we have your attention yet?
In a welcome distraction, this week's digital release of Cats has facilitated a rumor from writer Jack Waz, who, citing word-of-mouth sources, claims that the extensive process of finalizing the feline features of its (undoubtedly regretful) star-studded cast involved a visual effects position dedicated to the removal of "CGI buttholes" (to maintain fidelity to his parlance) of the cat-cast.
The tweets with which Waz fueled this fervor have, understandably, gone viral, spawning the #ReleaseTheButtholeCut tag, and even gained high-profile replies, notably from director Rian Johnson.
Johnson, director of Knives Out and Star Wars: The Last Jedi, lent his considerable industry gravitas to the cause, as did actor Seth Rogen, who took his addled observations to Twitter during a viewing of the film while stoned, declaring, "Release the Butthole Cut of Cats!!"
Of course, this (admittedly half-kidding) bonanza of butthole-cut-begging parodies the #ReleaseTheSnyderCut movement, which has long called for a purportedly more focused version of 2017's mostly-disappointing DC Comics megamovie Justice League, as it was originally to be put together by director Zack Snyder before a personal tragedy forced him to cede the job to pinch-director Joss Whedon. However, the reference itself is made in jest, since Cats—a legendarily-maligned cinematic debacle that only generated $74 million worldwide off a $95 million budget—is obviously not the object of any earnest desire for a re-release of any kind, bonus feline sphincters notwithstanding. Maybe Johnson could sign up to oversee the prospective cut, but something tells me he'll be busy with Knives Out 2.
While the idea of a job that has someone spending countless hours removing digital cat buttholes probably deserves some time to sink in, it's also worth pointing out that the position in question is predicated on the notion that the film's visual effects team initially took time to render them in the first place. Someone, maybe even the film's director, Tom Hooper, decided at some point early in post-production that the film would benefit from digital cat buttholes, and proactively implemented them! Personally, if given the choice between "CGI Butthole Adder" and "CGI Butthole Remover," I'd pick the latter, but that's just this writer's humble CGI-butthole-ignorant opinion.
In a narrative that doesn't involve digital animal orifices, Cats also recently made headlines for its clean-sweep of the coronavirus-caused "Lock-Down Edition" of the 2020 Razzie Awards, notably taking the top prize for "Worst Picture."
Cats is available to watch (and lament the excision of CGI buttholes) on digital right now. The film will be released on Blu-ray/DVD on April 7.