Features
Short Treks – How Children of Mars Sets Up Star Trek: Picard
Short Treks sets up a big twist for Star Trek: Picard. The director says it was about the emotions of the moment, not complicated Trek canon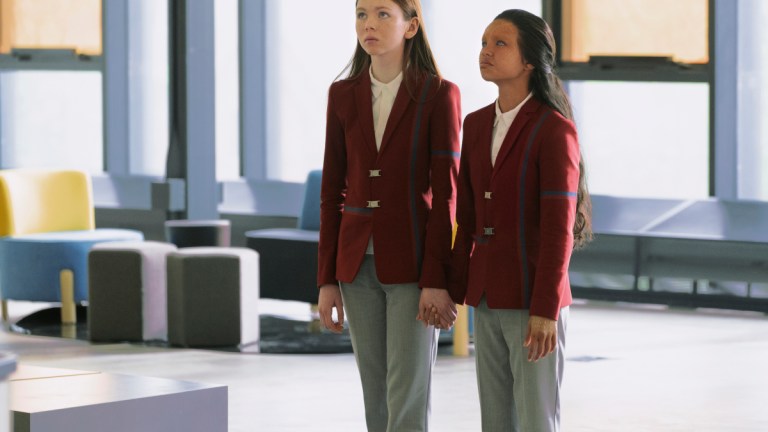 As part of the lead-up to the highly anticipated new series Star Trek: Picard, the fictional universe has teased that a massive disaster on the planet Mars sets into motion a chain of events that will profoundly impact Jean-Luc Picard. But what do solar system-wide crises look like through the eyes of school children? The latest mini-episode of the anthology series Short Treks depicts two 24th-century grade school rivals who have their lives changed when they both lose their parents in an unexpected attack on Mars. If you're excited about Picard, the small details in this episode are amazing, but for director, Mark Pellington, this story wasn't about complex Star Trek-y canon, but instead, about the very real emotions experienced by these two young girls.
"I think it's a terrific story that connects the world of Star Trek to our world today," Pellington explains. "Before doing this Short Treks and 'Q&A', I'd never really done sci-fi before. But, I was told these shorts were very filmmaker friendly."
In other words, although "Children of Mars" represents a massive sea-change in the status quo of Star Trek, Pellington was determined to make sure none of that mattered to telling this specific story. In reality, kids are fuzzy about world events, so it makes sense that in this episode, the two girls — Kima (Ilamaria Ebrahimtk) and Lil (Sadie Munroe) — wouldn't understand the significance of an android uprising on Mars. For them, this would simply represent the loss of their parents. 
"The idea was to see what would happen if there was a 9/11-like event in this world," Pellington explains. "You could have data just streaming out from people's bodies, live raw data would be sent right to anyone who could watch it. The question for the Principal of the school was, do you keep it on? The idea is that images and text would be coming out so fast, that no one would have time to report on it. It would just exist."
read more – Where Star Trek: Picard Fits in Federation History
In the larger context of Trek, the big Easter egg in this episode is the text "Rogue Synths Attack Mars," which slyly references the fact that synthetic lifeforms have revolted on Mars, destroying the Utopia Planitia Shipyards. For Trekkies, this means the place where Starfleet starships are constructed has been severely undercut in the decade or so before Picard begins. But, for the Lil and Kima, Utopia Planitia is simply the place where their parents once worked. 
"With 9/11, everybody just stared at the screen and watched it happen," Pellington says, and points out that this event has philosophical implications for the somewhat pacifist future of Star Trek. "What is violence in this time period? What is the moral code? When I directed "Q&A," I talked to Ethan Peck about how much emotion Spock can show, which made me wonder how humans even behave at this time. Do people fight? How does the universe actually process the concepts of war?"
"Children of Mars," isn't necessarily answering these philosophical questions, but it is certainly posing them. And, for the events of Star Trek: Picard, the idea that Mars — basically in Earth's backyard — is ravaged by violence is jarring, and for the world of Star Trek, certainly very new. What "Children of Mars" does though, is something Trek has almost never attempted; to humanize these giant events from the other side. Generally speaking, when planets are attacked or starships destroyed, Star Trek hasn't lingered on the innocent citizens impacted by these events. But this time, it has. It's unclear if Kima or Lil will appear in future episodes of Star Trek: Picard, but Mark Pellington thinks that's kind of beside the point.
"It's a legitimate question to ask. Maybe they could appear as adults in the new series. You'd have to ask the big man! Alex Kurtzman would know! But for now, we just tried to tell the story of these two young girls. Maybe we'll see them again. I honestly don't know."
Short Treks – "Children of Mars" is streaming now on CBS All-Access.