Features
Sherwood Ending Explained: Series 2, the Spy Cop, Garage Fire, Martin St Clair
We delve into the finale of excellent six-episode BBC crime drama Sherwood. Spoilers.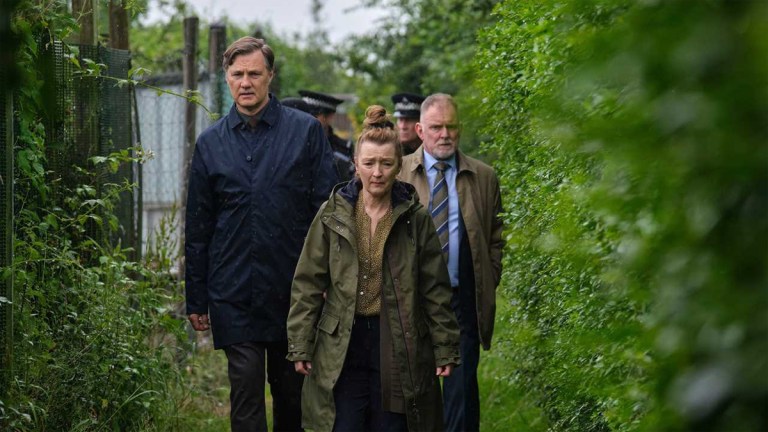 Warning: Major spoilers for Sherwood episodes 1 to 6.
Like The Responder before it, Sherwood is a gripping BBC crime drama about much more than manhunts and police barrier tape. Loosely inspired by real events, it's the story of two murders in a Nottinghamshire ex-mining town that reopen old wounds in a fractured community where conflict was manipulated by political policing during the 1984-1985 miners' strike.
With an unimprovable cast including Lesley Manville, Alun Armstrong, David Morrissey and countless other talents, Sherwood hits all the marks of a whodunit thriller with characters that examine the nature of division and decades-old rifts. Its first series (also like The Responder, another has already been commissioned) begins in grief and ends with an exhortation for communities not to allow their differences to be exploited by others for political gain.
A clear contender for British TV drama of the year, let's dive into how Sherwood's moving, revelatory ending unfurled. Spoilers ahead.
The Dedication to Keith 'Froggy' Frogson
Episode six ended with the dedication: "In loving memory of Keith 'Froggy' Frogson 5th July 1942 – 19th July 2004." Keith Frogson was an ex-miner and National Union of Mineworkers member who was killed aged 62, outside his home in the Nottinghamshire village of Annesley Woodhouse. His murder was one of two that happened in that area in 2004, and which were fictionalised by playwright and screenwriter James Graham (Quiz, This House, Brexit: The Uncivil War) in this six-part BBC drama. The murder of 23-year-old Chanel Taylor by her father just days after her wedding inspired the story of Joanne Froggatt's character Sarah Vincent in Sherwood. The two unrelated killings resulted in a large-scale manhunt through parts of Sherwood forest, where both killers evaded capture for several days.
The Spy Cop
It was revealed at the end of episode five that Ian St Clair's wife Helen wasn't the undercover police officer who'd settled in Ashfield under a false identity in the 1980s – that was Daphne Sparrow (played by Bridgerton and Unforgotten's Lorraine Ashbourne). In 1984 'Daphne Dunn' – codenamed 'Keats' – was one of five police officers sent to infiltrate, stir up, and inform on striking mining communities under fake identities. It was Daphne who stirred a group of striking miners into robbing the Coach Garage of food supplies, which resulted in the death of Johnny Ryan and serious injury to police officer Martin St Clair. Daphne informed on the group, but mistakenly named Gary Jackson as among them. He was released from arrest following the testimony of PC Kevin Salisbury, who'd deserted his post to meet Jenny Ryan, and saw Gary at the allotment at the time of the fire.
Daphne abandoned her police role and lived full-time in Ashfield under her false name, marrying local bad boy Mickey Sparrow and having two sons. When the Spy Cop rumour filtered through Ashfield decades later, Julie Jackson (Lesley Manville) suspected Daphne and shared her suspicions with Ian St Clair. After a fumbled text message/Freudian confession displayed on screen at a school fundraiser named Daphne using her undercover codename Keats, Ian realised that Julie was right. He talked Daphne out of taking her own life and promised to keep her secret.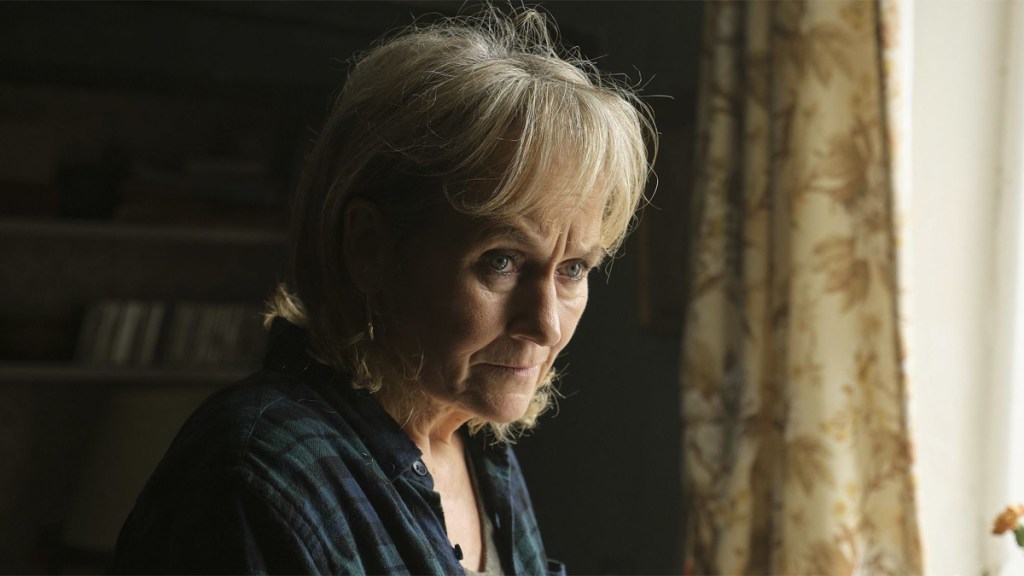 Daphne was later seen visiting Julie, whose speech at the 'Clubby' in the final episode, reconciliation with sister Cathy and encouragement of Cinderella and Rowan Sparrow's relationship showed that she was more receptive to forgiveness and moving forward than husband Gary had been.
Robbie Platt/William Raggett/Wordsworth
'Robbie Platt', the young undercover officer Daphne met in a car park, was William Raggett, codenamed Wordsworth. Played by The Missing's Jake Davies as a young man and Christopher Fairbanks later on, Raggett was terminally ill when DI Salisbury visited him for information on the identity of the Ashfield spy cop. Rather than let his police career be tainted by the Nottinghamshire episode, Raggett took his own life after texting the other members of his undercover group the message: "One of you has fucked us."
The Coach Garage Fire
On the night of a 1984 Harvest Festival gathering designed to unite the community, tragedy struck. Daphne stirred up division by encouraging the striking miners to rob the Coach Garage, which she told them would be unattended because PC Kevin Salisbury (played by Tom Glenister, the real-life son of Robert Glenister who plays Kevin as an older character) was going to desert his post to meet up with teacher Jenny Ryan (Leah Walker in her 20s, then Nadine Marshall). The miners took Daphne's bait but accidentally started a fire at the garage when their food robbery was disturbed by a police officer. They beat the officer unconscious, and Jenny's dad Johnny died trying to help him escape the flames. Thinking his dad Ron was in the burning building, young police officer Martin St Clair – brother to Ian – ran inside and suffered serious injuries which led to him leaving the police service. Ian later gave evidence which resulted in the arrest of his father and the rest of the group, causing a family rift.
Why Scott Rowley Killed Gary Jackson
Contrary to all the theories, it had nothing to do with politics, the spy cop or the miners' strike. Scott Rowley (whose stepmother Cathy, played by Claire Rushwood, was the estranged sister of Gary's wife Julie) developed an obsession with Gary as a figure of the community, known by all, with a happy family and a great deal of pride. Scott had been rejected by his absent mother, was alienated from his father Fred (Happy Valley and Downton Abbey's Kevin Doyle) and harboured an unnaturally strong resentment against Gary, but for personal and not political reasons. Scott's malaise and disaffection weren't rooted in political motivations but his own isolation and resentment at having to serve time for claiming benefits while in possession of savings given to him by his father – a crime he didn't know he was committing.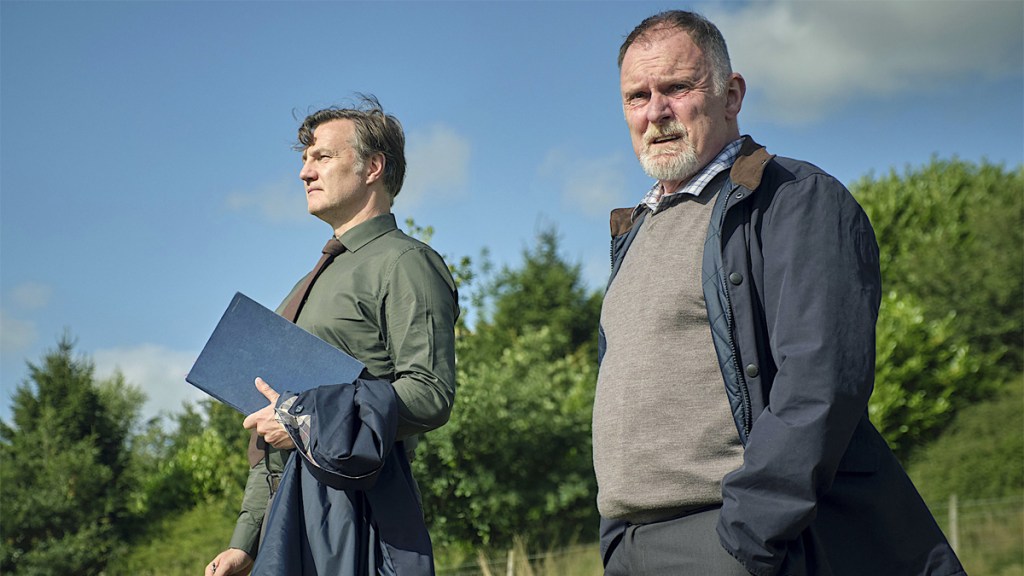 Gary vs the Sparrows
The Sparrow family were initially suspects in Gary Jackson's murder for two reasons: they owned and operated an archery ground (and trained the actual killer, for which Daphne paid penance by putting money behind the bar at the memorial), and they were involved in a dispute with Gary. The Sparrows are drug dealers who stored their product on their allotment, which is next to Gary's. He had discovered their drugs and burnt them in a bonfire in his back garden, which is why Rory Sparrow (Perry Fitzgerald) was sent to intimidate Gary by driving outside his house with a hatchet in the front seat of his taxi in the early part of episode one.
Jenny and Kevin
In 1984, Met police officer Kevin was posted to Ashfield to police the strike picket lines when he and primary school teacher Jenny fell for each other. Because Kevin was away from his post seeing Jenny when the Coach Garage fire took place (see above), resulting in the death of Jenny's dad Johnny, Kevin was sent back to London. Jenny stayed in the area and married police officer Jacob Ryan, who was later found to be having an extra-marital affair with the accidental victim of one of Scott Rowley's arrows. Jenny and Kevin didn't see each other for decades until he was sent back to Ashfield to assist in the investigation into Gary Jackson's murder. After discovering her husband's affair, Jenny stayed in the hotel where Kevin was living and the pair shared a night together, though the next morning indicated that nothing had happened, and Kevin felt freed by finally reuniting with his lost love: "It's like a spell's been broken and in a way it makes other things possible again."
Why Were Helen St Clair's Records Restricted?
She was telling Kevin the truth – 'Helen' is a false identity provided by the witness protection programme, which she and her mother were in to conceal their whereabouts from her murderous father. After her own experiences of domestic violence as a child, Helen went into social work.
Ian and Martin St Clair's Reconciliation
In one of Sherwood's final scenes, David Morrissey's character Ian went to visit his estranged brother Martin (Mark Frost) at home. We'd previously seen Martin in the "Clubby" scene, talking about the accident that caused his burns, in a fight with Kevin that Ian broke up, and in the drama's very first scene in which he rejected a Tory leaflet from electioneering Sarah Vincent. Until Martin was seriously injured in the Coach Garage fire, he was a fellow police officer with Ian but left the job after the fire and their dad's arrest based on evidence given by Ian. It's understood that their father Ron died before he and Ian could reconcile, but – one of many reconciliations that took place in Sherwood's closing episode – Ian and Martin don't look set to repeat that mistake.
What Will Series 2 Be About?
According to the official series two commission announcement, Sherwood writer James Graham will "once again look to take inspiration from the pit villages and surrounding towns of his home county. The new series will continue the themes of examining the lives and legacy of those governed by Britain's industrial past with stories from communities of the "red wall" towns, the controversial deployment of so-called 'spycops' and how seismic ripples from the past can come back to haunt the present."
Graham explains: "I've been so deeply moved by the response to Sherwood. These stories come from my home, and I want to specifically express gratitude to my community for whom I know these subjects can be difficult, but – I hope – important ones to explore. The East Midlands and former "Red Wall" areas like it are never just one thing, politically or culturally, and it's been the honour of my life to give voice and character to a place I love. It's a county of great stories and legends, past and present, and I can't wait to show audiences more."
Sherwood episodes 1 to 6 are available to stream on BBC iPlayer in the UK.