Reviews
She-Ra and the Princesses of Power Season 5 Review (Spoiler-Free)
She-Ra season 5 sees the show go out on top with an ending that perfectly balances the shows large cast, multiple plot lines, and amazing humor amidst the dramatic story.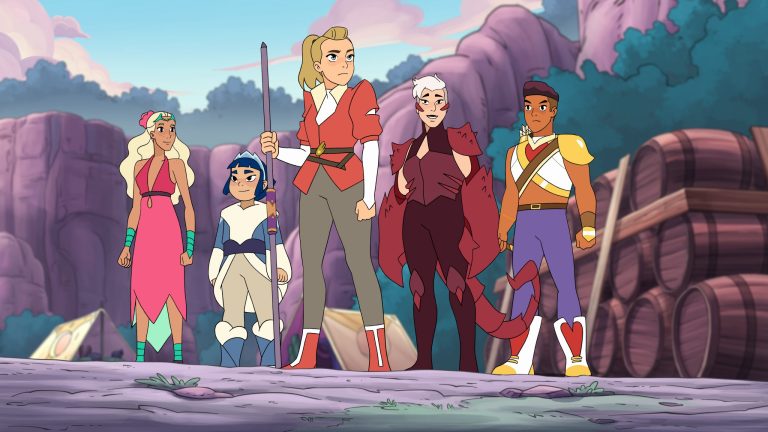 Note: This She-Ra and the Princesses of Power Season 5 spoiler-free review is based on the first ten of thirteen episodes of the season.
She-Ra Season 5 is an absolute joy to behold. Every single thing about it clicks together and works beautifully. The story flows between fun adventures to deeply serious ruminations on identity and abandonment… then back to hilarious jokes! This is the show She-Ra was building toward. I really dug the first four seasons of the show but it sometimes felt a bit off. Whether it was slow starts or the needless splitting up of seasons (not the creators' fault), it often felt like the show just needed to take one step from being an already great show to becoming something beyond fantastic.
Whatever the case, She-Ra Season 5 makes that critical step. As I watched these ten episodes I could not get over how perfect it all was. Every episode deepened these characters bonds. Every episode felt like it mattered while still allowing a ton of fun. Every episode gave just the right amount of focus to the show's very large cast.
That last element especially is deserving of praise. She-Ra has so many great characters and this season they all get to shine. Adora and Catra obviously get the most focus and they continue to be the series' biggest stand out characters. Anything I attempt to write would be a spoiler so just watch and be delighted in just how well they pull off what these two go through. Horde Prime is also a deliciously wonderful villain, bringing in a gigantic obstacle for Adora, Catra, and the rest of the cast to face that also touches on many of the themes that have run through the series.
I could run down the entire list of characters here but MVP Scorpia gets more than her share of great scenes and the criminally underused Netossa and Spinerella finally get to step into the spotlight. These two are a strong couple and this season makes no attempt to hide how beautifully queer they are.
In fact this whole season has some big queer energy. Everything from the clothes to the character interactions to even the fighting. It's just filled with little details that only a team of queer creators could do. It's so refreshing to behold. She-Ra was already very queer before now but this season it feels like any constraints the creative team was lifted. They infused the show with all the queer energy they could to send it out on a high note.
While I still haven't seen the final three episodes at the time of writing this review I can say that She-Ra Season 5 surpassed all expectations and looks to be the best season the show has done yet. I'm sad to see it go just as it's achieved legendary status but at least it goes out on top.
She-Ra and the Princess of Power Season 5 will drop May 15th on Netflix.