Features
She-Hulk's Green Lantern Jab Tackles Superhero Sexism
When Jennifer Walters worries her character will get "fridged" in She-Hulk, she's addressing a genuinely problematic genre trope.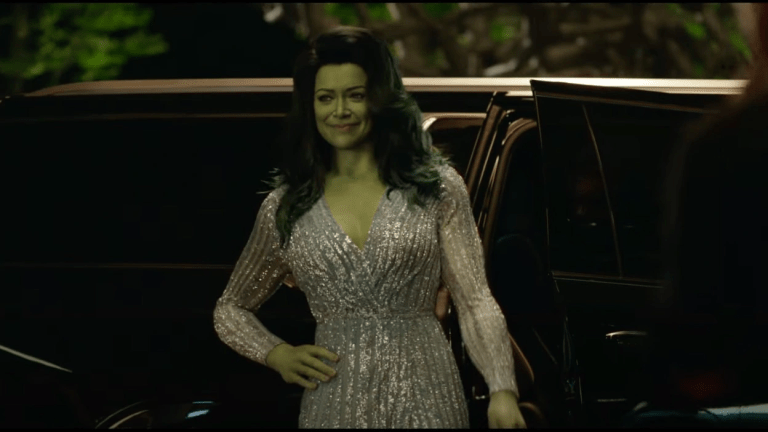 This article contains She-Hulk spoilers
Apart from Wanda Maximoff, few people have had as much trouble in love as Jennifer Walters in the Marvel Cinematic. Across eight episodes of She-Hulk, we've watched Tatiana Maslany's hotshot lawyer be mocked as little more than a "specimen" by a rogue's gallery of mediocre males. However, in October 6's "Ribbit and Rip It," we saw Jen stick a middle finger to the patriarchy with a deep cut to toxic tropes in pop culture.
Apart from winks like Eternals' Ikaris bring compared to Superman, the MCU tends to avoid Easter eggs to DC. She-Hulk already walked the line with a nippled costume from Luke Jacobson (Griffin Matthews) being a potential nod to the infamous Batman & Robin suits, but if you were listening carefully, you might've heard a Green Lantern Easter egg. After doing the deed with Matt Murdock (Charlie Cox), Jen broke the fourth wall and said she thought the episode was over. As well as giving the green light to Red Hulk, she also joked about worries she was about to get "fridged."
Being fridged refers to 1994's Green Lantern #54, where the villainous Major Force murdered Alexandra DeWitt and shoved Kyle Rayner's girlfriend into a refrigerator for him to find. The term was coined by a 1999 website called Women in Refrigerators (WiR) by comic book legend Gail Simone. Simone's own definition refers to "superheroines who have been either depowered, raped, or cut up and stuck in the refrigerator," although it's changed over the years.
Fridging is largely attributed to Marvel without it even knowing. 1973's The Amazing Spider-Man is cited as an inaugural example with "The Night Gwen Stacy Died." Even in the MCU, the fridging of Emma Stone's Gwen in The Amazing Spider-Man 2 gave Andrew Garfield's Peter Parker a tragic edge in Spider-Man: No Way Home. You could argue that Gamora (Zoe Saldaña) was half-fridged in Avengers: Infinity War, while Vision (Paul Bettany) also got the same treatment – although both are expected to return. Frigga (Rene Russo) got fridged in Thor: The Dark World, and only last year, Vulture's Brian Tallerico referred to the racial fridging of Lemar Hoskins Clé Bennett to catapult the story of John Walker (Wyatt Russell) forward in The Falcon and the Winter Soldier.
Beyond superhero movies, pretty much any James Bond movie has a woman being fridged. Even though this gave us the iconic scene with Tracy Bond in On Her Majesty's Secret Service, it was reused with Vesper Lynd some 37 years later for Casino Royale. Christopher Nolan might be an acclaimed director, but he's notorious for fridging his women in everything from The Dark Knight to Inception. The Walking Dead, Lost, and Game of Thrones are all serial offenders, and we're betting the John Snow sequel series will see the brooding bastard haunted by the death of Daenerys Targaryen. Ticking two boxes, Buffy the Vampire Slayer leaned into both the fridging and "Bury Your Gays" tropes with the death of Tara in season six. 
As for She-Hulk, fridging is just another of the show's social commentaries. Like Mallory Book (Renée Elise Goldsberry) having her hard-faced persona to deal with the male-dominated GLK&H, we've also seen Jen jilted after one-night stands, before her potential love interest Josh (Trevor Salter) turned out to be working for the Intelligencia. Like a meta fourth-wall break from Jen herself, the in-show sexism spilt over into real life when critics said Maslany's Walters wasn't "muscular enough" to play the character. Sure, we can make Star-Lord's father a living planet, but live-action Jen not being as swole as her comic book counterpart is a step too far. We don't think She-Hulk is too bothered though, as in episode 3, the writers used actual misogynistic comments that were made when Disney announced the series. 
It's ironic that one of the nicest guys in Jen's life right now is Tim Roth's Abomination, although we're guessing there will be a finale twist on that one. Even cousin Bruce Banner seems unaware of the struggles a woman has in modern society, and that's without being a green goddess. That's the point of She-Hulk though, it's supposed to be that men are just dicks, which makes finding her knight in shining armor all the more poetic. There's a potential of her having found him in the form of Matt Murdock, which cues up another golden couple in the MCU. Obviously, Jennifer Walters didn't get fridged in She-Hulk, because as much as it would've given Murdock a suitable story of revenge for the upcoming Daredevil: Born Again, she was in no real danger. Hopefully, we'll also see Josh get fridged next week.