Reviews
Shameless Season 11 Episode 1 Review: This is Chicago!
Shameless returns for its final season and tests the Gallaghers in new ways as unstable Chicago copes with the pandemic.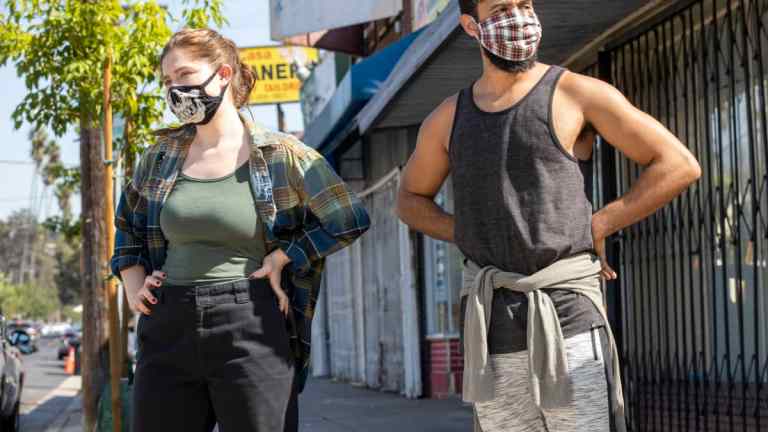 This Shameless review contains spoilers.
Shameless Season 11 Episode 1
"The Gallaghers built Chicago single-handedly…"
The final season of Shameless begins with an introduction that's the most stylized that the show's ever been and it almost feels out of place for the this series. Frank narrates over austere newsreel footage of Chicago's history, which gradually devolves into the slovenly nature that is more Shameless' speed. Frank's Zelig-like revisionist take on the city illustrates how Gallaghers have been involved with every important event that shaped Chicago, whether it's the takedown of Capone or the Trial of the Chicago Seven (which would have been the Chicago Eight if Frank were also apprehended, he contends). It's a fun and harmless sequence that's the most playful that Shameless has been in years. 
The premiere's flashy introduction is justified through the flimsy conceit of a documentary that's being made on Chicago's changes, but it speaks to the larger theme of this premiere—and likely this season—that the Gallaghers are the embodiment of Chicago. A reasonable question to ask as Shameless starts to come to a close is what sort of legacy have these characters left behind in their city and if they're able to survive if the Southside collapses. The Gallaghers are a versatile bunch, but "This is Chicago!" is just as much a celebration of Chicago's ability to endure as it is about the Gallaghers'.
2020 will be looked back on as a perplexing year for television as many series incorporate the events of the COVID-19 pandemic into storylines to contrasting degrees of success. Most of these efforts have been very awkward and manage to distract from what's actually important in these shows. It's bittersweet that Shameless' final season is so heavily influenced by the current changes in the world, but it also oddly feels appropriate.
Shameless has constantly been interested in the disenfranchised and the people that have been not only ignored, but also consciously erased from society. This season's focus on COVID may hit too close to home for some in what's supposed to be escapist entertainment, but it'd honestly feel disingenuous if it weren't touched on in Shameless. It also only exacerbates the existing stresses that were present for these characters and they'd reach these places even without the presence of a pandemic, it just might have taken longer.
Shameless is typically at its best when the Gallaghers are all together and last season's finale embraced that energy. The circumstances around the pandemic could naturally produce opportunities for this cast to be around each other, but "This is Chicago!" takes the opposite approach. The entire cast is basically segregated to their own islands as they handle their individual stresses. The premiere feels a little chaotic as it bounces around from one socially distanced storyline to another. Despite how most of the Gallaghers still live in the same house, there's barely any overlap between the characters. The one exception is the episode's ending, but that only accentuates how much more alive the series is when everyone's together.
It may also seem a little pedantic to complain over Fiona after she's left the series, but considering this premiere has baked COVID into its premise it wouldn't have been ridiculous for some Gallagher to at least reference how she's been doing during all of this. Just a snide aside about how she didn't return to Chicago would have sufficed. Shameless has always made family its priority. During a time when many families have been strained, either through proximity or distance, it doesn't seem unreasonable to expect some update on Fiona. Maybe she'll get mentioned later in the season.
"This is Chicago!" jumps all over the place with its many disparate storylines, but they all do become unified in the sense that everyone's actions are a response to how COVID has affected different pillars of Chicago. Shameless likes to maintain a broad tone, but it's still often guilty of manipulative melodrama and leaving its characters in pain. Last season's finale has Ian and Mickey at their absolute happiest, but now that luster has already worn off. Their biggest issue is that Mickey doesn't understand how to think as a unit or put an equal amount into their marriage as Ian, which feels appropriate for their characters. However, it's also interesting to see how Shameless depicts the effects of the pandemic on a newlywed couple and how it can suck out that honeymoon phase.
It's already interesting to see how this season juxtaposes Ian and Mickey's relationship with Lip and Tami's stresses. On that note, Lip and Tami are also on shaky ground as they struggle to find emotional equality. Lip makes repeated concessions that may seem innocuous, but are definitely building to a larger problem. Shameless often has the Gallaghers suffer in silence, which is why it makes such a big difference that Lip and Ian are able to briefly get together and open up about their relationships. These two are going through such similar problems and they've been able to lean on each other in the past for advice. It's not a long scene, but it's invaluable and hopefully these two will turn to each other more this year.
Shameless has tackled mature and prescient topics in the past and the show's most recent seasons have featured the military and police in a larger capacity thanks to Carl's trajectory. That being said, I wasn't expecting Shameless to engage in a conversation about defunding the police and excessive brutality, but it's another development that feels natural based on what the show has previously explored.
Carl's growth into a competent and productive member of society has been one of the most satisfying arcs of Shameless' recent seasons. Carl continues to thrive in the police force, but it's the force itself that becomes the problem as they try to mold Carl into a corrupt and problematic cop. This is handled with zero subtlety and whenever Carl pushes back with proper values he's greeted with more egregious protocol. Carl's repeatedly done the right thing in the past when placed in a similar moral quandary, so it's difficult to watch him get pushed down the wrong path here. Whether he fights the system from within, leaves it behind entirely, or ends up with compromised values could all lead to powerful material for Carl if properly handled.
Carl ascends with the police force, but Debbie struggles with being on the opposite end of the law when her new status as a sex offender impedes her work. This is the storyline that I was least excited for Shameless to resume this season and within the span of one episode it's already turned statutory rape into a frequent punchline and taboo bedroom fodder. Debbie weaponizing all of this to gain an advantage with her new business is super gross, but it's far from the worst thing that she's ever done. This story may hurt the season, but at least the image of Frannie bedazzling Debbie's ankle monitor is 100% pure Shameless.
The rest of the premiere continues to provide an open discourse on citywide topics like the perpetual closing and opening of schools and bars as well as trends like socially distanced weddings. It's no different than the usual banter that fills the Alibi and it helps flesh out some of the episode's weaker material, like how V and Kevin have shifted their priorities into Chicago's legal marijuana scene (along with the help of their children). The moment where Kermit and Tommy get so high that they hook up also makes zero sense, but the Alibi Room has never been an Algonquin Round Table of logic.
"This is Chicago!" starts the final season of Shameless on a busy note that's bogged down just by how much ground that it has to cover. The presence of COVID is heavy in this premiere, but this still feels like standard Shameless, for both better and for worse. Many American dramas don't last for eleven seasons and even then it's rare that the later seasons can recapture the magic of the glory years.
Shameless isn't on life support and it still has a lot of love for these characters. Most importantly, it feels like this final season wants to do them all justice rather than just have them hobble past the finish line. COVID-19 has taken both the world and Shameless by surprise, but it's pushed the Gallaghers to grow, become stronger, and prove that they're the Southside's most persistent cockroaches, which is exactly what this show's swan song should be about.