Reviews
Belushi Review: Showtime's Look at John Belushi Is Almost Definitive
Belushi documentary highlights the paradox of John Belushi. We only thought he was larger than life.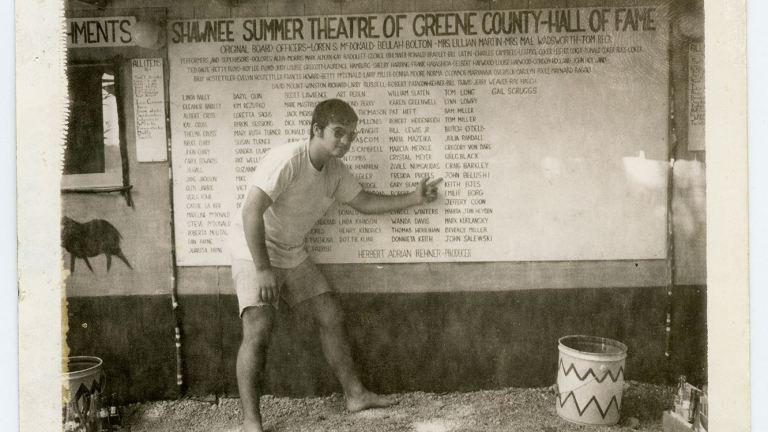 The world got to know John Belushi's eyebrows before we got to know the man. They projected his innermost confusion, telegraphed his thought processes, and misdirected his most sincere intentions. Showtime's heartfelt and intimate documentary, Belushi, opens with clips from the comic icon's screen test for Saturday Night Live. Armed with just his face, he lets those eyebrows steal the scene. They cajole, caress, and careen across the bottom of his brow, culminating in a series of aerobic stretches with a gymnast's flair. Belushi didn't have to crack a joke, he barely had to say a word, and yet showed a world of possibilities within a few inches of cranial space. Belushi really was a lot like his decathlon character in the Little Chocolate Donuts skit. All he needed was some sugar to keep him going. The documentary shows Belushi really was born that way, and didn't need the extra sweetening.
Too bad he couldn't keep it up. But we know this from the beginning. The first real scene takes place at the height of Belushi's fame and adulation. He stole the movie he was just in, Animal House, which was the most successful comedy film of all time at the time. He was on the number one TV show in America. His record The Blues Brothers' Briefcase of Blues, not even a comedy album, but a labor of love with musician friends he respected and adored, was at the top of the charts, with hit singles doing the same. Director R.J. Cutler (The War Room, The September Issue, Listen to Me Marlon) immediately declares this documentary isn't about one of America's favorite performers, it is about the cannibalistic hungers of fame.
"John always had appetites that were completely out of control, for everything, but I didn't start to worry about him until he was at the Universal Amphitheatre, playing for 7,000 people," Harold Ramis, who had known Belushi since their improvisational comedy beginnings, says over the soundtrack and applause. "I looked at John on the stage and I thought, 'He's on the most popular comedy show of our generation, he was in the most successful comedy film ever, and now he's onstage fronting an amazing band.' My first thought was, 'How great for him.' My second thought was, 'Knowing his appetites, I don't think he'll survive this.'"
With that, Ramis throws a dark shadow over the rest of the film. Every success the documentary shows from here on has a cloud of doom hanging over it. Belushi was a wild man, bouncing around on the very edge of the most visible stage, both higher than anyone possibly imagined. SNL made overnight stars out of most of its cast. Chevy Chase was plucked out early because, well, he was Chevy Chase and they weren't. But while former drummer Chase went on to be a matinee draw, Belushi became a rock star.
Belushi's life has been told before. Watergate journalist Bob Woodward wrote the tawdry 1984 book Wired, which was adapted into a feature film in 1989. The documentary makes ample use of audio clips from Tanner Colby's 2012 oral history Belushi: A Biography. Belushi's wife Judith interviewed many of his friends and castmates, like Ramis, Chase, Dan Aykroyd, Jane Curtin, Lorne Michaels, Carrie Fisher, Ivan Reitman, Penny Marshall, and John's brother Jim Belushi. Judy conducted the interviews in the first few years after Belushi's death. This gives Belushi an immediacy, but also makes the stories feel older. None of the other interviews are shown as talking heads, except archival footage of Belushi himself.
While the guest voices condense the story, and breathe an even-handed life into the material, Belushi works best when it lets Belushi tell his own version. Some of the most revealing insights come from a series of letters written to Judy, who had been with him ever since Wheaton Community High School. The letters, which open "Dear Jutes," begin when Belushi is still in an Indiana summer stock company, smoking pot and listening to The Beatles' Sgt. Pepper's Lonely Hearts Club Band album, which he writes makes him think of her whenever he hears it, "Especially 'With a Little Help From My Friends.'" His rendition of Joe Cocker's adaptation of the song is a late highlight, and Belushi's letters are interpreted very effectively by Saturday Night Live's Bill Hader.
The letters illuminate Belushi's passions while humanizing the larger-than-life performer. Home movie footage succeeds in showing him trying to find an elusive normalcy in real life. The letters offset the seemingly effortless rise of the comedian with the inner turmoil that fed it. Belushi comes off as obsessed with success but terrified of fame. A late letter reveals Belushi was afraid he reached a point of no return. Some of the letters are funny, others insecure, still others come off as despondent.
One of the most unexpected revelations about Belushi is how he felt like an outsider growing up, and was embarrassed by his Albanian immigrant background. One wouldn't think Belushi might be embarrassed by anything. "We all wanted to be American," his brother Jim Belushi explains. John, who was expected to work in his father's restaurant, instead put it to work for him, inspiring his Pete Dionasopoulos of the Olympia Café character in the "Cheeseburger, cheeseburger" sketches.
Much of Belushi's story is brought to life by the animated sequences from Robert Valley. These are particularly effective when showing Belushi during his high school years drumming with a band called the Ravens, and illustrating his time with the improv group he founded, The West Compass Players, which led to his joining Chicago's Second City troupe. His rise is spectacularly fun to hear, and the animation makes up for lost footage.
The film also gets into his many contradictions. Belushi is drawn losing himself in the albums of comics like Jonathan Winters and Bob Newhart. But when he is asked, during his Second City period, his opinion on Lou Costello, Belushi says "Nope, don't like him." John wanted to create something new. The film also shows how much spontaneity played into Belushi's comedy. He'd only seen the samurai movie with Toshiro Mifune on TV the night before he auditioned for Saturday Night Live.
Belushi was flown from Chicago to New York to officiate over Lemmings, National Lampoon's Off-Broadway spoof of Woodstock. He stole the show with his impersonation of Joe Cocker. Lorne Michaels saw Saturday Night Live as a show which would be an "upheaval" for network television. Belushi said he hated television during his interview, but told Michaels he would deign to appear on the show. He'd already auditioned for a rival series called "Saturday Night," which was going to be headlined by sports announcer Howard Cosell.
The documentary expertly weaves the double-edged sword of celebrity. Belushi chafed at being recognized on the street as "that Bee guy" from their bumble-bee sketches, but his performances, many of them exercises in extreme physical comedy, struck a nerve with audiences. Belushi lets clips strike at the audience to back it up. Michaels compares Belushi to Jackie Gleason's Ralph Kramden from The Honeymooners, because he brought a blue-collar vibe. On SNL, Belushi is remembered as being very competitive, distracted by the success of Chevy Chase, and dismissive of the women writers and performers. Once Chase left, Michaels says "the thing that John most hoped for, that he would be the alpha male, had now happened."
The documentary is at its most exciting when it shows clips. From the early Lemmings stage show, through Saturday Night Live, Belushi highlights the anarchy Belushi brought to the stage. It could easily slip into be a "best of" clip show, featuring his memorable characters Jake Blues and the Samurai, or his ruthless spoof of Elizabeth Taylor choking on a chicken bone, giving herself the Heimlich maneuver and returning to the chicken. But instead informs Belushi's motivations. Cutler consistently finds perfect clips to illustrate how Belushi's individuality drove him to seemingly unimaginable heights. The onscreen examples justify the star quality which put him on the cover of Newsweek and Rolling Stone. We get the sense of how Belushi helped change American culture and comedy, in the same league as Lenny Bruce, Richard Pryor, Lily Tomlin, and George Carlin. But while scaling the dizzying heights, the movie never loses its sense of doom.
Belushi's spiral into addiction is covered at length. In the second season of SNL, Belushi got injured doing a pratfall and was prescribed painkillers. When the prescription ran out, he turned to the street for hard drugs. Later in his career, Belushi would hire President Nixon's personal bodyguard to keep him away from bad influences, but on his rise up, many of his colleagues cut him a lot of slack. "He was testing all his boundaries at that point," The Blues Brothers director John Landis explains, before excusing Belushi: "I don't think we lost more than four or five days of shooting because of the drugs."
Belushi got clean for a year, living Martha's Vineyard. Carrie Fisher, however, says in an interview that by skipping rehab, Belushi never dealt with sobriety's most challenging aspects: day to day life can be boring, and the comic star didn't have the coping mechanism to deal with feelings the drugs were covering up. Cutler's documentary is moving, offering a look into the soul of the man who embodied the "animal" found in every college fraternity, Bluto in Animal House. The documentary deftly explores Belushi's attempts to make the beast noble, taking his acting seriously in smaller films like Old Boyfriends, Continental Divide, and trying to break out of the audience's preconceptions with his last film Neighbors.
Cutler finds Belushi, the performer, but doesn't quite catch John as a person as Belushi incrementally shifts its focus from his art to his drug binges. Belushi can't fully celebrate Belushi, because everyone watching knows the ending. In March of 1982, Belushi sequestered himself at the Chateau Marmont in Los Angeles in order to finish "Noble Rot," a screenplay he was writing with Don Novello. Here the film very succinctly and poignantly captures the love people felt for the man, Belushi. Aykroyd, who said he fell in love with Belushi the moment they met, still bears deep wounds.
"He was sad and defeated," Aykroyd remembers about his last conversation. "I thought I'll finish this page, this paragraph and get out there. I didn't get to him in time. I carry that with me forever." Belushi's long-time blues and soul brother thought he had a solution. "I told him I was writing something great for us," we hear Aykroyd say in the film. "I was writing Ghostbusters." While the documentary gives this revelation a sheen of hopeful might-have-beens, it really only underscores how that would be a mistake assumption. Everything about the documentary says a successful film might only have slowed the same inevitable ending.
For all the archival footage found in Belushi, one particular short film broadcast on Saturday Night Live is sadly not featured, except for a few stills in one of the quicker montages. "Don't Look Back in Anger" shows John, as an old man, walking through a cemetery and reminiscing about his old friends on SNL. They're all dead in the film, Belushi is the last survivor. Why? Because he is a dancer. This may have been how he saw himself, and as his audience most wanted to see him. But for all the missed promise it may have subverted, the skit fits with Belushi's larger picture. John Belushi is dancing through a graveyard, happily. The film is a wake, of sorts. But the dance is how Belushi ultimately moved through life, with a dancer's grace which defied the body held down by strong appetites. Belushi would have been a more satisfying film if it took smaller bites.
Belushi airs Sunday, Nov. 22, at 9 p.m., on Showtime.