News
Search Party Season 3 Release Date, Trailer, Story, and News
After three grueling years off television, TBS's millennial noir classic Search Party finally has a release date on HBO Max.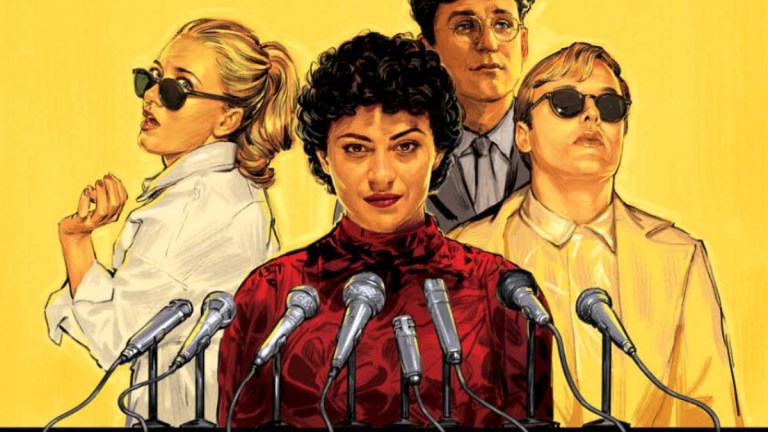 Call off the search party, Search Party is officially coming back!
We knew as much already of course. Due to corporate consolidation of media onto streaming services, Search Party is one of the rare TV series that go to experience the joy of being renewed twice. Back in April of 2018, TBS officially ordered Search Party season 3. Then in 2019, WarnerMedia announced that it would be launching its own Warner-branded streaming service (which would come to be known as HBO Max) and in the process re-confirmed Search Party season 3 for the new service, and then threw a season 4 in there for good measure.
For those who want to catch up on Search Party, the previous two seasons are available to stream on HBO Max right now. And catch up with the previous seasons you should as Search Party is an excellent show. The half-hour dramedy from Sarah-Violet Bliss, Charles Rogers, and Michael Showalter is a fascinating project that starts as a sort of "Nancy Drew with millennials" before spiraling into something darker, and more timeless.
Here is everything we know about Search Party season 3.
Search Party Season 3 Release Date
Search Party season 3 will arrive on Thursday, June 25. It's unknown how many episodes will be available at that date but Warner has previously stated that most of its original series' episodes will be released on a weekly basis.
Search Party Season 3 Trailer
HBO Max has released the first trailer for Search Party season 3. The trial of Dory Sief and Drew Gardner is finally here.
Search Party Season 3 Story
Search Party season 1 followed disaffected young Brooklynite Dory (Alia Shawkat) and her friends Drew (John Reynolds), Elliot (John Early), and Portia (Meredith Hagner) as they decide to search for their missing college acquaintance Chantal. Season two dealt with the extreme consequences that arose from said search and the season two finale set the show up to deal with a whole new set of fascinating and extreme consequences from this seeming good deed in season three.
HBO Max's official description of season 3 reveals just how fascinating those consequences will be:
"Season three, premiering June 25th, finds the gang swept up in the trial of the century after Dory (Alia Shawkat) and Drew (John Reynolds) are charged for the semi-accidental murder of a private investigator. As Elliott (John Early) and Portia (Meredith Hagner) grapple with whether or not to testify as witnesses, the friends are pitted against each other and thrust into the national spotlight. Dory's sanity begins to fracture, and it becomes increasingly clear that the group may not have brunch together again for quite some time."