Features
Sci Fi Fidelity Podcast: Tales from the Loop
Showrunner Nathaniel Halpern and actor Paul Schneider came on the podcast to celebrate the understated sci-fi of Tales from the Loop.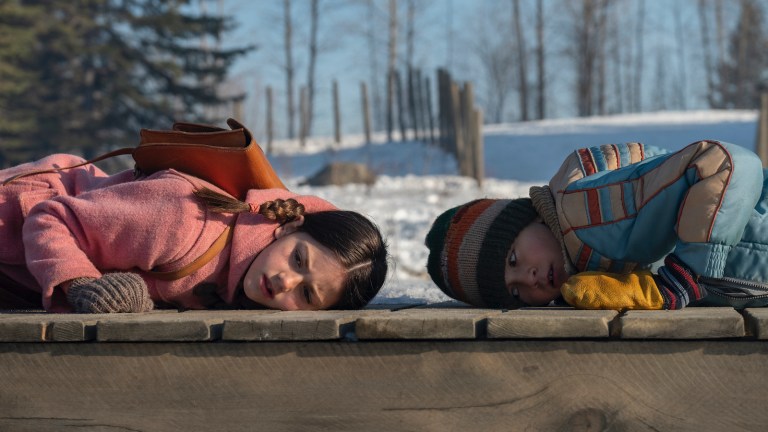 Tales from the Loop is an unusual sort of sci-fi anthology show in that each separate story is united by a common pastoral setting and a dominant central family. This is no doubt in part because the series takes its inspiration from a series of unrelated but commonly themed paintings by Swedish artist Simon Stålenhag, which combine scenes of everyday life with a normalized science fiction sensibility. When we spoke to showrunner Nathaniel Halpern and actor Paul Schneider, they both emphasized this subtle style of storytelling as the hallmark of the show.
When we spoke to Halpern, it was well before Tales from the Loop dropped on Amazon on April 3, 2020, so we were still getting a sense for what the show was about and how the paintings inspired him. "At the inception of this it really was: how do you keep that sense of wonder alive in the series in the way that when you look from painting to painting in Simon's world it almost feels like there's a new sense of possibility with each one versus getting too used to those fantastical elements," Halpern told us. "So the structure of the series is… it's not an anthology, but every episode is this standalone story with its own sci-fi element. But all in all, these characters are in each other's lives and we loosely follow one family."
Schneider is part of that family in Tales from the Loop as George Willard, the son of the Loop's founder with whom he has a strained relationship. "The thing that I was most attracted to in terms of his character is he's desperate to become a father he's never had," Schneider explained. "He works at the Loop [as] a physicist, and in many ways he's following in his father's footsteps. And that was absolutely the wrong decision. He's like the dutiful son who realizes too late that he was following the wrong master."
Using paintings as a prompt allowed for plenty of cinematographic creativity in Tales from the Loop. "here's this wonderful interactive element to the visuals of really recreating Simon's work right then and there," said Halpern. "Sometimes the season's different; that's just the reality of shooting — it's summer instead of winter. But really using those prompts and not going too far from Simon's design. Simon was actually a wonderful collaborator throughout, and I would send him an email and be like, 'What do you think this should look like?' because I just didn't want to tinker too much with his aesthetic. Almost like Geiger on Alien. He really was an invaluable design source."
There's a lot more in our double interview for Tales from the Loop still to enjoy, so be sure to subscribe to Sci Fi Fidelity so that you never miss an episode! Each week we review a currently airing show, discuss a topic of interest to genre television, or interview someone from behind the scenes of our favorite series such as we did here with Halpern and Schneider. Find us in your podcast app of choice or simply listen below!