Features
Sci Fi Fidelity Podcast — Motherland: Fort Salem
Our genre television podcast hosts share their enthusiasm for the spellcasting and alt-history premise of Freeform's Motherland: Fort Salem.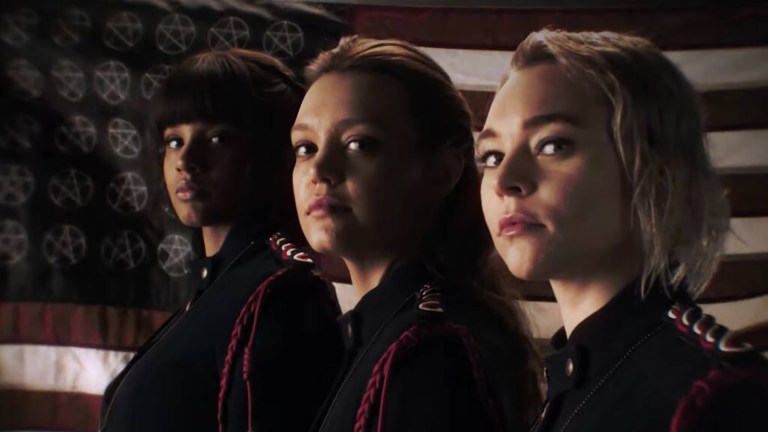 We went into our viewing of Motherland: Fort Salem with some skepticism before choosing it as a topic for a Sci Fi Fidelity podcast episode, but the show exceeded our expectations. Far from having the cheesy humor, aggressive feminism, or underdeveloped mythology that the series easily could have fallen prey to, we found the story to be deeply engaging, the premise to be wholly unique, and the characters to be immediately magnetic. With the podcast coming to an end with episode 100 next week, we were happy this was the final show topic of our run.
As usual, we discussed the first two episodes of Motherland: Fort Salem in the spoiler-free portion of the podcast, concentrating our analysis on the characters and opening action of the series. Having a blonde, a brunette, and a redhead in the central unit may have seemed formulaic, but the development of Raelle's outcast status, Abigail's headstrong nature, and Tally's naivety helped draw the audience's sympathy immediately, making both the conflicts among the three and their bonding experiences equally believable.
We also appreciated the manner in which the alternate history that sprang from the signing of the Salem Accords that brought witches to the forefront of America's defense unfolded bit by bit. Motherland: Fort Salem didn't explain the vocal method of spellcasting with exposition; it expertly allowed us to learn about the so-called "song seeds" and the different disciplines like blasters and fixers through direct actions and dialogue. The mystery of why General Alder travels with an entourage of old women also unraveled with maximum suspense and intrigue but minimal narrative explanation.
The "spoiler zone" of the podcast dives into the later episodes and gets into the specifics of Raelle's relationship with Scylla and how long the duplicity will last as the Spree's intentions are slowly revealed. The celebratory nature of Beltane and what the holiday means for the witches of the military gets a bit of an overview as does the male witches' place in the overall world building of Motherland: Fort Salem. Since we only go as far as episode four of the series, speculation arises about what will happen at the Bellweather wedding in the coming story as well.
There's a lot more in our discussion for Motherland: Fort Salem still to enjoy, and you won't want to miss the final episodes of Sci Fi Fidelity! Each week we've been reviewing a currently airing show, discussing a topic of interest to genre television, or interviewing someone from behind the scenes of our favorite series. Find us in your podcast app of choice or simply listen below!